Menu
Zone type:ab<== ==>place:ab<===
Webmaster: ZonePlace=ab; dzial=wydarzenia; Stan delivery
The Chopin Festival in London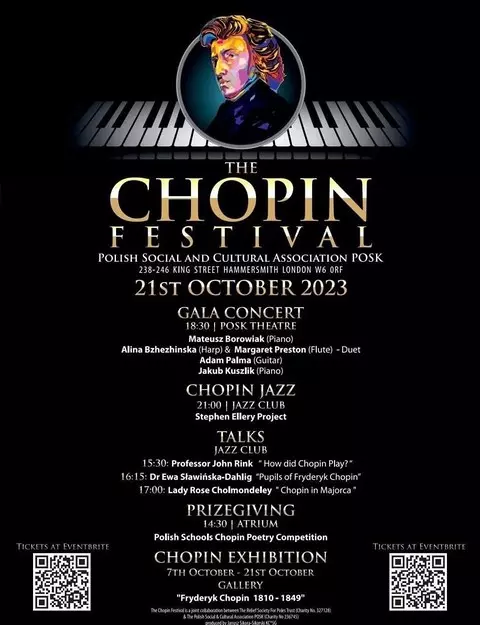 Po niezwykłym sukcesie zeszłorocznego Festiwalu Chopinowskiego i licznych zawołaniach bisu, artyści światowej klasy ponownie zawitają do Polskiego Ośrodka Społeczno-Kulturalnego POSK w Londynie w sobotę, 21 października 2023 roku. Przygotowali dla Was równie porywający program wyśmienitej muzyki.
After the outstanding success of last year's Chopin Festival, and many curtain calls for an encore, it returns once more to the Polish Social and Cultural Centre POSK, in London, on Saturday the 21st October 2023 with an equally captivating programme of exquisite music performed by world class artistes.
The Gala Concert is sure to be a highlight of the Festival following 2022's sold out success!
The Gala Concert will feature the following:
Jakub Kuszlik is the winner of many laurels in piano competitions – in particular 4th Prize ex aequo of the 18th International Fryderyk Chopin Piano Competition, the Polish Radio Prize for best mazurka performance and 3rd prize at the Top of the World International Piano Competition in Tromso, Norway. In February 2022, his first solo album "Brahms, Chopin" was released by Polish Radio to critical acclaim.
Adam Palma a phenomenal guitar player, acknowledged by his peers such as Al Di Meola. His album "Adam Palma Meets Chopin" was the first album to present Chopin's compositions in arrangements for the acoustic guitar. He is a professor of musical arts, lecturer at the University of Salford and at the Music Academy in Gdańsk.
Mateusz Borowiak has performed at top venues and festivals around the world - such as Wigmore Hall, Sejong Arts Center in Seoul, The Merkin Hall in New York, The Shanghai Symphony Hall, The International Chopin Festival in Duszniki and the Rubinstein Piano Festival. Awarded top prizes at international piano competitions including The Queen Elisabeth in Brussels and the Yamaha Music Foundation of Europe. He continues to give masterclasses and is currently assistant professor at the Karol Szymanowski Academy of Music in Katowice, Poland.
Alina Bzhezhinska & Margaret Preston ( Harp and Flute Duet) Alina is undoubtedly one of the leading harpists in the world today, a one-woman powerhouse on a mission to bring the harp to the fore of contemporary sound. She has strongly condemned the Russian invasion of her Ukrainian homeland. Margaret has a busy concert schedule playing orchestrally with Aberdeen Sinfonietta and in chamber music ensemble with wind quintet Corten5, McCash percussion Ensemble and in duo with Alina, guitarist Anne Chaurand and pianist Joseph Long.
Other Festival Events
This event is part of the 2023 Chopin Festival, a captivating programme of events taking place at the Polish Social and Cultural Centre POSK, in London, on 21 October 2023:
• 3.30-4.00pm – FREE -Talk by Prof. John Rink "How did Chopin Play" – https://www.eventbrite.com/e/the-chopin-festival-talk-by-prof-john-rink-how-did-chopin-play-tickets-672052666617?aff=oddtdtcreator
• 4.15-4.45pm – FREE – Talk by Dr Ewa Sławińska-Dahlig "Pupils of Chopin" -https://www.eventbrite.co.uk/e/the-chopin-festival-talk-by-dr-ewa-sawinska-dahlig-pupils-of-chopin-tickets-672071874067?aff=oddtdtcreator
• 5.00-6.00pm - FREE - Talk by Lady Rose Cholmondeley "Chopin in Majorca" - https://www.eventbrite.co.uk/e/the-chopin-festival-talk-by-lady-rose-cholmondeley-chopin-in-majorca-tickets-671484918467?aff=oddtdtcreator
• 6.30-9.00pm - Gala Concert (2022: SOLD OUT) -
https://www.eventbrite.co.uk/e/the-chopin-festival-gala-concert-tickets-669834812957?aff=oddtdtcreator
• 9.00-11.00pm - Chopin Jazz (2022: SOLD OUT) -
https://www.eventbrite.co.uk/e/the-chopin-festival-chopin-jazz-tickets-671418439627?aff=oddtdtcreator
7 – 21 October 2023 – FREE – Come and check out a free exhibition detailing Chopin's life and creativity, brought together by The Chopin Institute in Warsaw and the POSK library, on display 7-21 October 2023 -
https://www.eventbrite.co.uk/e/the-chopin-festival-exhibition-fryderyk-chopin-1810-1849-tickets-672619572247?aff=oddtdtcreator
Adres:
POSK - Polski Ośrodek Społeczno-Kulturalny