Menu
Zone type:ab<== ==>place:ab<===
Webmaster: ZonePlace=ab; dzial=wiadomosci; Stan delivery
DFB-Pokal: RB Leipzig won the troph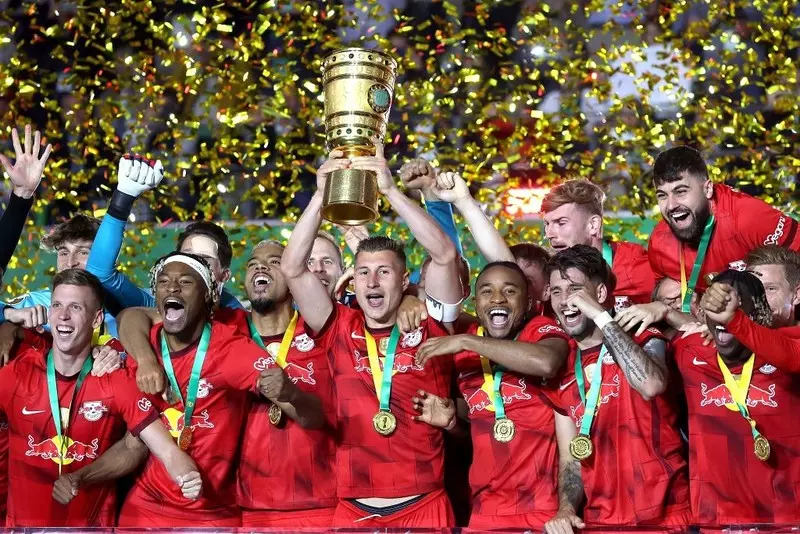 RB Leipzig players defeated Eintracht Frankfurt 2:0 in the German Cup final, which was played at the Olympic Stadium in Berlin, after goals from Frenchman Christopher Nkunku and Hungarian Dominik Szoboszlai. 'The Bulls' won the trophy for the second time in a row.
Zone type:video<== ==>place:video<===
Webmaster: ZonePlace=video; dzial=wiadomosci; Stan delivery
Zone type:e-mobile<== ==>place:e1-mobile<===
Webmaster: ZonePlace=e1-mobile; dzial=wiadomosci; Stan delivery
News available in Polish
Pierwsza bramka padła w 71. minucie, gdy Dani Olmo podał do Nkunku, który pokonał bramkarza Kevina Trappa. Francuz, który z 16 golami został współkrólem strzelców Bundesligi, asystował przy trafieniu Szoboszlaia na 2:0.
𝐁𝐀𝐂𝐊-𝐓𝐎-𝐁𝐀𝐂𝐊 𝐃𝐅𝐁-𝐏𝐎𝐊𝐀𝐋 𝐂𝐇𝐀𝐌𝐏𝐈𝐎𝐍𝐒 🏆 pic.twitter.com/A4A1brxZ2r

— RB Leipzig English (@RBLeipzig_EN) June 3, 2023
Zespół z Lipska, który do finału dotarł po raz czwarty w ostatnich pięciu latach, powtórzył sukces sprzed roku. Eintracht w decydującej potyczce zagrał po raz dziewiąty, a na szósty triumf od 2018 roku.
RB Lipsk zajął trzecie miejsce w Bundeslidze. W przyszłym sezonie drużyna trenera Marco Rose zagra w Lidze Mistrzów.
Eintracht, siódmy w ligowej rywalizacji, zagra w kwalifikacjach Ligi Konferencji, a wskutek jego porażki pewny udziału w fazie grupowej Ligi Europy jest Bayer Leverkusen.
Czytaj więcej:
Puchar Niemiec: Eintracht Frankfurt rywalem RB Lipsk w finale
Liga niemiecka: Anglik Bellingham najlepszym piłkarzem sezonu
Puchar Anglii: Triumf Manchesteru City w derbowym finale
AdsByGoogle - In-Feed slot=4906192224
Zone type:d<== ==>place:d1<===
Webmaster: ZonePlace=d1; dzial=wiadomosci; Stan delivery
Zone type:e-desktop<== ==>place:e1-desktop<===
Webmaster: ZonePlace=e1-desktop; dzial=wiadomosci; Stan delivery
Zone type:d<== ==>place:d2<===
Webmaster: ZonePlace=d2; dzial=wiadomosci; Stan delivery
Zone type:d<== ==>place:d3<===
Webmaster: ZonePlace=d3; dzial=wiadomosci; Stan delivery
Zone type:d<== ==>place:d4<===
Webmaster: ZonePlace=d4; dzial=wiadomosci; Stan delivery