Menu
Zone type:ab<== ==>place:ab<===
Webmaster: ZonePlace=ab; dzial=wiadomosci; Stan delivery
Spain: Lava has covered several hundred hectares of crops on the island of La Palma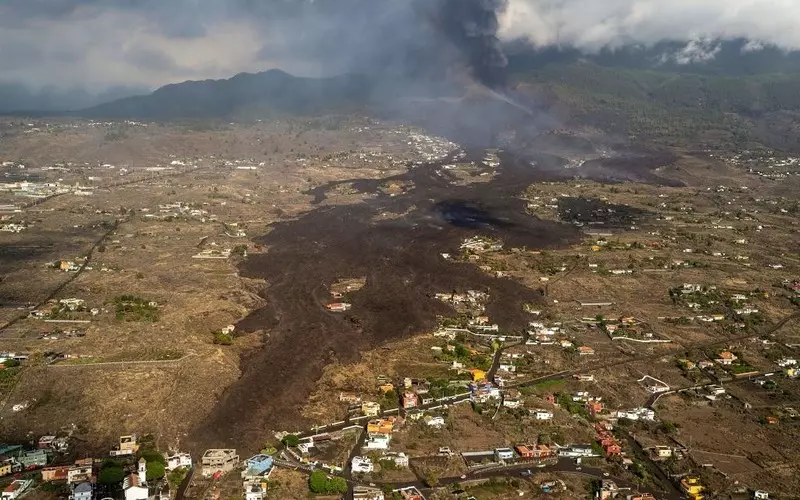 Today's eruption of the Cumbre Vieja volcano has paralyzed agriculture on the Spanish island of La Palma. Local authorities indicate that lava not only flooded several hundred hectares of crops, but noted that volcanic smoke reduced photosynthesis necessary for plant development.
Zone type:video<== ==>place:video<===
Webmaster: ZonePlace=video; dzial=wiadomosci; Stan delivery
Zone type:e-mobile<== ==>place:e1-mobile<===
Webmaster: ZonePlace=e1-mobile; dzial=wiadomosci; Stan delivery
News available in Polish
Z informacji hiszpańskiej Obrony Cywilnej wynika, że lawa zalała już ponad 240 hektarów, z czego większość to tereny uprawne.
Dziś władze La Palmy oraz stowarzyszenia rolników potwierdziły, że z powodu lawy, a także popiołów i dymu ogromne połacie terenów uprawnych nie nadają się już do użytku.
Straty są głównie u plantatorów bananów, winogron i kukurydzy. Liczni przedsiębiorcy rolni ogłosili, że wstrzymali w ostatnich godzinach uprawę w związku z nadejściem lawy.
Wulkanolodzy wskazują, że nasilona aktywność Cumbre Vieja dziś rano grozi większymi spustoszeniami dla gospodarki La Palmy. Przestrzegają, że sytuacja stanie się tragiczna, jeśli na wyspę spadnie kwaśny deszcz.
Do popołudnia wybuch Cumbre Vieja spowodował zniszczenie blisko 400 budynków na La Palmie oraz doprowadził do ewakuacji ponad 6 tys. osób. Lokalne władze oceniają, że już w pierwszych 24 godzinach od wybuchu wulkanu straty dla regionu przekroczyły 400 mln euro.
Czytaj więcej:
Hiszpańska minister: "Wybuch wulkanu na La Palma to atrakcja turystyczna"
Hiszpania: Ludzie uciekają z domów przed lawą z wulkanu na La Palma
AdsByGoogle - In-Feed slot=4906192224
Zone type:d<== ==>place:d1<===
Webmaster: ZonePlace=d1; dzial=wiadomosci; Stan delivery
Zone type:e-desktop<== ==>place:e1-desktop<===
Webmaster: ZonePlace=e1-desktop; dzial=wiadomosci; Stan delivery
Zone type:d<== ==>place:d2<===
Webmaster: ZonePlace=d2; dzial=wiadomosci; Stan delivery
Zone type:d<== ==>place:d3<===
Webmaster: ZonePlace=d3; dzial=wiadomosci; Stan delivery
Zone type:d<== ==>place:d4<===
Webmaster: ZonePlace=d4; dzial=wiadomosci; Stan delivery