Menu
Zone type:ab<== ==>place:ab<===
Webmaster: ZonePlace=ab; dzial=wiadomosci; Stan delivery
Spanish unemployment rises to 16.3% amid pandemic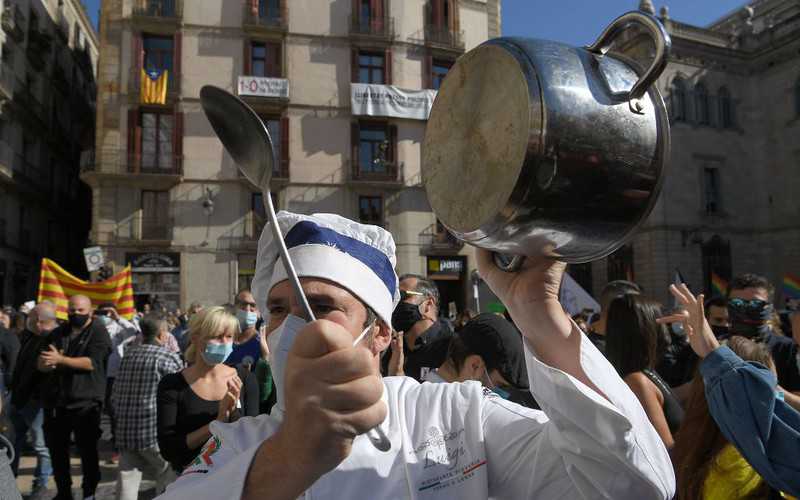 Spain says 355,000 more people were left unemployed in the third quarter, bringing the total jobless rate up to 16.3% from 15.3% in the previous three-month period as surging infections and new virus restrictions hurt economic development.
Zone type:video<== ==>place:video<===
Webmaster: ZonePlace=video; dzial=wiadomosci; Stan delivery
Zone type:e-mobile<== ==>place:e1-mobile<===
Webmaster: ZonePlace=e1-mobile; dzial=wiadomosci; Stan delivery
News available in Polish
Według INE, na skutek koronakryzysu między drugim a trzecim kwartałem 2020 r. nastąpił ponad 10-procentowy wzrost liczby zarejestrowanych bezrobotnych.
Bez pracy pozostaje ponad 3,7 mln Hiszpanów; poziom bezrobocia w trzecim kwartale br. wynosił 16,26 proc. i był najwyższy od pierwszego kwartału 2018 r., w drugim kwartale 2020 r. było to 15,33 proc.
Analitycy INE zauważyli, że tak duży wzrost bezrobocia między kwartałami ostatnio odnotowano w pierwszym okresie 2012 r., czyli w czasie gdy Hiszpania mierzyła się z konsekwencjami kryzysu finansowego.
Podane przez INE statystyki są zgodne z przewidywaniami banku centralnego Hiszpanii (BdE), według którego bezrobocie będzie sukcesywnie rosnąć w tym kraju do końca 2021 r.
W opublikowanych we wrześniu prognozach bank centralny szacuje, że już w grudniu 2020 r. stopa bezrobocia w Hiszpanii wyniesie od 17,1 do 18,6 proc., zaś w 2021 r. może przekroczyć 22 proc.
Czytaj więcej:
Już 80 proc. Hiszpanów popiera pracę z domu
Hiszpania: Bezrobocie młodych 3 razy wyższe niż średnia UE
Hiszpania: Cztery regiony ogłosiły kolejne restrykcje związane z Covid-19
Hiszpania: Najwięcej zakażeń w Europie Zachodniej. "Czekają nas trudne miesiące"
Hiszpańskie służby: Rodzina i znajomi groźnym źródłem zakażeń
AdsByGoogle - In-Feed slot=4906192224
Zone type:d<== ==>place:d1<===
Webmaster: ZonePlace=d1; dzial=wiadomosci; Stan delivery
Zone type:e-desktop<== ==>place:e1-desktop<===
Webmaster: ZonePlace=e1-desktop; dzial=wiadomosci; Stan delivery
Zone type:d<== ==>place:d2<===
Webmaster: ZonePlace=d2; dzial=wiadomosci; Stan delivery
Zone type:d<== ==>place:d3<===
Webmaster: ZonePlace=d3; dzial=wiadomosci; Stan delivery
Zone type:d<== ==>place:d4<===
Webmaster: ZonePlace=d4; dzial=wiadomosci; Stan delivery