Menu
Zone type:ab<== ==>place:ab<===
Webmaster: ZonePlace=ab; dzial=wiadomosci; Stan delivery
Union boss Sharon Graham calls on Sunak to intervene on NHS pay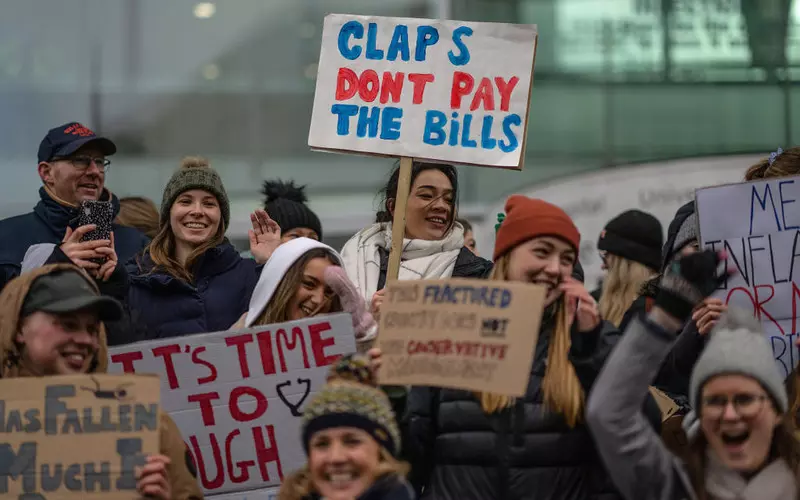 The leader of a union representing striking ambulance workers has called on Rishi Sunak to intervene in the NHS pay dispute.


Zone type:video<== ==>place:video<===
Webmaster: ZonePlace=video; dzial=wiadomosci; Stan delivery
Zone type:e-mobile<== ==>place:e1-mobile<===
Webmaster: ZonePlace=e1-mobile; dzial=wiadomosci; Stan delivery
News available in Polish
"Gdzie jest Rishi Sunak? Dlaczego nie ma go przy stole negocjacyjnym?" - zapytała Sharon Graham w przeddzień największego tygodnia strajków w historii NHS.
Jej apel następuje po tym, gdy związki zawodowe na Wyspach wezwały premiera do "zrobienia absolutnie wszystkiego, w celu uniknięcia strajków pielęgniarek".
#bbclaurak - Grant Shapps says you are putting lives at risk & patients will be harmed by you walking out

Sharon Graham(Unite) - "Shapps is actually lying.. the idea ambulance workers didn't do minimum cover is an absolute utter lie.... this govt is putting lives at risk..." pic.twitter.com/uAlqurfyBn

— Haggis_UK 🇬🇧 🇪🇺 (@Haggis_UK) February 5, 2023
Brytyjski rząd stoi na stanowisku, że podwyżka o 1 400 funtów dla pracowników NHS w tym roku "jest uczciwa". Unite i inne związki zawodowe twierdzą jednak, że podwyżka płac nie odzwierciedla rosnących kosztów utrzymania i w rzeczywistości "jest obniżką".
Minister zdrowia Stephen przekazał, że przeprowadził "konstruktywne" rozmowy ze związkami zawodowymi w sprawie wynagrodzeń na następny rok budżetowy.
Sharon Graham z Unite oznajmiła jednak dziś na antenie BBC One, że "związkowcy nie prowadzą żadnych rozmów z rządem na jakimkolwiek szczeblu". Dodała, że "wszyscy ministrowie zrzekają się odpowiedzialności".
• NHS Hospital Canteen: 'Single Tuna sarnie' costing £3.00 for nurses, paid for out of their own wage

• Houses of Parliament: 'Rum banana tarte tatin with rum and raisin ice cream' for the princely sum of £2.37 for MPs, paid for by you the taxpayer

Back the nurses' pay strike

— Howard Beckett (@BeckettUnite) February 5, 2023
"Zamiast organizować konferencje prasowe, podejdź do stołu i negocjuj. Zakasaj rękawy i rozmawiaj o wynagrodzeniu dla pracowników NHS" - wezwała Rishiego Sunaka przedstawicielka Unite.
Wcześniej podobny apel wystosował Pat Cullen, szef związku zawodowego RCN (Royal College of Nursing). "Apeluję bezpośrednio do ciebie po raz pierwszy - zajmij się tym problem" - wezwał brytyjskiego premiera.
Jutro w Anglii rozpocznie się największy w historii kraju tydzień strajków, który obejmie m.in. pielęgniarki, fizjoterapeutów i pracowników pogotowia ratunkowego.

Czytaj więcej:
Jak wspomóc NHS w czasie kryzysu? Minister zdrowia radzi: "Rzućcie palenie, ćwiczcie"
Brytyjskie pielęgniarki znów strajkują. Rząd twierdzi, że nie ma pieniędzy na podwyżki
Strajk pracowników służb ratunkowych nabiera tempa. Podano aż 10 dat
AdsByGoogle - In-Feed slot=4906192224
Zone type:d<== ==>place:d1<===
Webmaster: ZonePlace=d1; dzial=wiadomosci; Stan delivery
Zone type:e-desktop<== ==>place:e1-desktop<===
Webmaster: ZonePlace=e1-desktop; dzial=wiadomosci; Stan delivery
Zone type:d<== ==>place:d2<===
Webmaster: ZonePlace=d2; dzial=wiadomosci; Stan delivery
Zone type:d<== ==>place:d3<===
Webmaster: ZonePlace=d3; dzial=wiadomosci; Stan delivery
Zone type:d<== ==>place:d4<===
Webmaster: ZonePlace=d4; dzial=wiadomosci; Stan delivery