Menu
Zone type:ab<== ==>place:ab<===
Webmaster: ZonePlace=ab; dzial=wiadomosci; Stan delivery
The Ukrainian team that won the Eurovision Song Contest sold one of the awards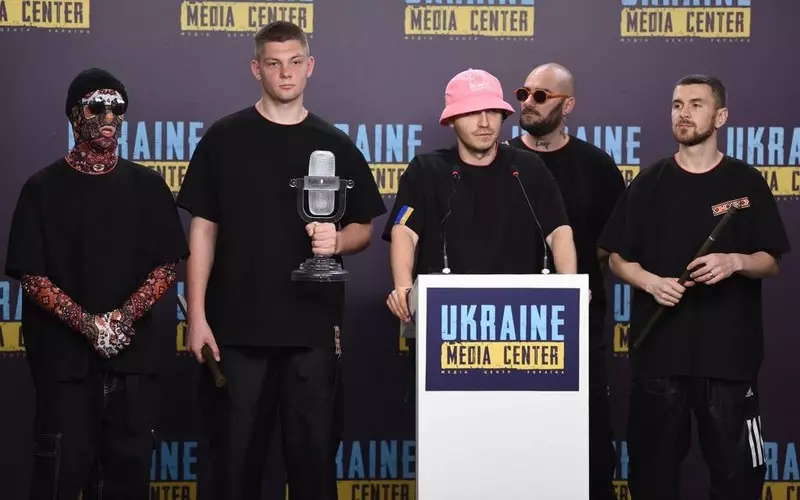 The Eurovision crystal microphone, which was won by the Ukrainian Kalush Orchestra this year, was sold at a charity auction for $ 900,000. The proceeds from the sale will be donated to help the Ukrainian army.
Zone type:video<== ==>place:video<===
Webmaster: ZonePlace=video; dzial=wiadomosci; Stan delivery
Zone type:e-mobile<== ==>place:e1-mobile<===
Webmaster: ZonePlace=e1-mobile; dzial=wiadomosci; Stan delivery
News available in Polish
Ukraiński zespół Kałusz Orchestra zwyciężył w tegorocznym konkursie Eurowizji piosenką "Stephanie".
Po zwycięstwie muzycy poinformowali, że planują sprzedać statuetkę Eurowizji 2022 i uzyskane pieniądze przekazać na potrzeby ukraińskiej armii. Jak informuje agencja Reuters, zakupione mają być przede wszystkim drony PD-2, które produkowane są na Ukrainie.
"Puchar przywieziony na Ukrainę przez chłopaków z Kałusz Orchestra, został sprzedany za 900 tysiecy dolarów" - wyjaśnili organizatorzy aukcji.
Aukcja została wsparta przez Ministerstwo Kultury i Polityki Informacyjnej Ukrainy, Ministerstwo Cyfrowej Transformacji Ukrainy oraz Europejską Unię Językową (EBU), stowarzyszenie nadawców, które organizuje Konkurs Piosenki Eurowizji.
Czytaj więcej:
Europejscy przywódcy gratulują Ukrainie zwycięstwa w konkursie Eurowizji
AdsByGoogle - In-Feed slot=4906192224
Zone type:d<== ==>place:d1<===
Webmaster: ZonePlace=d1; dzial=wiadomosci; Stan delivery
Zone type:e-desktop<== ==>place:e1-desktop<===
Webmaster: ZonePlace=e1-desktop; dzial=wiadomosci; Stan delivery
Zone type:d<== ==>place:d2<===
Webmaster: ZonePlace=d2; dzial=wiadomosci; Stan delivery
Zone type:d<== ==>place:d3<===
Webmaster: ZonePlace=d3; dzial=wiadomosci; Stan delivery
Zone type:d<== ==>place:d4<===
Webmaster: ZonePlace=d4; dzial=wiadomosci; Stan delivery