Menu
Zone type:ab<== ==>place:ab<===
Webmaster: ZonePlace=ab; dzial=wiadomosci; Stan delivery
The legendary Oxford - Cambridge rowing race is to return to London in 2022.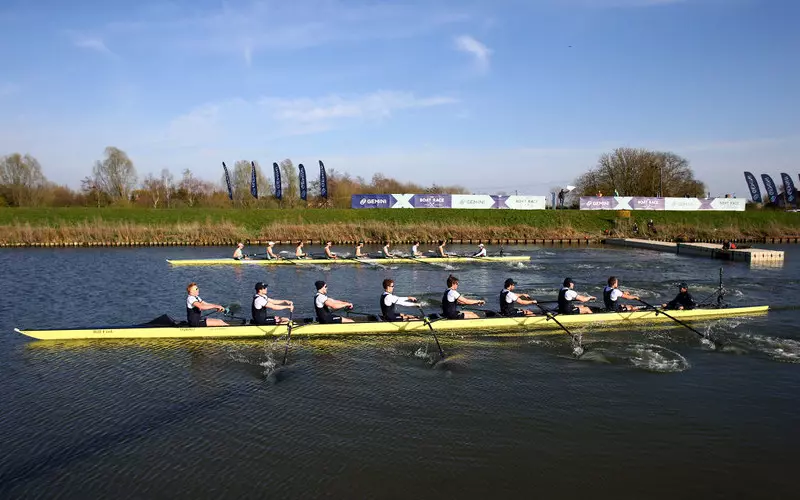 The famous Oxford and Cambridge university rowing eights regatta is to return to London's Thames in 2022, after a two-year hiatus. The competition is scheduled for 3 April, British media reported.
Zone type:video<== ==>place:video<===
Webmaster: ZonePlace=video; dzial=wiadomosci; Stan delivery
Zone type:e-mobile<== ==>place:e1-mobile<===
Webmaster: ZonePlace=e1-mobile; dzial=wiadomosci; Stan delivery
News available in Polish
W 2020 r. nie doszło do rywalizacji wioślarskiej z powodu pandemii COVID-19.
W kwietniu tego roku 166. wyścig odbył się, ale z wielkimi obostrzeniami pandemicznymi, jednak nie w Londynie. Walczono na rzece Great Ouse w 20-tysięcznym mieście Ely we wschodniej Anglii, bez udziału publiczności. Zwyciężyła osada Cambridge i był to jej trzeci triumf z rzędu oraz 85. w historii. Uniwersytet zdobył dublet, bo zwyciężył także w zawodach kobiecych.
Do przeniesienia regat poza Londyn doszło dopiero drugi raz w historii. Pierwszy raz zdarzyło się to w 1944 r. - wówczas gospodarzem było także Ely, gdzie swoją siedzibę ma wioślarski klub studentów z Cambridge.
Wyścig w stolicy cieszy się ogromnym zainteresowaniem kibiców, którzy gromadzą się wzdłuż brzegów Tamizy. Liczba fanów dochodzi nawet do pół miliona. Na razie nie wiadomo, czy regaty w przyszłym roku odbędą się z kibicami.
Czytaj więcej:
Regaty Oxford-Cambridge w tym roku poza Londynem
Osada Cambridge lepsza od Oksfordu w legendarnych regatach
AdsByGoogle - In-Feed slot=4906192224
Zone type:d<== ==>place:d1<===
Webmaster: ZonePlace=d1; dzial=wiadomosci; Stan delivery
Zone type:e-desktop<== ==>place:e1-desktop<===
Webmaster: ZonePlace=e1-desktop; dzial=wiadomosci; Stan delivery
Zone type:d<== ==>place:d2<===
Webmaster: ZonePlace=d2; dzial=wiadomosci; Stan delivery
Zone type:d<== ==>place:d3<===
Webmaster: ZonePlace=d3; dzial=wiadomosci; Stan delivery
Zone type:d<== ==>place:d4<===
Webmaster: ZonePlace=d4; dzial=wiadomosci; Stan delivery