Menu
Zone type:ab<== ==>place:ab<===
Webmaster: ZonePlace=ab; dzial=wiadomosci; Stan delivery
Sweden, Denmark and Norway call for caution in Turkey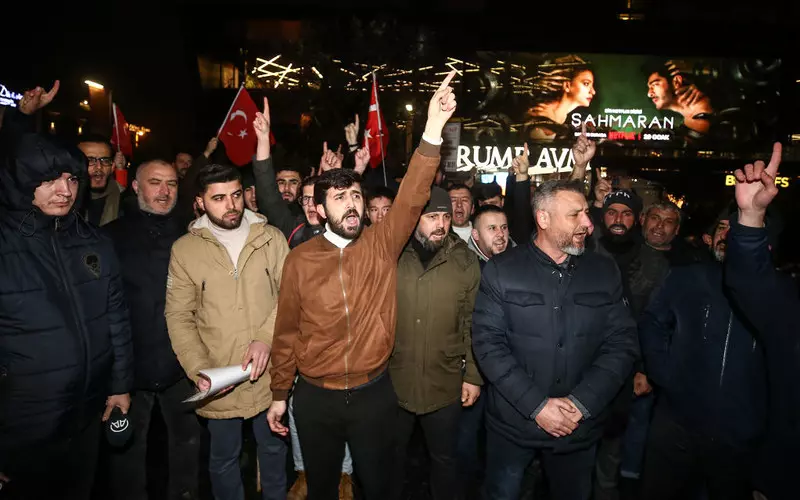 The diplomatic ministries of Sweden, Denmark and Norway yesterday appealed to their citizens staying in Turkey to exercise caution and avoid gatherings. The warning has to do with the tense atmosphere following the burning of copies of the Koran at demonstrations in Stockholm and Copenhagen.
Zone type:video<== ==>place:video<===
Webmaster: ZonePlace=video; dzial=wiadomosci; Stan delivery
Zone type:e-mobile<== ==>place:e1-mobile<===
Webmaster: ZonePlace=e1-mobile; dzial=wiadomosci; Stan delivery
News available in Polish
"Szwedzi w Turcji proszeni są o śledzenie rozwoju wydarzeń, unikanie dużych zgromadzeń oraz demonstracji, zapisanie się na listę MSZ oraz ściągnięcie aplikacji MSZ dla podróżnych" - poinformował szwedzki resort dyplomacji.
Ambasada Królestwa Szwecji w Ankarze, przed którą odbywały się wcześniej antyszwedzkie manifestacje, polegające m.in. na paleniu szwedzkiej flagi, została zamknięta dla interesantów. Wciąż funkcjonuje szwedzki konsulat w Stambule, ale zalecono "zachowanie czujności przy wchodzeniu".
Sweden's foreign ministry warned Swedish citizens in Turkey to avoid large gatherings and demonstrations, as protests continue over a Quran burning by a far-right politician in Stockholm last week. https://t.co/DyAeOaURGI

— DW News (@dwnews) January 28, 2023
Podobne apele do swoich obywateli o unikanie zgromadzeń w Turcji wystosowały resorty dyplomacji Danii oraz Norwegii.
W ostatnich dniach duńsko-szwedzki prowokator Rasmus Paludan, założyciel antymuzułmańskiej partii Stram Kurs (Twarda Linia), spalił Koran przed ambasadą Turcji w Sztokholmie oraz w Kopenhadze. Wywołało to kryzys w stosunkach szwedzko-tureckich.
Prezydent Turcji Recep Tayyip Erdogan oznajmił, że Szwecja nie może liczyć na wejście do NATO, Ankara odwołała trójstronne spotkanie ze szwedzkimi oraz fińskimi władzami. MSZ Turcji wezwało na rozmowę ambasadora Danii.
Czytaj więcej:
Szwecja: W czterech miastach doszło do zamieszek z powodu spalenia koranu
Szwecja: Czwarty dzień zamieszek po spaleniu Koranu. Policja postrzeliła trzy osoby
Szwecja: Żona premiera została pastorem
Hiszpania: Atak z maczetą w dwóch kościołach. Napastnik domagał się od wiernych przejścia na islam
AdsByGoogle - In-Feed slot=4906192224
Zone type:d<== ==>place:d1<===
Webmaster: ZonePlace=d1; dzial=wiadomosci; Stan delivery
Zone type:e-desktop<== ==>place:e1-desktop<===
Webmaster: ZonePlace=e1-desktop; dzial=wiadomosci; Stan delivery
Zone type:d<== ==>place:d2<===
Webmaster: ZonePlace=d2; dzial=wiadomosci; Stan delivery
Zone type:d<== ==>place:d3<===
Webmaster: ZonePlace=d3; dzial=wiadomosci; Stan delivery
Zone type:d<== ==>place:d4<===
Webmaster: ZonePlace=d4; dzial=wiadomosci; Stan delivery