Menu
Zone type:ab<== ==>place:ab<===
Webmaster: ZonePlace=ab; dzial=wiadomosci; Stan delivery
La Liga: Barcelona closer to Madrid duo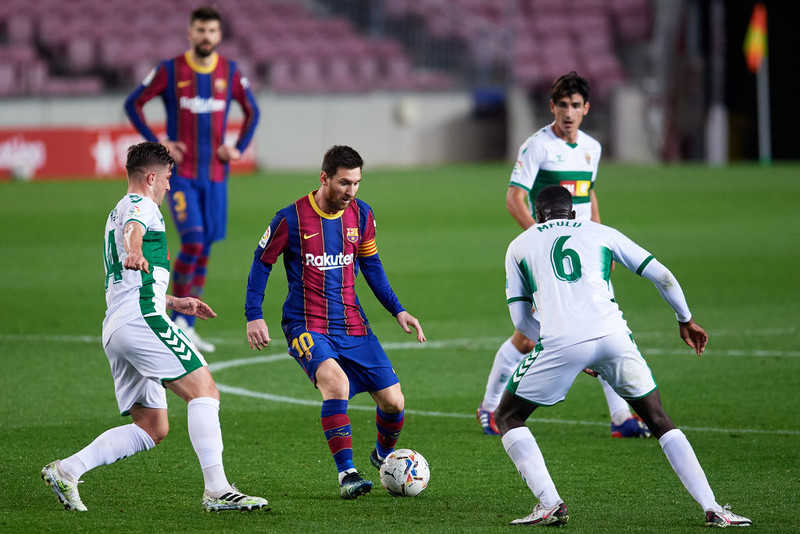 Barcelona, after a 3-0 victory over Elche in the backgammon, advanced to the third place in the Spanish league table and came close to the capital duo - Atletico and Real, which is ahead of them.
Zone type:video<== ==>place:video<===
Webmaster: ZonePlace=video; dzial=wiadomosci; Stan delivery
Zone type:e-mobile<== ==>place:e1-mobile<===
Webmaster: ZonePlace=e1-mobile; dzial=wiadomosci; Stan delivery
News available in Polish
Zawodnicy "Barcy" na Camp Nou w pierwszej połowie nie potrafili sforsować defensywy przedostatniego zespołu tabeli. Uczynił to dopiero krótko po przerwie Lionel Messi, który dał gospodarzom prowadzenie i został liderem klasyfikacji strzelców La Liga. W 69. minucie Argentyńczyk 18. golem w sezonie podwyższył na 2:0, a cztery minuty później rezultat ustalił Jordi Alba.
Barcelona z 50 punktami wyprzedziła Sevillę i jest trzecia w tabeli. Traci dwa do Realu oraz pięć do prowadzącego Atletico, które rozegrało jedno spotkanie mniej niż najgroźniejsi rywale w walce o tytuł.
"Barcelona nie potknęła się drugi raz o podobny kamień" - skomentowała wczorajszą wygrana "Marca", nawiązując do sobotniego remisu z także plasującym się w dolnych rejonach tabeli Cadiz.
Gazeta zauważyła, że w innym wypadku ekipa trenera Ronalda Koemana zrównałaby się punktami z Realem i mogłaby myśleć o skutecznym pościgu za liderem. "A tak do Atletico wciąż daleko" - podsumował dziennikarza gazety.
W sobotę drużynę ze stolicy Katalonii czeka wyjazdowa potyczka z Sevillą, która ma dwa punkty mniej, a w lidze wygrała sześć ostatnich spotkań.
AdsByGoogle - In-Feed slot=4906192224
Zone type:d<== ==>place:d1<===
Webmaster: ZonePlace=d1; dzial=wiadomosci; Stan delivery
Zone type:e-desktop<== ==>place:e1-desktop<===
Webmaster: ZonePlace=e1-desktop; dzial=wiadomosci; Stan delivery
Zone type:d<== ==>place:d2<===
Webmaster: ZonePlace=d2; dzial=wiadomosci; Stan delivery
Zone type:d<== ==>place:d3<===
Webmaster: ZonePlace=d3; dzial=wiadomosci; Stan delivery
Zone type:d<== ==>place:d4<===
Webmaster: ZonePlace=d4; dzial=wiadomosci; Stan delivery