Menu
Zone type:ab<== ==>place:ab<===
Webmaster: ZonePlace=ab; dzial=wiadomosci; Stan delivery
Ireland Coronavirus: 785 Cases and 3 Deaths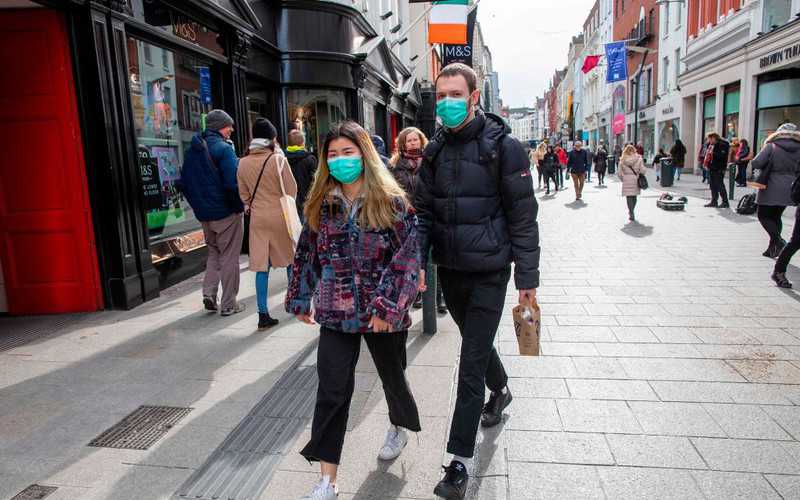 Another 102 cases of Covid-19 have been announced in the Republic of Ireland, bringing the total number to 785.
Zone type:video<== ==>place:video<===
Webmaster: ZonePlace=video; dzial=wiadomosci; Stan delivery
Zone type:e-mobile<== ==>place:e1-mobile<===
Webmaster: ZonePlace=e1-mobile; dzial=wiadomosci; Stan delivery
News available in Polish
Liczba nowych zakażeń jest jednak mniejsza niż w czwartek, gdy wzrosła o 191, co było dotychczas najgorszym wynikiem, oraz w piątek gdy zwiększyła się o 126. Jak do tej pory w Irlandii miały miejsce trzy zgony z powodu koronawirusa - ostatni w czwartek. Liczba przeprowadzonych testów przekroczyła wczoraj 10 tys.
Jak podało ministerstwo zdrowia, ok. 55 proc. wszystkich dotychczasowych zakażeń wykryto w stolicy kraju, Dublinie.
Ocenia się, że ok. 80 proc. wszystkich przypadków w Irlandii ma przebieg łagodny do średniego, 14 proc. poważny, zaś 6 proc. zakażonych jest w stanie krytycznym. Dotychczas w Irlandii z powodu Covid-19 hospitalizowano ok. 30 proc. zakażonych. Obecnie 13 osób przebywa na oddziałach intensywnej terapii.
W poniedziałek p.o. premiera Irlandii Leo Varadkar przekazał, że rząd spodziewa się wzrostu zachorowań do końca miesiąca do ok. 15 tys. przypadków.
Czytaj więcej:
Irlandia spodziewa się 15 tys. zakażeń do końca miesiąca
Eksperci ostrzegają: Ubrania mogą przenosić koronawirusa
W Chinach rosną obawy przed drugą falą epidemii
W Polsce epidemia koronawirusa "nie ustąpi do końca kwietnia"
AdsByGoogle - In-Feed slot=4906192224
Zone type:d<== ==>place:d1<===
Webmaster: ZonePlace=d1; dzial=wiadomosci; Stan delivery
Zone type:e-desktop<== ==>place:e1-desktop<===
Webmaster: ZonePlace=e1-desktop; dzial=wiadomosci; Stan delivery
Zone type:d<== ==>place:d2<===
Webmaster: ZonePlace=d2; dzial=wiadomosci; Stan delivery
Zone type:d<== ==>place:d3<===
Webmaster: ZonePlace=d3; dzial=wiadomosci; Stan delivery
Zone type:d<== ==>place:d4<===
Webmaster: ZonePlace=d4; dzial=wiadomosci; Stan delivery