Menu
Zone type:ab<== ==>place:ab<===
Webmaster: ZonePlace=ab; dzial=wiadomosci; Stan delivery
Foreigners return to Mount Everest as Nepal battles second COVID-19 wave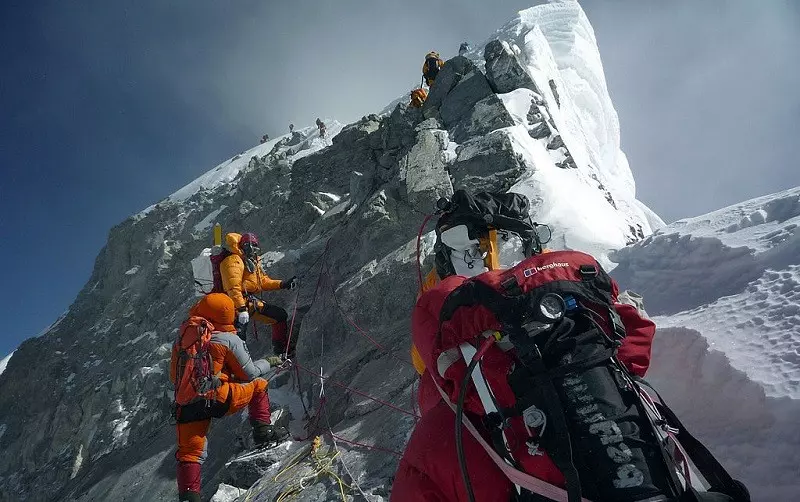 Foreigners climbed Mount Everest for the first time since Nepal's government reopened the mountain after it was shut last year due to the COVID-19 pandemic, despite recent coronavirus cases at its base camp.
Zone type:video<== ==>place:video<===
Webmaster: ZonePlace=video; dzial=wiadomosci; Stan delivery
Zone type:e-mobile<== ==>place:e1-mobile<===
Webmaster: ZonePlace=e1-mobile; dzial=wiadomosci; Stan delivery
News available in Polish
W ubiegłym roku z powodu koronawirusa rząd Nepalu zabronił organizowania wypraw na Czomolungmę, ale w bieżącym znów wydawał licencję na wspinaczkę. Przyznano ich 408, najwięcej w historii na jeden sezon.
Zagrożenie infekcją COVID-19 wciąż jednak nie mija. W kwietniu trzeba było ewakuować z bazy niektórych alpinistów z objawami choroby. W Nepalu z powodu pandemii zmarło blisko cztery tysiące osób. Obecnie kraj walczy z drugą falą.
Chiny zdecydowały się wytyczyć na szczycie granicę, aby oddzielić od siebie grupy wspinające się po stronie nepalskiej i tybetańskiej.
Każdy, kto chce zdobyć Mount Everest, musi przedłożyć negatywny wynik testu na koronawirusa.
Czytaj więcej:
Bargiel rezygnuje z Mount Everestu. "Ja tego ryzyka nie akceptuję"
Chiny zamykają dostęp na Mount Everest z powodu koronawirusa
Wznowiono loty widokowe wokół Everestu
Nepal: Mount Everest wyższy o 86 cm
Himalaista Janusz Gołąb: Interesuje mnie styl wspinaczki, a nie komercja [wywiad]
AdsByGoogle - In-Feed slot=4906192224
Zone type:d<== ==>place:d1<===
Webmaster: ZonePlace=d1; dzial=wiadomosci; Stan delivery
Zone type:e-desktop<== ==>place:e1-desktop<===
Webmaster: ZonePlace=e1-desktop; dzial=wiadomosci; Stan delivery
Zone type:d<== ==>place:d2<===
Webmaster: ZonePlace=d2; dzial=wiadomosci; Stan delivery
Zone type:d<== ==>place:d3<===
Webmaster: ZonePlace=d3; dzial=wiadomosci; Stan delivery
Zone type:d<== ==>place:d4<===
Webmaster: ZonePlace=d4; dzial=wiadomosci; Stan delivery