Menu
Zone type:ab<== ==>place:ab<===
Webmaster: ZonePlace=ab; dzial=wiadomosci; Stan delivery
Messi sent off as Athletic Bilbao sink Barcelona to win Spanish Super Cup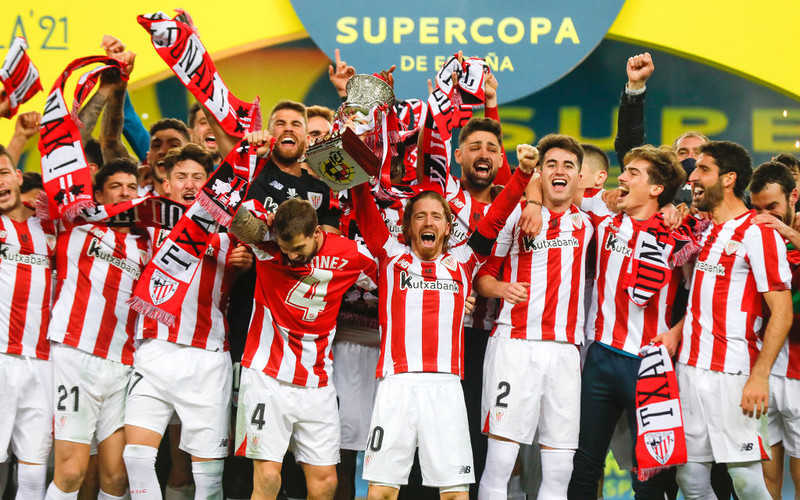 La Liga's Athletic Bilbao defeated Barcelona 3-2 and won the Spanish Super Cup while Lionel Messi was shown a red card for the first time in his Barca career.
Zone type:video<== ==>place:video<===
Webmaster: ZonePlace=video; dzial=wiadomosci; Stan delivery
Zone type:e-mobile<== ==>place:e1-mobile<===
Webmaster: ZonePlace=e1-mobile; dzial=wiadomosci; Stan delivery
News available in Polish
Athletic w półfinale uporał się z mistrzem kraju - Realem Madryt. I to wyraźnie dodało drużynie skrzydeł. Piłkarze uwierzyli, że są w stanie pokonać znacznie wyżej notowany zespół i udowodnili to także w meczu o trofeum.
Barcelona wczoraj dwukrotnie wychodziła na prowadzenie. Obydwie bramki strzelił francuski napastnik Antoine Griezmann (40, 77), ale zawodnicy z Bilbao potrafili wyjść z opresji. Doprowadzili do remisu dzięki bramkom Oscara de Marcosa (42) i Asiera Villalibrego (90).
Bohaterem spotkania został Inaki Williams. To właśnie 26-letni Hiszpan trafił w czwartej minucie dogrywki i zapewnił drużynie trzeci w historii klubu Superpuchar.
Pod koniec spotkania czerwoną kartką za uderzenie łokciem został ukarany największy gwiazdor "Barcy" Argentyńczyk Lionel Messi.
Athletic wcześniej trofeum zdobył w 1984 i 2015 roku.
Czytaj więcej:
Superpuchar Hiszpanii: Barcelona pierwszym finalistą. Awans bez Messiego
Superpuchar Hiszpanii: Niespodziewana porażka Realu Madryt
AdsByGoogle - In-Feed slot=4906192224
Zone type:d<== ==>place:d1<===
Webmaster: ZonePlace=d1; dzial=wiadomosci; Stan delivery
Zone type:e-desktop<== ==>place:e1-desktop<===
Webmaster: ZonePlace=e1-desktop; dzial=wiadomosci; Stan delivery
Zone type:d<== ==>place:d2<===
Webmaster: ZonePlace=d2; dzial=wiadomosci; Stan delivery
Zone type:d<== ==>place:d3<===
Webmaster: ZonePlace=d3; dzial=wiadomosci; Stan delivery
Zone type:d<== ==>place:d4<===
Webmaster: ZonePlace=d4; dzial=wiadomosci; Stan delivery