Menu
Zone type:ab<== ==>place:ab<===
Webmaster: ZonePlace=ab; dzial=wiadomosci; Stan delivery
WTA in Adelaide: Iga Świątek advanced to the quarter-finals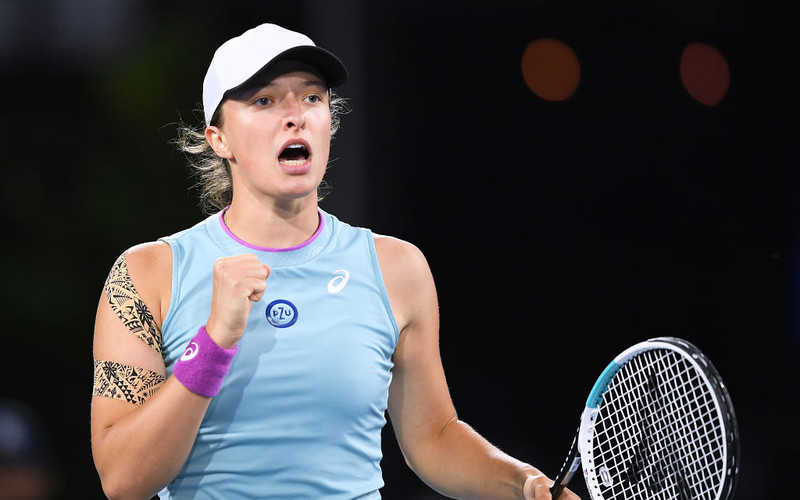 Iga Świątek advanced to the quarter-finals of the WTA tournament in Adelaide, Australia. Today, the Polish tennis player defeated the hosts' representative Maddison Inglis 6: 1, 6: 3.
Zone type:video<== ==>place:video<===
Webmaster: ZonePlace=video; dzial=wiadomosci; Stan delivery
Zone type:e-mobile<== ==>place:e1-mobile<===
Webmaster: ZonePlace=e1-mobile; dzial=wiadomosci; Stan delivery
News available in Polish
23-letnia Inglis zajmuje obecnie 136. miejsce w światowym rankingu, a najwyżej w karierze była na 112. pozycji (w marcu 2020 roku). Do zmagań w Adelajdzie musiała przebijać się przez kwalifikacje.
Świątek, która w najnowszym notowaniu listy WTA spadła z 17. na 18. miejsce, bardzo dobrze rozpoczęła mecz. Pierwszego seta wygrała gładko 6:1 w nieco ponad pół godziny.
Druga partia toczyła się punkt za punkt do stanu 3:3. W siódmym gemie Świątek wreszcie przełamała serwis rywalki. Następnie błyskawicznie wygrała swoje podanie, a potem znów popisała się przełamaniem, które dało jest zwycięstwo w secie 6:3 oraz w całym meczu.
To był pierwszy pojedynek 19-letniej Polki z Inglis.
Jutro następną rywalką Świątek będzie Danielle Collins. Amerykanka niespodziewanie pokonała rozstawioną z numerem pierwszym Australijkę Ashleigh Barty 6:3, 6:4. 27-letnia Collins w światowym rankingu zajmuje 37. miejsce. Polka wcześniej z nią nie grała.
Wynik meczu 2. rundy turnieju w Adelajdzie:
Iga Świątek (Polska, 5) - Maddison Inglis (Australia) 6:1, 6:3.
Czytaj więcej:
Iga Świątek: Nadchodzący sezon będzie trudniejszy
Australian Open: Świątek przegrała z Halep w trzech setach w 1/8 finału
Rankingi WTA i ATP: Barty i Djokovic królują
WTA w Adelajdzie: Inglis rywalką Świątek w drugiej rundzie
AdsByGoogle - In-Feed slot=4906192224
Zone type:d<== ==>place:d1<===
Webmaster: ZonePlace=d1; dzial=wiadomosci; Stan delivery
Zone type:e-desktop<== ==>place:e1-desktop<===
Webmaster: ZonePlace=e1-desktop; dzial=wiadomosci; Stan delivery
Zone type:d<== ==>place:d2<===
Webmaster: ZonePlace=d2; dzial=wiadomosci; Stan delivery
Zone type:d<== ==>place:d3<===
Webmaster: ZonePlace=d3; dzial=wiadomosci; Stan delivery
Zone type:d<== ==>place:d4<===
Webmaster: ZonePlace=d4; dzial=wiadomosci; Stan delivery