Menu
Zone type:ab<== ==>place:ab<===
Webmaster: ZonePlace=ab; dzial=wiadomosci; Stan delivery
Sensational win of Polish women in volleyball. Serbki already in the quarter-finals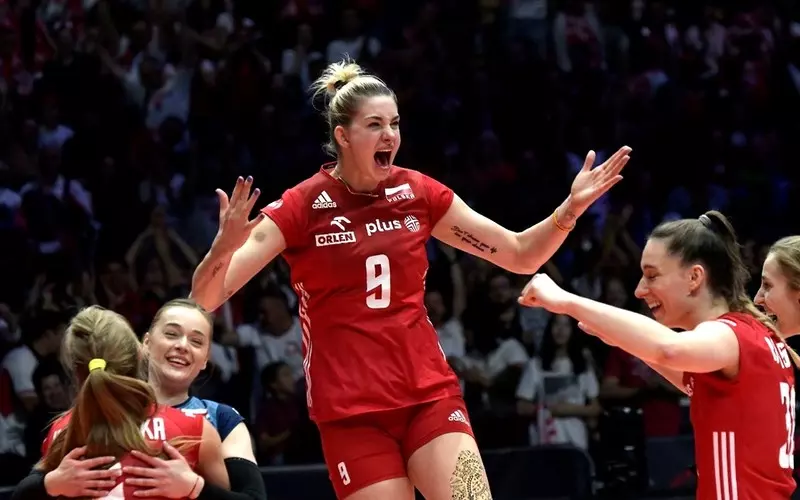 Polish volleyball players made a sensation by winning 3-0 against the Olympic champion of the United States in Łódź and significantly increased the chances of being promoted to the quarter-finals of the world championship. The best eight are already the defenders of the Serbka title, who recorded their seventh victory.
Zone type:video<== ==>place:video<===
Webmaster: ZonePlace=video; dzial=wiadomosci; Stan delivery
Zone type:e-mobile<== ==>place:e1-mobile<===
Webmaster: ZonePlace=e1-mobile; dzial=wiadomosci; Stan delivery
News available in Polish
Biało-czerwone zagrały najlepsze spotkanie w turnieju, które otwiera im drzwi do najlepszej ósemki. Tylko pierwszy set był wyrównany, a potem dominacja gospodyń nie podlegała już dyskusji.
Zwycięstwa Polek oraz Niemek nad Tajlandią (3:0) mocno zagmatwały sytuację w tabeli grupy F. Serbki na dwie kolejki przed zakończeniem drugiej fazy są już pewne gry w ćwierćfinale. Pozostałe siedem drużyn nie straciło szansy, by dołączyć do obrończyń mistrzowskiego tytułu.
Jutro i pojutrze rozegrane zostaną kolejne mecze. Podopieczne Stefano Lavariniego zmierzą się najpierw z Kanadą, a dzień później z Niemcami.
W grupie F ważne zwycięstwo zanotowały Włoszki, które pokonały Japonki 3:1 i są blisko zakwalifikowani się do ćwierćfinału. W dwóch pozostałych spotkaniach pewnie wygrywały faworytki.
Ćwierćfinały i półfinały odbędą się w Gliwicach oraz Apeldoorn, który będzie gospodarzem także meczów o brązowy i złoty medal. Mistrzostwa potrwają do 15 października.
Czytaj więcej:
Polskie zespoły siatkarskie nie chcą grać z drużynami z Rosji
IBB Polonia Londyn kontynuuje realizację The Volleyball Show
MŚ siatkarzy: Polska przegrała w finale z Włochami 1:3
AdsByGoogle - In-Feed slot=4906192224
Zone type:d<== ==>place:d1<===
Webmaster: ZonePlace=d1; dzial=wiadomosci; Stan delivery
Zone type:e-desktop<== ==>place:e1-desktop<===
Webmaster: ZonePlace=e1-desktop; dzial=wiadomosci; Stan delivery
Zone type:d<== ==>place:d2<===
Webmaster: ZonePlace=d2; dzial=wiadomosci; Stan delivery
Zone type:d<== ==>place:d3<===
Webmaster: ZonePlace=d3; dzial=wiadomosci; Stan delivery
Zone type:d<== ==>place:d4<===
Webmaster: ZonePlace=d4; dzial=wiadomosci; Stan delivery