Menu
Zone type:ab<== ==>place:ab<===
Webmaster: ZonePlace=ab; dzial=wiadomosci; Stan delivery
London: British army soldier faces trial on terrorism charges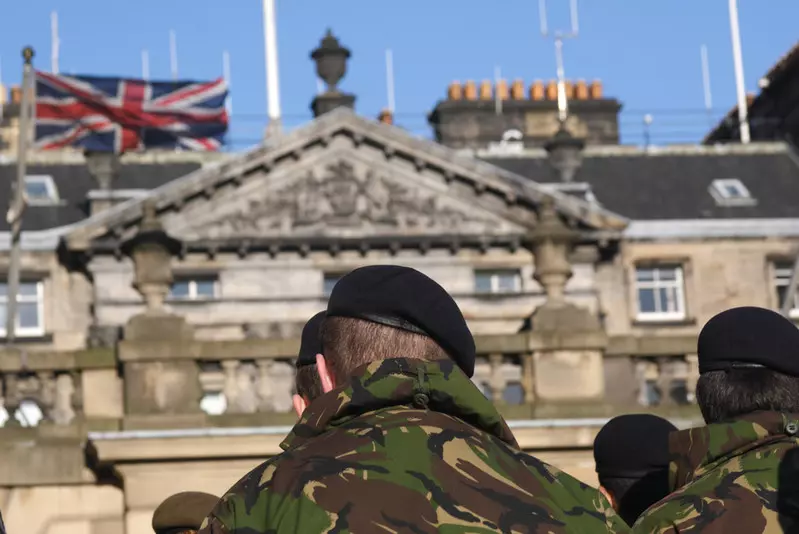 A 21-year-old British Army soldier, who remains on active duty, stood trial in London yesterday on two counts of committing acts of terrorism.
Zone type:video<== ==>place:video<===
Webmaster: ZonePlace=video; dzial=wiadomosci; Stan delivery
Zone type:e-mobile<== ==>place:e1-mobile<===
Webmaster: ZonePlace=e1-mobile; dzial=wiadomosci; Stan delivery
News available in Polish
W piątek wieczorem londyńska policja metropolitalna poinformowała, że postawiła zarzuty 21-letniemu Danielowi Abedowi Khalife ze Stafford.
W dniu 2 sierpnia 2021 r. miał on uzyskać lub próbował uzyskać informacje "o osobie, która była lub jest członkiem sił zbrojnych Jego Królewskiej Mości, które to informacje były tego rodzaju, że mogły być użyteczne dla osoby popełniającej lub przygotowującej akt terroryzmu".
Drugi zarzut dotyczy umieszczenia 2 stycznia tego roku w bazie sił powietrznych RAF Stafford "trzech kanistrów z przewodami z zamiarem wywołania u innych przekonania, że wspomniane przedmioty mogą eksplodować lub zapalić się i w ten sposób spowodować obrażenia ciała, lub uszkodzenie mienia".
Wczorajsza rozprawa przed sądem magistrackim londyńskiej dzielnicy Westminster miała charakter proceduralny i sprowadzała się do potwierdzenia tożsamości oskarżonego.
Następna rozprawa, na której Khalife ma odpowiedzieć, czy przyznaje się do postawionych zarzutów, odbędzie się w tym samym sądzie 3 lutego.
Czytaj więcej:
Niemieckie MSW ostrzega: Zagrożenie islamskim terroryzmem pozostaje niezmienne
Londyn: Na Heathrow wykryto niewielką ilość przemycanego uranu
Iran przestrzega UE przed wpisaniem Strażników Rewolucji na listę organizacji terrorystycznych
"NYT": Wysłanie jesienią 2022 roku listów-bomb do hiszpańskich instytucji, to "operacja Rosjan"
AdsByGoogle - In-Feed slot=4906192224
Zone type:d<== ==>place:d1<===
Webmaster: ZonePlace=d1; dzial=wiadomosci; Stan delivery
Zone type:e-desktop<== ==>place:e1-desktop<===
Webmaster: ZonePlace=e1-desktop; dzial=wiadomosci; Stan delivery
Zone type:d<== ==>place:d2<===
Webmaster: ZonePlace=d2; dzial=wiadomosci; Stan delivery
Zone type:d<== ==>place:d3<===
Webmaster: ZonePlace=d3; dzial=wiadomosci; Stan delivery
Zone type:d<== ==>place:d4<===
Webmaster: ZonePlace=d4; dzial=wiadomosci; Stan delivery