Menu
Zone type:ab<== ==>place:ab<===
Webmaster: ZonePlace=ab; dzial=wiadomosci; Stan delivery
German league: maximum 15 000 spectators at stadiums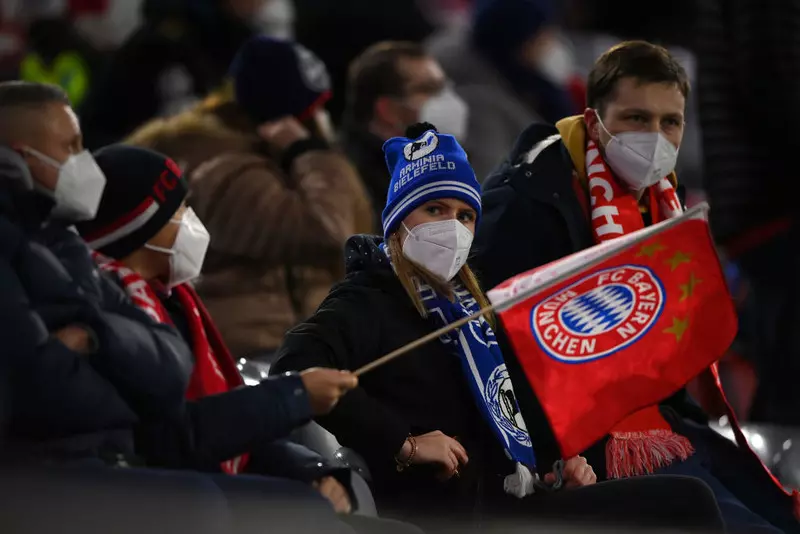 Attendance at Bundesliga football matches can be a maximum of 50 percent, but no more than 15,000 spectators. The German government yesterday reinstated restrictions on sporting events due to the growing number of COVID-19 infections.
Zone type:video<== ==>place:video<===
Webmaster: ZonePlace=video; dzial=wiadomosci; Stan delivery
Zone type:e-mobile<== ==>place:e1-mobile<===
Webmaster: ZonePlace=e1-mobile; dzial=wiadomosci; Stan delivery
News available in Polish
Ustępująca kanclerz Angela Merkel i jej następca Olaf Scholz uzgodnili z szefami 16 niemieckich krajów związkowych szereg restrykcji, w tym zmniejszenie liczby kibiców na imprezach sportowych na świeżym powietrzu i w halach.
W przypadku meczów piłkarskiej Bundesligi stadiony mogą być zapełnione maksymalnie w 50 procentach, ale z zastrzeżeniem, że liczba widzów może wynieść najwyżej 15 tysięcy.
Ten zapis odczują najbardziej kluby, których mecze ogląda po 70-80 tysięcy kibiców, czyli lider Bayern Monachium i wicelider Borussia Dortmund. Właśnie oba zespoły zmierzą się jutro w Dortmundzie - w szlagierze 14. kolejki i całej rundy jesiennej.
Kibice będą musieli zakładać na stadionach maseczki. Jak dodał rząd, w miastach, w których wskaźniki infekcji są wysokie, imprezy sportowe muszą być odwołane.
"Zrozumiałe jest tymczasowe ograniczenie liczby kibiców na stadionie" – przyznał szef Niemieckiej Ligi Piłkarskiej (DFL) Christian Seifert. "DFL ma nadzieję, że ta decyzja doprowadzi do poprawy sytuacji pandemicznej" – dodał.
Czwarta fala COVID-19 przyniosła wczoraj w Niemczech ponad 73 tys. nowych przypadków infekcji i 388 zgonów.
Czytaj więcej:
Liga niemiecka: Lewandowski bez gola, udany powrót i rekord Haalanda
Anulowano bilety na sobotni mecz Borussii z Bayernem
AdsByGoogle - In-Feed slot=4906192224
Zone type:d<== ==>place:d1<===
Webmaster: ZonePlace=d1; dzial=wiadomosci; Stan delivery
Zone type:e-desktop<== ==>place:e1-desktop<===
Webmaster: ZonePlace=e1-desktop; dzial=wiadomosci; Stan delivery
Zone type:d<== ==>place:d2<===
Webmaster: ZonePlace=d2; dzial=wiadomosci; Stan delivery
Zone type:d<== ==>place:d3<===
Webmaster: ZonePlace=d3; dzial=wiadomosci; Stan delivery
Zone type:d<== ==>place:d4<===
Webmaster: ZonePlace=d4; dzial=wiadomosci; Stan delivery