Menu
Zone type:ab<== ==>place:ab<===
Webmaster: ZonePlace=ab; dzial=wiadomosci; Stan delivery
Spain: Cumbre Vieja increased magma release. Lava already on 17 hectares of the ocean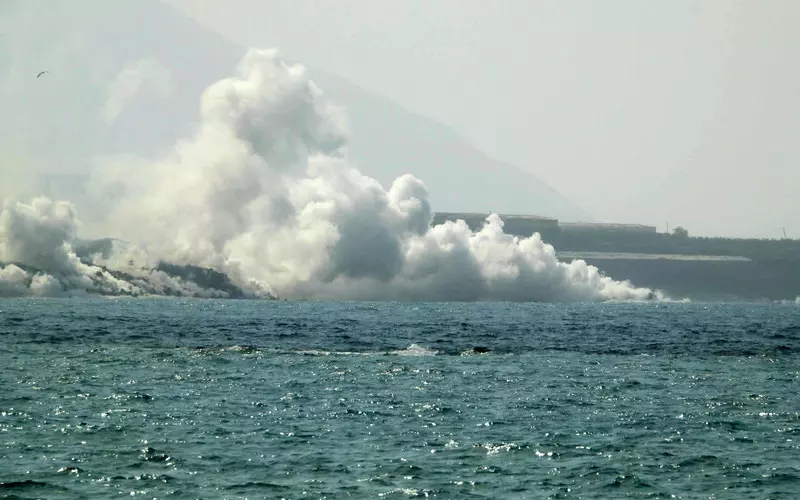 The Cumbre Vieja volcano has increased its lava flow during the last 24 hours due to the emergence of a new source of lava. Heading towards the Atlantic, volcanic magma already covers a total of about 17 hectares, where the ocean used to be.
Zone type:video<== ==>place:video<===
Webmaster: ZonePlace=video; dzial=wiadomosci; Stan delivery
Zone type:e-mobile<== ==>place:e1-mobile<===
Webmaster: ZonePlace=e1-mobile; dzial=wiadomosci; Stan delivery
News available in Polish
Szacuje się, że tylko pomiędzy wczoraj popołudniem a dzisiejszym porankiem obszar zajęty przez wulkaniczną magmę w wodach oceanicznych powiększył się o około 10 hektarów.
Według władz wyspy La Palma, wydostająca się z wulkanu lawa wypływa z większą intensywnością niż z dotychczasowych otworów w Cumbre Vieja. W dalszym ciągu kieruje się w stronę Atlantyku.
Obrona cywilna wydała nad ranem alert do mieszkańców południowo-zachodniej części La Palmy, przestrzegając przed nasileniem się obecności szkodliwego dla zdrowia dwutlenku siarki w powietrzu wskutek kontaktu lawy z wodą oceaniczną.
Władze kanaryjskiej wyspy kontynuują szacowanie strat spowodowanych przez wulkan. W wyniku erupcji zniszczonych zostało już ponad 1 000 budynków. Wskazują też na liczne szkody, jakie ponieśli przedsiębiorcy, głównie plantatorzy bananów.
Dziś rano rząd Wysp Kanaryjskich ogłosił także, że wprowadzi program redukcji podatków dla rezydentów La Palmy i podmiotów, które ucierpiały w rezultacie erupcji Cumbre Vieja. Będzie on obowiązywał do 2026 r.
Czytaj więcej:
Wybuch wulkanu na wyspie La Palma. Lawa i dym wulkaniczny niszczą tereny uprawne
Wybuch wulkanu na La Palma. Zamknięto lotniska na sąsiednich wyspach
"To jest spisek". W Hiszpanii pojawili się "negacjoniści wulkanu"
AdsByGoogle - In-Feed slot=4906192224
Zone type:d<== ==>place:d1<===
Webmaster: ZonePlace=d1; dzial=wiadomosci; Stan delivery
Zone type:e-desktop<== ==>place:e1-desktop<===
Webmaster: ZonePlace=e1-desktop; dzial=wiadomosci; Stan delivery
Zone type:d<== ==>place:d2<===
Webmaster: ZonePlace=d2; dzial=wiadomosci; Stan delivery
Zone type:d<== ==>place:d3<===
Webmaster: ZonePlace=d3; dzial=wiadomosci; Stan delivery
Zone type:d<== ==>place:d4<===
Webmaster: ZonePlace=d4; dzial=wiadomosci; Stan delivery