Menu
Zone type:ab<== ==>place:ab<===
Webmaster: ZonePlace=ab; dzial=wiadomosci; Stan delivery
Hamilton wins Personality of the Year at FIA awards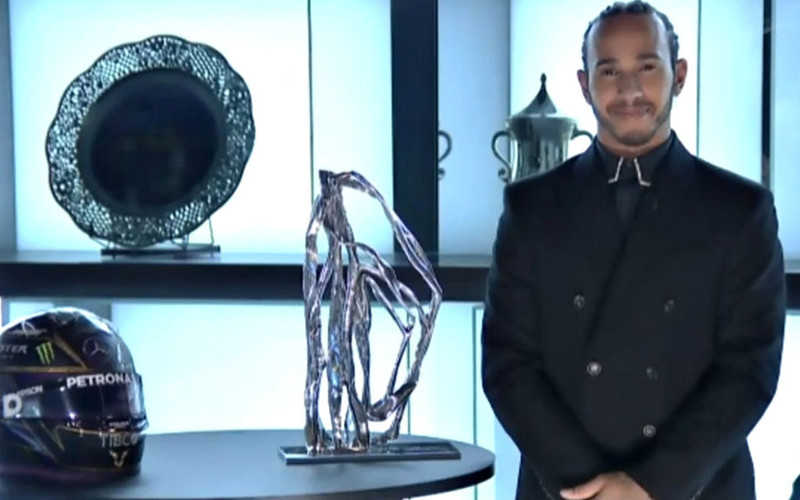 Seven-time world champion Lewis Hamilton was the big winner as Formula One's governing body conducted its annual awards ceremony by video conferencing on Friday night due to the COVID-19 pandemic. The Mercedes driver was voted Personality of the Year by permanently accredited media and also received a joint FIA President Award with Ferrari great Michael Schumacher.
Zone type:video<== ==>place:video<===
Webmaster: ZonePlace=video; dzial=wiadomosci; Stan delivery
Zone type:e-mobile<== ==>place:e1-mobile<===
Webmaster: ZonePlace=e1-mobile; dzial=wiadomosci; Stan delivery
News available in Polish
35-letni Hamilton otrzymał także, wspólnie z Michaelem Schumacherem, którego rekordy wyrównał i pobił w tym roku, nagrodę Prezydenta FIA.
Kierowca ekipy Mercedesa, podobnie jak legendarny Niemiec, ma siedem tytułów mistrzowskich i 95 zwycięstw w wyścigach Grand Prix, co sprawia, że stał się najbardziej utytułowanym zawodnikiem w historii Formuły 1.
Hamilton zdobył także doroczną nagrodę włoskiego automobilklubu za najlepsze występy w trzech tegorocznych GP w Italii. Mistrz świata wygrał w Imoli i Mugello, a w Monzie był siódmy. We wszystkich trzech startach zanotował najszybsze okrążenie.
Specjalną nagrodę Prezydenta FIA otrzymała ekipa marszali i zespół medyczny toru w Bahrajnie za błyskawiczną, wzorową akcję ratowniczą po wypadku Francuza Romaina Grosjeana.
Fiński weteran Kimi Raikkonen ponownie wygrał ankietę kibiców na najlepszą akcję roku. Podczas pierwszego okrążenia wyścigu w Portugalii Fin wyprzedził dziesięciu rywali.
Czytaj więcej:
Brytyjczyk Lewis Hamilton po raz siódmy mistrzem świata Formuły 1
Hamilton: "To był jeden z najtrudniejszych tygodni"
Hamilton, Doyle i Liverpool wyróżnieni przez brytyjskich dziennikarzy
AdsByGoogle - In-Feed slot=4906192224
Zone type:d<== ==>place:d1<===
Webmaster: ZonePlace=d1; dzial=wiadomosci; Stan delivery
Zone type:e-desktop<== ==>place:e1-desktop<===
Webmaster: ZonePlace=e1-desktop; dzial=wiadomosci; Stan delivery
Zone type:d<== ==>place:d2<===
Webmaster: ZonePlace=d2; dzial=wiadomosci; Stan delivery
Zone type:d<== ==>place:d3<===
Webmaster: ZonePlace=d3; dzial=wiadomosci; Stan delivery
Zone type:d<== ==>place:d4<===
Webmaster: ZonePlace=d4; dzial=wiadomosci; Stan delivery