Menu
Zone type:ab<== ==>place:ab<===
Webmaster: ZonePlace=ab; dzial=wiadomosci; Stan delivery
Cumbre Vieja in the phase of its greatest eruption. Ejects volcanic crumbs 800 meters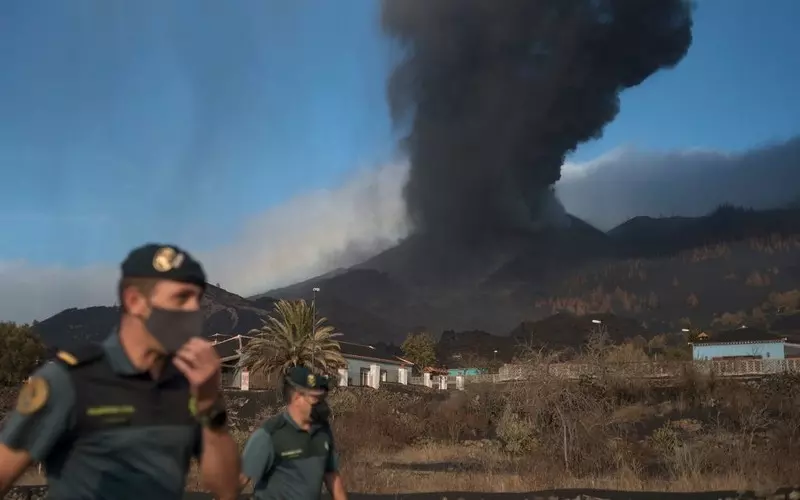 Active since September 19, the volcano Cumbre Vieja on the Canary island of La Palma has entered the most explosive phase, the Spanish National Geographical Institute (ING) reported, noting that volcanic crumbs escaping from the crater are thrown up to 800 m.
Zone type:video<== ==>place:video<===
Webmaster: ZonePlace=video; dzial=wiadomosci; Stan delivery
Zone type:e-mobile<== ==>place:e1-mobile<===
Webmaster: ZonePlace=e1-mobile; dzial=wiadomosci; Stan delivery
News available in Polish
Jak poinformował Itahiza Dominguez z Wydziału Sejsmologii ING, wejściu wulkanu w fazę największej erupcji towarzyszy zmiana tekstury lawy, która stała się bardziej kleista.
Według hiszpańskiego instytutu badawczego, nasilona podczas ostatniej doby liczba wyrzucanych z krateru okruchów wulkanicznych oraz innych materiałów piroklastycznych zmieniła też wygląd krateru.
Od północy w rejonie Cumbre Vieja zarejestrowano też ponad 30 trzęsień ziemi, z których najsilniejsze wyniosło 3,9 stopni w skali Richtera.
Wczoraj na La Palmie sejsmolodzy potwierdzili ponad 100 wstrząsów, zaznaczając, że ich rosnąca liczba ma związek ze wzrostem aktywności Cumbre Vieja.
Tymczasem portugalskie służby potwierdziły, że w ciągu ostatnich dwóch dn zanotowano na atlantyckim archipelagu Azorów podwyższoną ilość dwutlenku siarki w powietrzu, związaną z nadejściem dymu wulkanicznego z La Palmy. Dziś rano gazy i pyły emitowane przez Cumbre Vieja dotarły z kolei nad Karaiby.
Czytaj więcej:
Hiszpania: Cumbre Vieja nasilił wydzielanie magmy. Lawa już na 17 hektarów oceanu
La Palma: Osunęła się część krateru wulkanu. Wyciek lawy coraz większy
AdsByGoogle - In-Feed slot=4906192224
Zone type:d<== ==>place:d1<===
Webmaster: ZonePlace=d1; dzial=wiadomosci; Stan delivery
Zone type:e-desktop<== ==>place:e1-desktop<===
Webmaster: ZonePlace=e1-desktop; dzial=wiadomosci; Stan delivery
Zone type:d<== ==>place:d2<===
Webmaster: ZonePlace=d2; dzial=wiadomosci; Stan delivery
Zone type:d<== ==>place:d3<===
Webmaster: ZonePlace=d3; dzial=wiadomosci; Stan delivery
Zone type:d<== ==>place:d4<===
Webmaster: ZonePlace=d4; dzial=wiadomosci; Stan delivery