Menu
Zone type:ab<== ==>place:ab<===
Webmaster: ZonePlace=ab; dzial=wiadomosci; Stan delivery
Copa del Rey: Athletic Bilbao will play against Barcelona in the final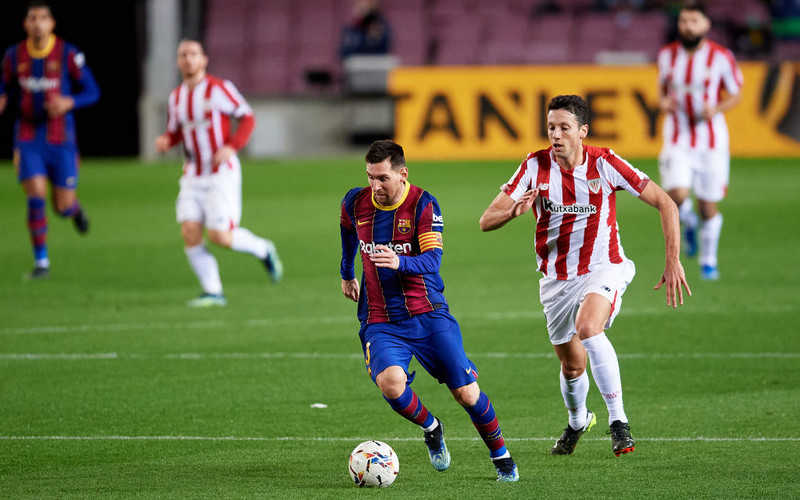 Athletic Bilbao will play against Barcelona in the Spanish Cup final. Yesterday after extra time they defeated Levante 2: 1. After regulation time, it was a 1-1 draw, similar to the first game. The decisive goal was scored in the 112th minute by Alejandro Berenguer.
Zone type:video<== ==>place:video<===
Webmaster: ZonePlace=video; dzial=wiadomosci; Stan delivery
Zone type:e-mobile<== ==>place:e1-mobile<===
Webmaster: ZonePlace=e1-mobile; dzial=wiadomosci; Stan delivery
News available in Polish
Pozostałe bramki padły jeszcze w pierwszej połowie. Najpierw - w 17. minucie - na prowadzenie wyszli gospodarze po strzale Martiego Rogera. Trzynaście minut później do wyrównania doprowadził Raul Garcia.
Barcelona zagra z Athletic w finale Pucharu Króla po raz dziewiąty w historii, a pierwszy od 2015 roku. Spotkanie zaplanowane jest na 17 kwietnia w Sewilli. Niemal dwa tygodnie wcześniej ekipa z Bilbao zagra w... finale sprzed roku. Ich rywalem będzie Real Sociedad San Sebastian. Mecz nie odbył się wcześniej z powodu pandemii COVID-19.
"Duma Katalonii" w półfinale - także po dogrywce - wygrała z Sevillą.
W 1/16 finału z rozgrywkami w sensacyjnych okolicznościach pożegnał się Real Madryt, który uległ trzecioligowemu Alcoyano. Rundę wcześniej odpadło natomiast pewnie prowadzące w tabeli ekstraklasy Atletico Madryt.
Czytaj więcej:
Puchar Hiszpanii: Remis w meczu Athletic Bilbao z Levante
Liga hiszpańska: Piłkarze Athletic Bilbao zgodzili się na obniżkę zarobków
"Królewscy" ledwo uratowali remis w meczu z Realem Sociedad
Wielkie emocje na Camp Nou. Barcelona po dogrywce w finale Pucharu Hiszpanii
Kolejna kontuzja kolana Gerarda Pique
AdsByGoogle - In-Feed slot=4906192224
Zone type:d<== ==>place:d1<===
Webmaster: ZonePlace=d1; dzial=wiadomosci; Stan delivery
Zone type:e-desktop<== ==>place:e1-desktop<===
Webmaster: ZonePlace=e1-desktop; dzial=wiadomosci; Stan delivery
Zone type:d<== ==>place:d2<===
Webmaster: ZonePlace=d2; dzial=wiadomosci; Stan delivery
Zone type:d<== ==>place:d3<===
Webmaster: ZonePlace=d3; dzial=wiadomosci; Stan delivery
Zone type:d<== ==>place:d4<===
Webmaster: ZonePlace=d4; dzial=wiadomosci; Stan delivery