Menu
Zone type:ab<== ==>place:ab<===
Webmaster: ZonePlace=ab; dzial=wiadomosci; Stan delivery
Bundesliga: Leipzig's Nkunku the best footballer of the season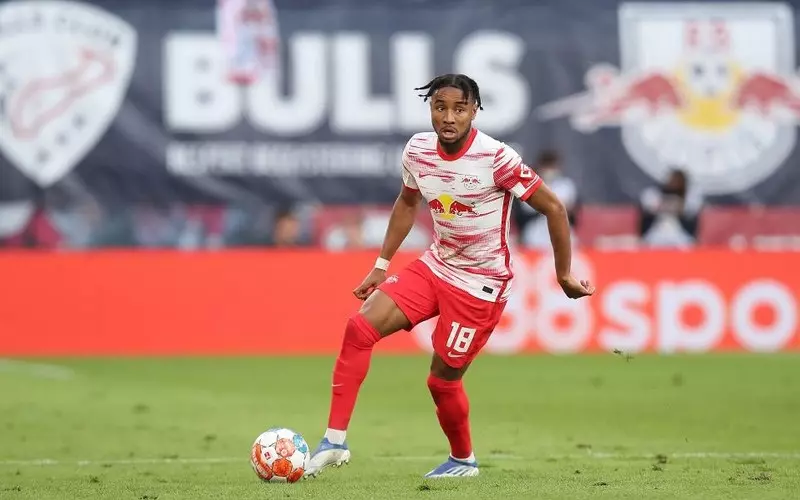 RB Leipzig's Frenchman Christopher Nkunku has been voted the best player of the German Premier League season in a poll of 18 team captains, experts and fans conducted by the official competition portal bundesliga.com.
Zone type:video<== ==>place:video<===
Webmaster: ZonePlace=video; dzial=wiadomosci; Stan delivery
Zone type:e-mobile<== ==>place:e1-mobile<===
Webmaster: ZonePlace=e1-mobile; dzial=wiadomosci; Stan delivery
News available in Polish
W 34 spotkaniach 24-letni zawodnik odnotował 20 goli i 13 asyst. W klasyfikacji strzelców ustąpił tylko Robertowi Lewandowskiemu z Bayernu Monachium.
Nkunku błyszczał nie tylko na niemieckich boiskach, ale i na międzynarodowej arenie. Zdobył siedem goli w Lidze Mistrzów, cztery w Lidze Europy i trzy w Pucharze Niemiec, w którego finale ekipa z Lipska w sobotę zmierzy się w Berlinie z SC Freiburg, oraz zadebiutował we francuskiej drużynie narodowej.
Udane występy Nkunku zwróciły na niego uwagę wielu czołowych klubów Europy, ale szef klubu z Lipska Oliver Mintzlaff zapewnił, że Francuz na pewno w przyszłym sezonie nadal będzie reprezentować barwy zespołu spod znaku czerwonego byka.
Mistrzem Niemiec w zakończonym w sobotę sezonie po raz 10. z rzędu i 32. w historii został Bayern Monachium, a Lewandowski po raz siódmy cieszył się z tytułu króla strzelców.
Czytaj więcej:
Liga niemiecka: Lewandowski potwierdził, że nie przedłuży kontraktu z Bayernem
Liga niemiecka: Remis Bayernu na zakończenie sezonu, gol Lewandowskiego
Liga niemiecka: Zmiany trenerów w Augsburgu i Moenchengladbach
AdsByGoogle - In-Feed slot=4906192224
Zone type:d<== ==>place:d1<===
Webmaster: ZonePlace=d1; dzial=wiadomosci; Stan delivery
Zone type:e-desktop<== ==>place:e1-desktop<===
Webmaster: ZonePlace=e1-desktop; dzial=wiadomosci; Stan delivery
Zone type:d<== ==>place:d2<===
Webmaster: ZonePlace=d2; dzial=wiadomosci; Stan delivery
Zone type:d<== ==>place:d3<===
Webmaster: ZonePlace=d3; dzial=wiadomosci; Stan delivery
Zone type:d<== ==>place:d4<===
Webmaster: ZonePlace=d4; dzial=wiadomosci; Stan delivery