Menu
Zone type:ab<== ==>place:ab<===
Webmaster: ZonePlace=ab; dzial=wiadomosci; Stan delivery
German Cup: Bayern advance to the quarter-finals and trophy holders RB Leipzig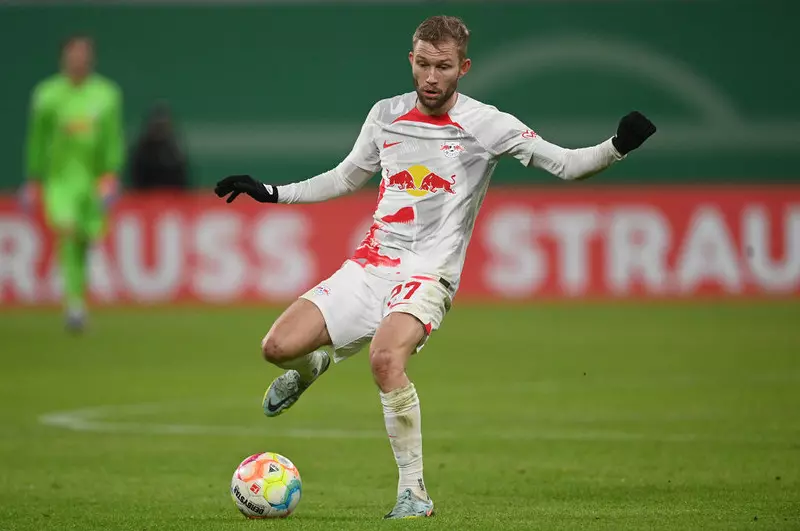 Champions Bayern Munich and defending trophy RB Leipzig advanced to the quarter-finals of the DFB Cup. The Bavarians, with their debut Portuguese Joao Cancelo, defeated FSV Mainz 4-0 away, and the players from Leipzig won at home against Hoffenheim 3-1.
Zone type:video<== ==>place:video<===
Webmaster: ZonePlace=video; dzial=wiadomosci; Stan delivery
Zone type:e-mobile<== ==>place:e1-mobile<===
Webmaster: ZonePlace=e1-mobile; dzial=wiadomosci; Stan delivery
News available in Polish
Cancelo został wypożyczony do Bayernu z Manchesteru City (z opcją wykupienia), a już dzień później wybiegł w podstawowym składzie monachijczyków. Szybko pokazał się z dobrej strony - w 17. minucie asystował przy golu napastnika reprezentacji Kamerunu Erica Maxima Choupo-Motinga.
Kolejne bramki dla mistrzów Niemiec zdobyli Jamal Musiala, Leroy Sane i Kanadyjczyk Alphonso Davies.
To pierwsze zwycięstwo Bayernu w tym roku - w styczniu trzykrotnie zremisował ligowe mecze po 1:1.
Kłopotów z awansem do ćwierćfinału Pucharu Niemiec nie miał także świetnie spisujący się od wielu tygodni RB Lipsk. Obrońca trofeum pokonał u siebie Hoffenheim 3:1 po golach Szweda Emila Forsberga, Austriaka Konrada Laimera oraz znanego niemieckiego napastnika Timo Wernera. Gospodarze odpowiedzieli tylko trafieniem wypożyczonego z Nice Duńczyka Kaspera Dolberga.
Dzień wcześniej awans wywalczyły VfB Stuttgart i Union Berlin, który pokonał 2:1 VfL Wolfsburg Jakuba Kamińskiego (Polaka nie było w kadrze na mecz).
Pozostałe spotkania 1/8 finału zostaną rozegrane 7-8 lutego.
Czytaj więcej:
Liga niemiecka: Borussia Dortmund wygrała 2:1 z FSV Mainz, drugi występ i asysta Hallera
Liga niemiecka: Augsburg pokonał Borussię Moenchengladbach, czyste konto Gikiewicza
Liga niemiecka: Kolejny remis mistrza, zwycięstwa innych drużyn z czołówki
AdsByGoogle - In-Feed slot=4906192224
Zone type:d<== ==>place:d1<===
Webmaster: ZonePlace=d1; dzial=wiadomosci; Stan delivery
Zone type:e-desktop<== ==>place:e1-desktop<===
Webmaster: ZonePlace=e1-desktop; dzial=wiadomosci; Stan delivery
Zone type:d<== ==>place:d2<===
Webmaster: ZonePlace=d2; dzial=wiadomosci; Stan delivery
Zone type:d<== ==>place:d3<===
Webmaster: ZonePlace=d3; dzial=wiadomosci; Stan delivery
Zone type:d<== ==>place:d4<===
Webmaster: ZonePlace=d4; dzial=wiadomosci; Stan delivery