Menu
Zone type:ab<== ==>place:ab<===
Webmaster: ZonePlace=ab; dzial=wiadomosci; Stan delivery
Bundesliga: Another draw for the champion, victories for other top teams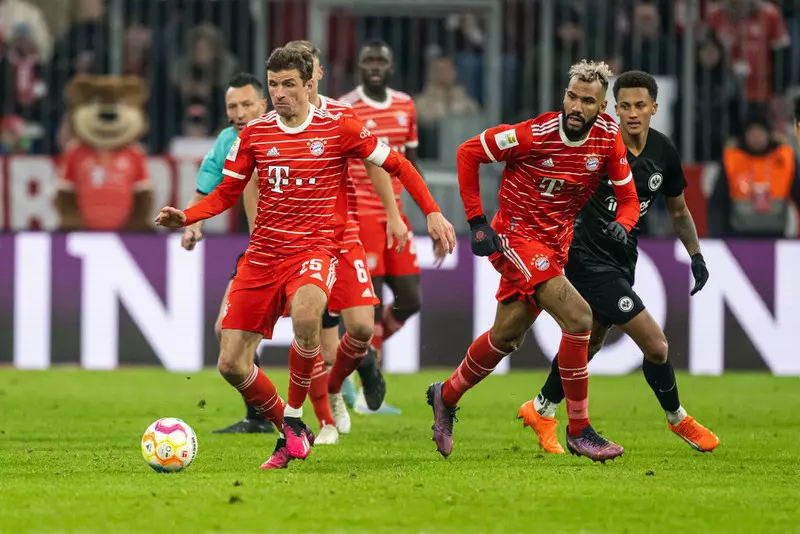 Bayern Munich drew their third consecutive game in the German football premier league, and their second consecutive at home. In the 18th round, the leader shared the points with Eintracht Frankfurt (1:1). The stumble of the defending champions was taken advantage of by the teams of Union Berlin, RB Leipzig and Freiburg.
Zone type:video<== ==>place:video<===
Webmaster: ZonePlace=video; dzial=wiadomosci; Stan delivery
Zone type:e-mobile<== ==>place:e1-mobile<===
Webmaster: ZonePlace=e1-mobile; dzial=wiadomosci; Stan delivery
News available in Polish
Rywalizacja w Bundeslidze została wznowiona po przerwie mundialowej i zimowej w piątek 20 stycznia, kiedy Bawarczycy zremisowali na wyjeździe z RB Lipsk 1:1, a później takim samym wynikiem zakończyło się ich spotkanie w Monachium z FC Koeln.
Wczoraj podopiecznym trenera Juliana Nagelsmanna znów nie udało się wygrać, choć od 34. minuty prowadzili po trafieniu Leroya Sane, któremu precyzyjnie w pole karne dograł Thomas Mueller.
W 69. minucie do wyrównania doprowadził jednak Francuz Randal Kolo Muani. Była to jego siódma bramka ligowa w trwającym sezonie, co daje mu siódme miejsce w klasyfikacji strzelców. Jego dorobek robi za to większe wrażenie w zestawieniu z liczbą asyst - ma ich 10, najwięcej w lidze.
Monachijczycy dalej prowadzą w tabeli, ale z dorobkiem 37 punktów już tylko o jeden wyprzedzają wicelidera - Union Berlin. Eintracht ma 32 pkt i zajmuje piąte miejsce.
Wcześniej wczoraj Union pokonał w derbach na stadionie rywala Herthę 2:0. O jeden punkt mniej ma RB Lipsk, który w piątek wygrał przed własną publicznością z VfB Stuttgart 2:1.
Na czwartym miejscu z 34 punktami jest SC Freiburg. Wczoraj jeszcze niedawny wicelider odniósł zwycięstwo u siebie nad FC Augsburg 3:1. W ekipie gości całe spotkanie rozegrali bramkarz Rafał Gikiewicz oraz obrońca Robert Gumny. Ich zespół ma 18 pkt i jest na 14. miejscu.
13 - Werder Bremen's Niclas Füllkrug scored a brace in the 2-1 win against VfL Wolfsburg marking his 12th and 13th goal of the Bundesliga season. The last Bremen player to score more goals after 18 matchdays of a BL season was Miroslav Klose in 2005-06 (16). Goalgetter. #SVWWOB pic.twitter.com/r3b8Jh5y6Y

— OptaFranz (@OptaFranz) January 28, 2023
Kontakt z czołówką stracił natomiast VfL Wolfsburg. Po sześciu zwycięstwach z rzędu i trwającej od 18 września serii bez porażki "Wilki", w których składzie do końca pierwszej połowy był Jakub Kamiński, przegrały na wyjeździe z Werderem Brema 1:2. Gospodarze zakończyli z kolei passę czterech porażek, w tym dość kompromitujących: z Bayernem 1:6 i z FC Koeln 1:7.
Obie bramki dla zwycięzców zdobył Niclas Fuellkrug, który z 13 trafieniami objął prowadzenie w ligowej klasyfikacji strzelców.
Wolfsburg ma 29 punktów i jest siódmy. Werder zgromadził 24 i jest na 10. pozycji.
Czytaj więcej:
Liga niemiecka: Borussia Dortmund wygrała 2:1 z FSV Mainz, drugi występ i asysta Hallera
Liga niemiecka: Augsburg pokonał Borussię Moenchengladbach, czyste konto Gikiewicza
AdsByGoogle - In-Feed slot=4906192224
Zone type:d<== ==>place:d1<===
Webmaster: ZonePlace=d1; dzial=wiadomosci; Stan delivery
Zone type:e-desktop<== ==>place:e1-desktop<===
Webmaster: ZonePlace=e1-desktop; dzial=wiadomosci; Stan delivery
Zone type:d<== ==>place:d2<===
Webmaster: ZonePlace=d2; dzial=wiadomosci; Stan delivery
Zone type:d<== ==>place:d3<===
Webmaster: ZonePlace=d3; dzial=wiadomosci; Stan delivery
Zone type:d<== ==>place:d4<===
Webmaster: ZonePlace=d4; dzial=wiadomosci; Stan delivery