Menu
Zone type:ab<== ==>place:ab<===
Webmaster: ZonePlace=ab; dzial=wiadomosci; Stan delivery
European Golden Shoe Race: Robert Lewandowski on top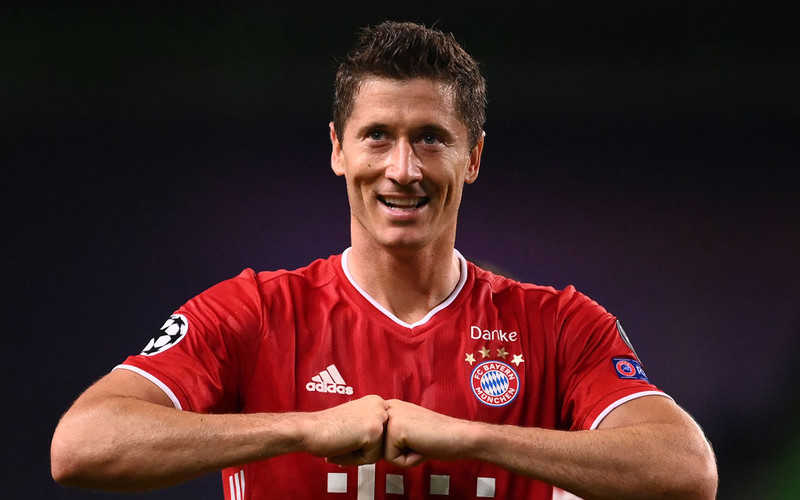 Robert Lewandowski leads in the 'Golden Boot' classification, the award for the best scorer in European leagues. The Polish footballer scored 21 goals this season in the Bundesliga, which gives him 42 points to the continental ranking.
Zone type:video<== ==>place:video<===
Webmaster: ZonePlace=video; dzial=wiadomosci; Stan delivery
Zone type:e-mobile<== ==>place:e1-mobile<===
Webmaster: ZonePlace=e1-mobile; dzial=wiadomosci; Stan delivery
News available in Polish
Najmocniejsze ligi mają współczynnik "2", stąd 42 "oczka" za 21 bramek. Drugie miejsce zajmuje Portugalczyk Cristiano Ronaldo (Juventus) - 30 pkt (15 goli/przelicznik 2), a trzecie Nigeryjczyk Paul Onuachu (Genk) - 28,5 (19/1,5).
Więcej trafień od Lewandowskiego mają grający w lidze norweskiej Duńczyk Kasper Junker (Bodoe/Glimt) i Amahl Pellegrino (Kristiansund) - odpowiednio 27 i 25, ale współczynnik wynosi "1", stąd piąta i ósma lokata.
W Norwegii rozgrywki prowadzone są systemem wiosna-jesień i zakończyły się w grudniu. Bodoe/Glimt zdobył pierwszy tytuł mistrzowski w 104-letniej historii klubu.
Lewandowski pewnie zmierza po szósty tytuł króla strzelców niemieckiej ekstraklasy. Wczoraj napastnik Bayernu Monachium zdobył bramkę w wygranym 2:1 meczu z SC Freiburg i ma ich łącznie 21. O dziewięć trafień wyprzedza Erlinga Haalanda (Borussia Dortmund) i Andre Silvę (Eintracht Frankfurt).
Czytaj więcej:
Robert Lewandowski bohaterem hitu Bundesligi
Robert Lewandowski najlepszy w plebiscycie "The Guardian" na piłkarza 2020 roku
Robert Lewandowski z własną kolekcją ubrań sportowych
Lewandowski o Kloppie: "Był jak ojciec, ale i surowy nauczyciel"
Oficjalnie: Jerzy Brzęczek nie jest już selekcjonerem reprezentacji Polski
AdsByGoogle - In-Feed slot=4906192224
Zone type:d<== ==>place:d1<===
Webmaster: ZonePlace=d1; dzial=wiadomosci; Stan delivery
Zone type:e-desktop<== ==>place:e1-desktop<===
Webmaster: ZonePlace=e1-desktop; dzial=wiadomosci; Stan delivery
Zone type:d<== ==>place:d2<===
Webmaster: ZonePlace=d2; dzial=wiadomosci; Stan delivery
Zone type:d<== ==>place:d3<===
Webmaster: ZonePlace=d3; dzial=wiadomosci; Stan delivery
Zone type:d<== ==>place:d4<===
Webmaster: ZonePlace=d4; dzial=wiadomosci; Stan delivery