Menu
Zone type:ab<== ==>place:ab<===
Webmaster: ZonePlace=ab; dzial=wiadomosci; Stan delivery
Wimbledon: For each ace served, Hurkacz will donate 100 euro to help Ukraine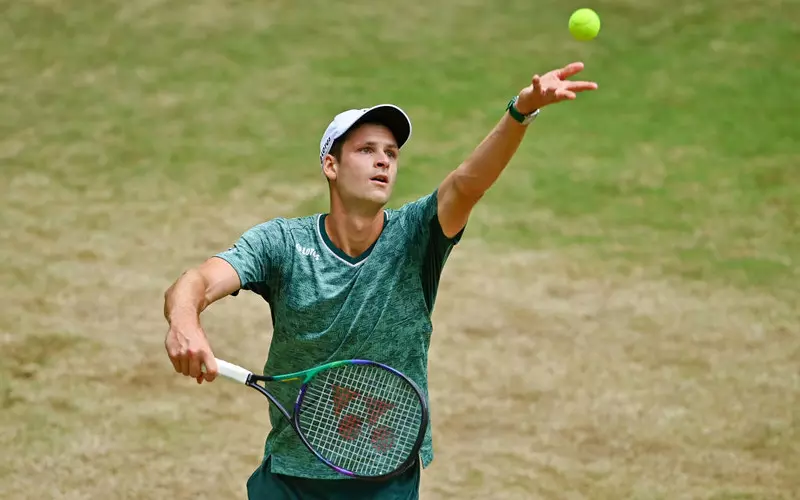 Hubert Hurkacz announced that during the Wimbledon that starts on Monday, he will donate EUR 100 to help Ukraine for each ace served. 'I hope there will be plenty of them' - said the Polish tennis player on Twitter.
Zone type:video<== ==>place:video<===
Webmaster: ZonePlace=video; dzial=wiadomosci; Stan delivery
Zone type:e-mobile<== ==>place:e1-mobile<===
Webmaster: ZonePlace=e1-mobile; dzial=wiadomosci; Stan delivery
News available in Polish
25-letni Hurkacz rozstawiony jest z numerem siódmym. Ubiegłoroczny półfinalista Wimbledonu dziś zacznie od meczu z Alejandro Davidovichem Fokiną. Dwa lata młodszy Hiszpan w światowym rankingu jest 38. Grali ze sobą wcześniej cztery razy. Dwa pierwsze mecze wygrał Davidovich Fokina, a dwa kolejne Polak. W tym roku, po trzysetowym boju, Hurkacz pokonał go w Madrycie.
"Każdy mój as zaserwowany na Wimbledonie to 100 euro, które przekażę na pomoc dla obywateli Ukrainy. Mam nadzieję, że będzie ich mnóstwo #acesforaid" - brzmi pełen wpis Hurkacza.
Wrocławianin jest wymieniany w gronie faworytów londyńskiej imprezy. To efekt nie tylko ubiegłorocznego półfinału, ale także świetnego wejścia na trawiaste korty w tym sezonie.
Tydzień temu triumfował w niemieckim Halle, pokonując w finale lidera światowego rankingu Rosjanina Daniiła Miedwiediewa.
Czytaj więcej:
Turniej ATP w Palma de Mallorca: Kolejna porażka Miedwiediewa
Djokovic na Wimbledonie: "Mam ekstra motywację"
AdsByGoogle - In-Feed slot=4906192224
Zone type:d<== ==>place:d1<===
Webmaster: ZonePlace=d1; dzial=wiadomosci; Stan delivery
Zone type:e-desktop<== ==>place:e1-desktop<===
Webmaster: ZonePlace=e1-desktop; dzial=wiadomosci; Stan delivery
Zone type:d<== ==>place:d2<===
Webmaster: ZonePlace=d2; dzial=wiadomosci; Stan delivery
Zone type:d<== ==>place:d3<===
Webmaster: ZonePlace=d3; dzial=wiadomosci; Stan delivery
Zone type:d<== ==>place:d4<===
Webmaster: ZonePlace=d4; dzial=wiadomosci; Stan delivery