Menu
Zone type:ab<== ==>place:ab<===
Webmaster: ZonePlace=ab; dzial=wiadomosci; Stan delivery
West Brom victory over Southampton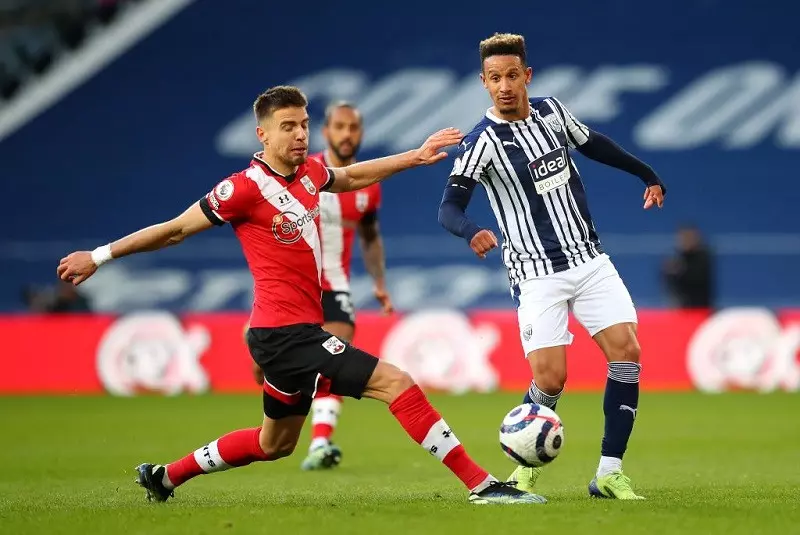 Sam Allardyce said West Brom are 'pricking up people's ears' after they made it back-to-back Premier League wins for the first time this season with victory over Southampton.
Zone type:video<== ==>place:video<===
Webmaster: ZonePlace=video; dzial=wiadomosci; Stan delivery
Zone type:e-mobile<== ==>place:e1-mobile<===
Webmaster: ZonePlace=e1-mobile; dzial=wiadomosci; Stan delivery
News available in Polish
Bednarek skończył wczoraj 25 lat, ale raczej nie będzie miło wspominał tego dnia. Defensywa "Świętych" w meczu z WBA spisała się bardzo słabo.
Bramki dla gospodarzy zdobyli Matheus Pereira z rzutu karnego, Matthew Phillips oraz Callum Robinson. W końcówce spotkania rzutu karnego dla gości nie wykorzystał reprezentant Anglii James Ward-Prowse.
Polski obrońca rozegrał całe spotkanie, natomiast Kamila Grosickiego po raz kolejny nie było w kadrze meczowej West Bromwich.
W tabeli drużyna Bednarka zajmuje 14. miejsce (36 pkt), a WBA jest przedostatni - 24 pkt.
Goli nie było w wieczornym spotkaniu 31. kolejki, w którym piętnasty Brighton & Hove Albion (33) zmierzył się z ósmym Evertonem (48). Dla gości to już piąty z rzędu mecz bez zwycięstwa.
Coraz częściej szansę występu dostaje Jakub Moder. Strzelec gola w meczu eliminacji mistrzostw świata z Anglią na Wembley (Polska przegrała 1:2) wybiegł w poniedziałek w podstawowym składzie Brightonu i był aktywny. Grał do 87. minuty.
W kadrze meczowej gospodarzy nie było natomiast Michała Karbownika.
Czytaj więcej:
Katastrofa Southampton. Samobójczy gol i czerwona kartka Bednarka
Puchar Anglii: Manchester City i Southampton w półfinale
Brighton z Moderem przegrał na Old Trafford
AdsByGoogle - In-Feed slot=4906192224
Zone type:d<== ==>place:d1<===
Webmaster: ZonePlace=d1; dzial=wiadomosci; Stan delivery
Zone type:e-desktop<== ==>place:e1-desktop<===
Webmaster: ZonePlace=e1-desktop; dzial=wiadomosci; Stan delivery
Zone type:d<== ==>place:d2<===
Webmaster: ZonePlace=d2; dzial=wiadomosci; Stan delivery
Zone type:d<== ==>place:d3<===
Webmaster: ZonePlace=d3; dzial=wiadomosci; Stan delivery
Zone type:d<== ==>place:d4<===
Webmaster: ZonePlace=d4; dzial=wiadomosci; Stan delivery