Menu
Zone type:ab<== ==>place:ab<===
Webmaster: ZonePlace=ab; dzial=wiadomosci; Stan delivery
Rain warning issued with downpours causing flood risk as temperatures plummet across the country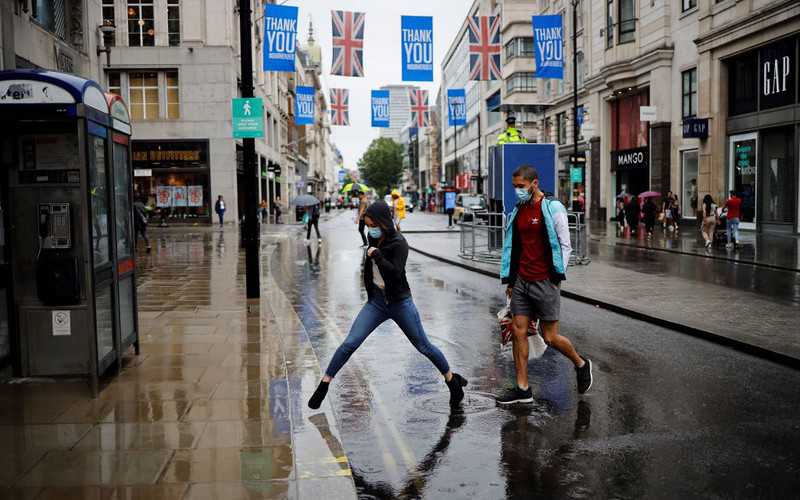 Heavy downpours are set to sweep across the UK with a risk of localised flooding as temperatures plummet this weekend.
Zone type:video<== ==>place:video<===
Webmaster: ZonePlace=video; dzial=wiadomosci; Stan delivery
Zone type:e-mobile<== ==>place:e1-mobile<===
Webmaster: ZonePlace=e1-mobile; dzial=wiadomosci; Stan delivery
News available in Polish
W wielu regionach kraju wydano żółte ostrzeżenia, a synoptycy ostrzegają, że warunki pogodowe pogorszą się jeszcze bardziej podczas weekendu.
Żółte alerty przed intensywnym deszczem obowiązują już m.in. w Walii, w niektórych regionach Midlands i na terenie Manchesteru. Jak przekazano, pada już niemal w całym kraju - najpierw deszcz pojawił się w południowej Anglii, ale front szybko zaczął przemieszczać się na północ.
W Londynie deszcz spadł wczoraj wieczorem, ale Met Office ostrzega, że dużo większe opady pojawią się w stolicy dziś i jutro. "Jutrzejszy poranek będzie wyglądał jeszcze dość przyjemnie, ale po południu pojawi się mnóstwo ulew, więc trzeba pamiętać o płaszczach i parasolach" - przekazał Craig Snell z Met Office.
Najgorzej ma być w Walii, gdzie eksperci spodziewają się opadów na poziomie nawet 60 mm.
Dodatkowym utrudnieniem mają być spadające temperatury, które najbardziej będzie można odczuć już jutro. Met Office ostrzega, że "z wartości dwucyfrowych przeskoczymy do wartości bliskich zeru stopni Celsjusza". W niektórych regionach pojawią się również pierwsze poranne przymrozki.
W stolicy zanotowano dziś nawet 18 st. C, ale już jutro słupki rtęci pokażą 14 stopni, a podczas weekendu tylko 12. Nocą temperatura wyniesie ok. 7-8 st. C.
It has been a damp start to the day across many central and southern areas. The rain is now generally fairly light and showery, however some line convection, narrow bands of heavier rain, have recently developed and are moving southeast 🌧️.

Here is the latest 👇 pic.twitter.com/6yXdvGjCnY

— Met Office (@metoffice) October 8, 2020
Czytaj więcej:
"Le Figaro": Czy sadzenie drzew uratuje kulę ziemską?
2019 rok był jednym z najcieplejszych w historii pomiarów
Naukowcy: Arktyka przestawia się na nowy klimat
AdsByGoogle - In-Feed slot=4906192224
Zone type:d<== ==>place:d1<===
Webmaster: ZonePlace=d1; dzial=wiadomosci; Stan delivery
Zone type:e-desktop<== ==>place:e1-desktop<===
Webmaster: ZonePlace=e1-desktop; dzial=wiadomosci; Stan delivery
Zone type:d<== ==>place:d2<===
Webmaster: ZonePlace=d2; dzial=wiadomosci; Stan delivery
Zone type:d<== ==>place:d3<===
Webmaster: ZonePlace=d3; dzial=wiadomosci; Stan delivery
Zone type:d<== ==>place:d4<===
Webmaster: ZonePlace=d4; dzial=wiadomosci; Stan delivery