Menu
Zone type:ab<== ==>place:ab<===
Webmaster: ZonePlace=ab; dzial=wiadomosci; Stan delivery
Record 6,110 new coronavirus cases in the Republic of Ireland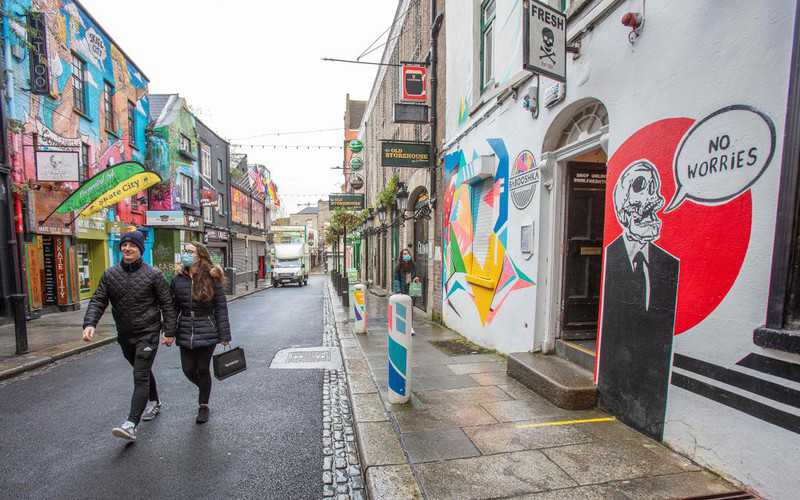 Deputy chief medical officer Ronan Glynn told a briefing on Monday that there have been 6,110 new cases and six further deaths.
Zone type:video<== ==>place:video<===
Webmaster: ZonePlace=video; dzial=wiadomosci; Stan delivery
Zone type:e-mobile<== ==>place:e1-mobile<===
Webmaster: ZonePlace=e1-mobile; dzial=wiadomosci; Stan delivery
News available in Polish
To czwarty z rzędu dzień z nową najwyższą liczbą zakażeń. Jeszcze w piątek informowano o rekordowych wówczas 1 754 wykrytych zakażeniach, w sobotę bilans wynosił już 3 394, a w niedzielę - 4 962. W efekcie łączna liczba zakażeń wykrytych od początku epidemii wynosi obecnie 107 997.
Liczba zgonów jest natomiast zbliżona do średniej z ostatnich siedmiu dni. Do tej pory z powodu Covid-19 zmarło w Irlandii 2 265 osób.
Jak podano, obecnie w szpitalach przebywa 776 pacjentów z Covid-19, z czego 70 osób na oddziałach intensywnej terapii. To wciąż mniej niż w szczytowym momencie pierwszej fali epidemii - 15 kwietnia - gdy w irlandzkich szpitalach było 881 zainfekowanych osób, ale liczba chorych wymagających hospitalizacji szybko rośnie.
W związku z tym Paul Reid, szef publicznej służby zdrowia HSE, przekazał wczoraj, że prowadzone są rozmowy ze szpitalami na temat wstrzymania zabiegów, które nie są pilnymi przypadkami, aby zwolnić miejsca dla pacjentów z Covid-19.
Z powodu nowej odmiany koronawirusa w Irlandii rozpoczął się w czwartek kolejny lockdown, który ma potrwać co najmniej do 31 stycznia.
Czytaj więcej:
Władze Irlandii: "Mamy do czynienia z trzecią falą pandemii"
W Irlandii pojawiła się mutacja Covid-19 wykryta w Wielkiej Brytanii
Irlandia: Szczepienia przeciw koronawirusowi zaczną się we wtorek
Irlandia przywróciła "twardy lockdown". Potrwa co najmniej do końca stycznia
AdsByGoogle - In-Feed slot=4906192224
Zone type:d<== ==>place:d1<===
Webmaster: ZonePlace=d1; dzial=wiadomosci; Stan delivery
Zone type:e-desktop<== ==>place:e1-desktop<===
Webmaster: ZonePlace=e1-desktop; dzial=wiadomosci; Stan delivery
Zone type:d<== ==>place:d2<===
Webmaster: ZonePlace=d2; dzial=wiadomosci; Stan delivery
Zone type:d<== ==>place:d3<===
Webmaster: ZonePlace=d3; dzial=wiadomosci; Stan delivery
Zone type:d<== ==>place:d4<===
Webmaster: ZonePlace=d4; dzial=wiadomosci; Stan delivery