Menu
Zone type:ab<== ==>place:ab<===
Webmaster: ZonePlace=ab; dzial=wiadomosci; Stan delivery
UK: Regional airline Flybe collapsed. 75,000 people had tickets to fly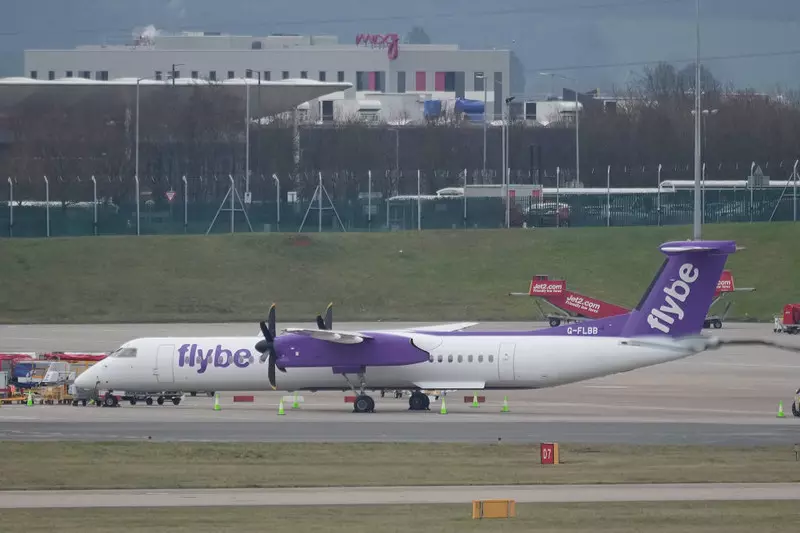 Regional UK airline Flybe declared bankruptcy yesterday - a flood of nine months after it resumed operations. Around 75,000 passengers were affected by its bankruptcy, 2,500 of whom had tickets for flights scheduled for yesterday.
Zone type:video<== ==>place:video<===
Webmaster: ZonePlace=video; dzial=wiadomosci; Stan delivery
Zone type:e-mobile<== ==>place:e1-mobile<===
Webmaster: ZonePlace=e1-mobile; dzial=wiadomosci; Stan delivery
News available in Polish
"Flybe zaprzestało działalności, a wszystkie loty z i do Wielkiej Brytanii obsługiwane przez Flybe zostały odwołane i nie będą przełożone na inny termin. Jeśli mieliście lecieć z Flybe dzisiaj (w sobotę) lub w przyszłości, proszę, nie podróżujcie na lotnisko, chyba że zorganizowaliście sobie alternatywny lot z inną linią lotniczą" - napisano wczoraj na stronie internetowej przewoźnika.
To już drugie bankructwo Flybe. Po raz pierwszy istniejąca od 1979 r. (choć pod tą nazwą dopiero od 2002 r.) linia upadła w marcu 2020 r. wskutek wstrzymania lotów w związku z pandemią Covid-19. Jej aktywa, w tym prawo do nazwy, kilka miesięcy później kupiła firma Thyme Opco, a nowy właściciel planował obsługiwanie 530 lotów tygodniowo na 23 trasach, głównie krajowych.
Nowe Flybe wystartowało w kwietniu zeszłego roku. Tuż przed bankructwem obsługiwało 21 tras z lotnisk w Birmingham, Belfaście i z londyńskiego Heathrow - głównie na inne brytyjskie lotniska, ale też do Genewy i Amsterdamu. Ani stare Flybe, które swego czasu było jedną z największych regionalnych linii lotniczych w Europie, ani jego ostatnie wcielenie nie obsługiwało żadnych tras do Polski.
Jak podaje stacja BBC News, wykupione bilety na odwołane w związku z bankructwem loty miało ok. 75 tys. pasażerów, z czego 2,5 tys. na wczorajszy dzień. Administratorzy wyznaczeni do zarządzania masą upadłościową potwierdzili wczoraj, że zwolnionych zostało 277 z 321 pracowników Flybe.
Czytaj więcej:
Heathrow odnotowało największy wzrost liczby pasażerów spośród wszystkich europejskich lotnisk
Na Wyspach rosną obawy o przyszłość tysięcy firm. "Grozi nam fala bankructw"
Raport Which?: Lotnisko w Manchesterze "najgorszym w Wielkiej Brytanii"
AdsByGoogle - In-Feed slot=4906192224
Zone type:d<== ==>place:d1<===
Webmaster: ZonePlace=d1; dzial=wiadomosci; Stan delivery
Zone type:e-desktop<== ==>place:e1-desktop<===
Webmaster: ZonePlace=e1-desktop; dzial=wiadomosci; Stan delivery
Zone type:d<== ==>place:d2<===
Webmaster: ZonePlace=d2; dzial=wiadomosci; Stan delivery
Zone type:d<== ==>place:d3<===
Webmaster: ZonePlace=d3; dzial=wiadomosci; Stan delivery
Zone type:d<== ==>place:d4<===
Webmaster: ZonePlace=d4; dzial=wiadomosci; Stan delivery