Menu
Zone type:ab<== ==>place:ab<===
Webmaster: ZonePlace=ab; dzial=wiadomosci; Stan delivery
Tourists walking on site of King's coronation for first time must wear socks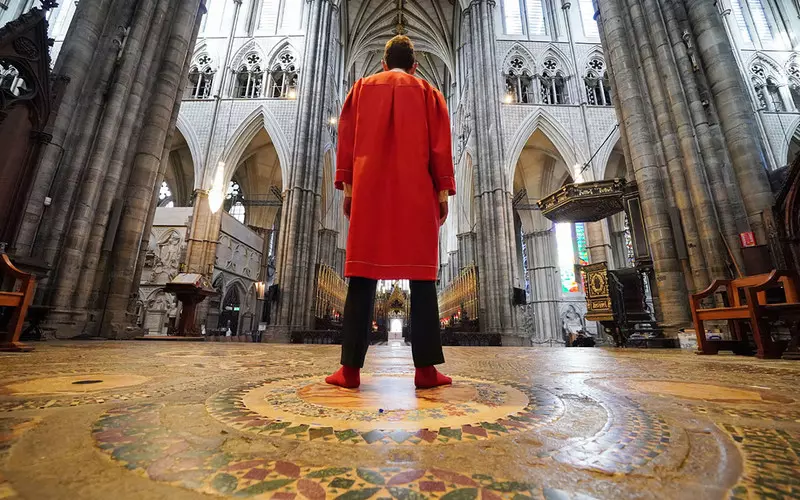 Visitors to Westminster Abbey are set to be allowed to stand in the exact spot where the King will be crowned - but they must wear socks.


Zone type:video<== ==>place:video<===
Webmaster: ZonePlace=video; dzial=wiadomosci; Stan delivery
Zone type:e-mobile<== ==>place:e1-mobile<===
Webmaster: ZonePlace=e1-mobile; dzial=wiadomosci; Stan delivery
News available in Polish
Po raz pierwszy w historii mieszkańcy i turyści będą mieli dostęp do zwykle odgrodzonej barierą posadzce, na której można podziwiać mozaikę Cosmati. Uchodzi ona za jeden z największy skarbów sztuki średniowiecznej w Wielkiej Brytanii.
Geometryczna mozaika z XIII wieku – w samym sercu Westminster Abbey – jest miejscem koronacji monarchów od ponad 700 lat. Zgodnie z tradycją, będzie to również miejsce koronacji Karola w dniu 6 maja.
Podczas większości koronacji mozaika była ze względów bezpieczeństwa pokryta dywanem. Miało to miejsce m.in. w czasie koronacji królowej Elżbiety II w 1953 r. i Jerzego VI w 1937 r. W przypadku Karola III dywan zostanie jednak usunięty.
Mozaika Cosmati (grupa włoskich artystów kamieniarzy z kilku rodzin - przyp. red.) jest bogata w symbolikę i wiele ukrytych detali. Przedstawia ona wszechświat, w którego centrum znajduje się Ziemia.
Turyści – w małych, dziesięcioosobowych grupach – zostaną poproszeni o zdjęcie butów i chodzenie w skarpetkach, aby pomóc w ochronie zabytku. Wykonano go z kombinacji marmuru, kamienia, szkła i metalu.
Wizyty z przewodnikiem rozpoczną się w poniedziałek 15 maja, tydzień po koronacji.
Czytaj więcej:
Badanie: Bangkok to najbardziej rozczarowujące turystów miasto na świecie
Francja: Dochody branży turystycznej przekroczyły poziomy sprzed pandemii Covid-19
Włochy: Zapowiada się rekordowy w historii rok dla turystyki
Blisko połowa Polaków oszczędza na wycieczki turystyczne
Turystyka w UK odczuwa skutki "długiego Covidu"
W zamku znanym z serialu "Downton Abbey" zaprzestano organizowania wesel. Winny jest Brexit
AdsByGoogle - In-Feed slot=4906192224
Zone type:d<== ==>place:d1<===
Webmaster: ZonePlace=d1; dzial=wiadomosci; Stan delivery
Zone type:e-desktop<== ==>place:e1-desktop<===
Webmaster: ZonePlace=e1-desktop; dzial=wiadomosci; Stan delivery
Zone type:d<== ==>place:d2<===
Webmaster: ZonePlace=d2; dzial=wiadomosci; Stan delivery
Zone type:d<== ==>place:d3<===
Webmaster: ZonePlace=d3; dzial=wiadomosci; Stan delivery
Zone type:d<== ==>place:d4<===
Webmaster: ZonePlace=d4; dzial=wiadomosci; Stan delivery