Menu
Zone type:ab<== ==>place:ab<===
Webmaster: ZonePlace=ab; dzial=wiadomosci; Stan delivery
Sports Personality of the Year 2020: Lewis Hamilton crowned winner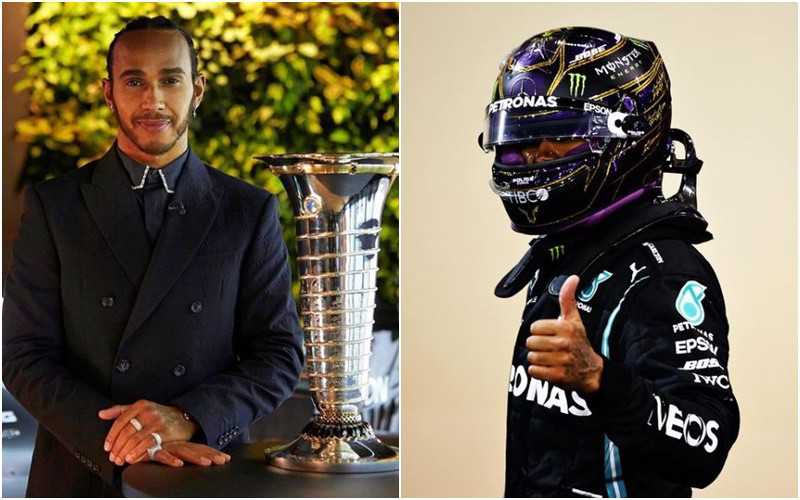 Formula 1 world champion Lewis Hamilton has been voted BBC Sports Personality of the Year 2020. One of F1's all-time great drivers, he equalled Michael Schumacher's record of seven world titles with his fourth consecutive championship in 2020.
Zone type:video<== ==>place:video<===
Webmaster: ZonePlace=video; dzial=wiadomosci; Stan delivery
Zone type:e-mobile<== ==>place:e1-mobile<===
Webmaster: ZonePlace=e1-mobile; dzial=wiadomosci; Stan delivery
News available in Polish
Pierwsze takie wyróżnienie otrzymał w 2014 roku, kiedy po raz drugi został mistrzem F1. Teraz na koncie ma już siedem zwycięstw w prestiżowym cyklu.
Tym razem w głosowaniu wyprzedził Jordana Hendersona (piłka nożna) i Hollie Doyle (jeździectwo). Wśród najlepszych byli też Tyson Fury (boks), Ronnie O'Sullivan (snooker) i Stuart Broad (krykiet).
35-letni Hamilton wyrównał rekord siedmiu sukcesów w Formule 1 legendarnego Niemca Michaela Schumachera. Brytyjczyk z ekipy Mercedesa ma już 95 zwycięstw w wyścigach Grand Prix, dzięki czemu stał się najbardziej utytułowanym zawodnikiem w historii F1.
Również dwa razy sportową osobowością roku BBC wybierani byli inni kierowcy F1 – Nigel Mansell (1986 i 1992) i Damon Hill (1994 i 1996). Zwyciężali także Stirling Moss (1961) i Jackie Stewart (1973).
Hamilton z kolei w 2018 i 2019 roku zajmował drugie miejsce.
Tytuł trenera roku otrzymał niemiecki menedżer piłkarzy Liverpoolu Juergen Klopp. Od wielu sezonów w barwach "The Reds" gra wspomniany Henderson; w ostatnim sezonie Liverpool zdobyli mistrzostwo Anglii po 30-letniej przerwie, a w ankiecie BBC ekipa Kloppa została drużyną roku.
Czytaj więcej:
Hamilton, Doyle i Liverpool wyróżnieni przez brytyjskich dziennikarzy
Formuła 1: Lewis Hamilton osobowością roku w sportach motorowych
AdsByGoogle - In-Feed slot=4906192224
Zone type:d<== ==>place:d1<===
Webmaster: ZonePlace=d1; dzial=wiadomosci; Stan delivery
Zone type:e-desktop<== ==>place:e1-desktop<===
Webmaster: ZonePlace=e1-desktop; dzial=wiadomosci; Stan delivery
Zone type:d<== ==>place:d2<===
Webmaster: ZonePlace=d2; dzial=wiadomosci; Stan delivery
Zone type:d<== ==>place:d3<===
Webmaster: ZonePlace=d3; dzial=wiadomosci; Stan delivery
Zone type:d<== ==>place:d4<===
Webmaster: ZonePlace=d4; dzial=wiadomosci; Stan delivery