Menu
Zone type:ab<== ==>place:ab<===
Webmaster: ZonePlace=ab; dzial=wiadomosci; Stan delivery
Spanish media: Barcelona ready to spend more on Lewandowski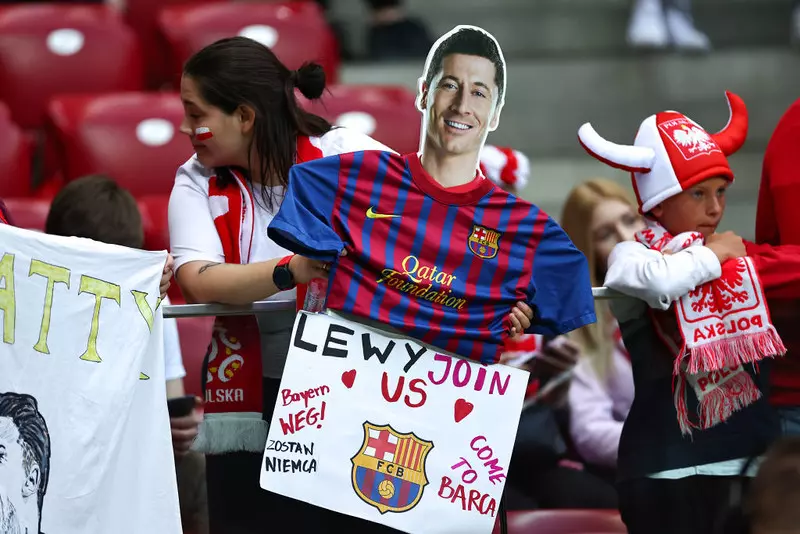 Barcelona will make a higher but final offer to buy Robert Lewandowski from Bayern Munich, German and Spanish media report. For the Polish footballer, the 'Pride of Catalonia' is ready to pay 45 million euros, including five million euros in bonuses.
Zone type:video<== ==>place:video<===
Webmaster: ZonePlace=video; dzial=wiadomosci; Stan delivery
Zone type:e-mobile<== ==>place:e1-mobile<===
Webmaster: ZonePlace=e1-mobile; dzial=wiadomosci; Stan delivery
News available in Polish
Taką kwotę wymieniły m.in. "Bild" i portal sport1.de. W tym drugim zaznaczono, że oficjalna oferta wpłynie do bawarskiego klubu jeszcze dzisiaj.
Z kolei hiszpański "Sport" zaznaczył, że będzie to już ostatnia oferta, jaką gotowa jest złożyć Barcelona za 33-letniego napastnika reprezentacji Polski.
Jednocześnie poinformowano, że z "Dumy Katalonii" ma odejść Holender Frenkie de Jong, za którego Manchester United ma zapłacić 65 milionów euro.
Lewandowski ma kontrakt z Bayernem ważny jeszcze przez rok, ale od wielu tygodni przekonuje, że nie widzi już swojej przyszłości w tym klubie. Kierownictwo mistrzów Niemiec konsekwentnie wyklucza możliwość sprzedaży Polaka tego lata.
Czytaj więcej:
Hiszpańskie media: Barcelona tworzy warunki do zakupu Lewandowskiego
Kahn o Lewandowskim: "Czekamy na pierwszym treningu"
Salihamidzic: Odbyłem z Lewandowskim bardzo ważną rozmowę
Media: Barca chce Lewandowskiego na mecz z Realem w Las Vegas
Lewandowski poprosił o przyspieszenie transferu do Barcelony
AdsByGoogle - In-Feed slot=4906192224
Zone type:d<== ==>place:d1<===
Webmaster: ZonePlace=d1; dzial=wiadomosci; Stan delivery
Zone type:e-desktop<== ==>place:e1-desktop<===
Webmaster: ZonePlace=e1-desktop; dzial=wiadomosci; Stan delivery
Zone type:d<== ==>place:d2<===
Webmaster: ZonePlace=d2; dzial=wiadomosci; Stan delivery
Zone type:d<== ==>place:d3<===
Webmaster: ZonePlace=d3; dzial=wiadomosci; Stan delivery
Zone type:d<== ==>place:d4<===
Webmaster: ZonePlace=d4; dzial=wiadomosci; Stan delivery