Menu
Zone type:ab<== ==>place:ab<===
Webmaster: ZonePlace=ab; dzial=wiadomosci; Stan delivery
Spanish league: Two goals by Lewandowski helped Barcelona win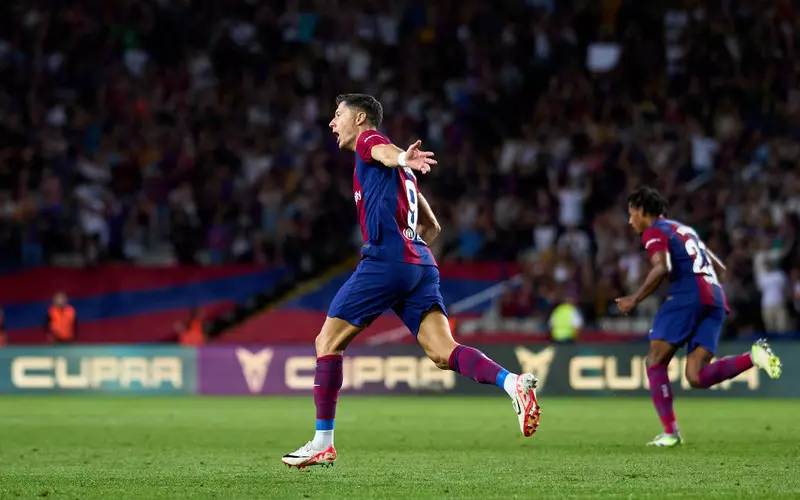 Robert Lewandowski scored two goals and his Barcelona defeated Celta Vigo 3-2 at home in the 6th round of the Spanish football league. The 'Pride of Catalonia' was losing 0-2 until the 81st minute.
Zone type:video<== ==>place:video<===
Webmaster: ZonePlace=video; dzial=wiadomosci; Stan delivery
Zone type:e-mobile<== ==>place:e1-mobile<===
Webmaster: ZonePlace=e1-mobile; dzial=wiadomosci; Stan delivery
News available in Polish
Goście objęli prowadzenie w 17. minucie, gdy na listę strzelców wpisał się Jorgen Strand Larsen. Barcelona przeważała, ale długo w ofensywie grała nieporadnie. W dodatku w 79. minucie nadziała się kontrę, po której drugą bramkę dla Celty zdobył Anastasios Douvikas.
Przełamanie gospodarzy nastąpiło w 81. minucie. Wówczas Joao Felix dograł do Lewandowskiego, a ten technicznym strzałem przelobował bramkarza. Piłka, zanim wpadła do siatki, odbiła się jeszcze od poprzeczki.
Zespół Polaka poszedł za ciosem i cztery minuty później był już remis. Tym razem płaskim podaniem popisał się Joao Cancelo, a Lewandowski zdobył swojego piątego gola w tym sezonie Primera Division.
Wygraną Barcelonie zapewnił Cancelo. W 89. minucie Portugalczyk wykorzystał świetne podanie Gaviego i z bliska pokonał Ivana Villara.
Barcelona awansowała na pierwsze miejsce w tabeli i ma punkt przewagi nad dotychczasowym liderem Realem Madryt. "Królewscy" swój mecz 6. kolejki rozegrają jednak w niedzielę, kiedy na wyjeździe zmierzą się w derbach z Atletico.
Czytaj więcej:
Liga Mistrzów: Gol Lewandowskiego. Barcelona rozbiła Antwerpię
Liga hiszpańska: Trener Xavi przedłuży kontrakt z Barceloną
AdsByGoogle - In-Feed slot=4906192224
Zone type:d<== ==>place:d1<===
Webmaster: ZonePlace=d1; dzial=wiadomosci; Stan delivery
Zone type:e-desktop<== ==>place:e1-desktop<===
Webmaster: ZonePlace=e1-desktop; dzial=wiadomosci; Stan delivery
Zone type:d<== ==>place:d2<===
Webmaster: ZonePlace=d2; dzial=wiadomosci; Stan delivery
Zone type:d<== ==>place:d3<===
Webmaster: ZonePlace=d3; dzial=wiadomosci; Stan delivery
Zone type:d<== ==>place:d4<===
Webmaster: ZonePlace=d4; dzial=wiadomosci; Stan delivery