Menu
Zone type:ab<== ==>place:ab<===
Webmaster: ZonePlace=ab; dzial=wiadomosci; Stan delivery
Ski flying world champion Geiger became father: "Perfect week"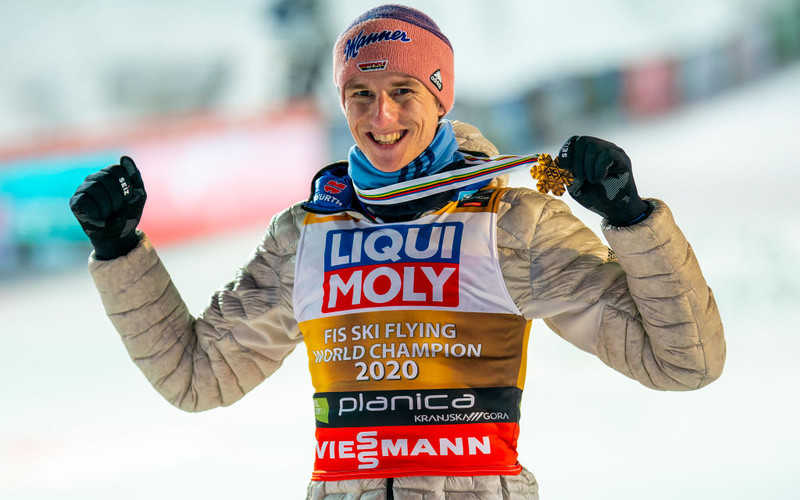 The German ski jumper Karl Geiger, who became the ski flying world champion on Saturday in Planica, welcomed his first child in the world yesterday evening - his daughter Luisa. 'The perfect week has just come true,' he wrote on social media.
Zone type:video<== ==>place:video<===
Webmaster: ZonePlace=video; dzial=wiadomosci; Stan delivery
Zone type:e-mobile<== ==>place:e1-mobile<===
Webmaster: ZonePlace=e1-mobile; dzial=wiadomosci; Stan delivery
News available in Polish
"Serdecznie witamy małą Luisę. Dziękuję, że obie z mamą poczekałyście na mnie. Jestem z was niezmiernie dumny" - podpisał 27-letni zawodnik pierwsze zdjęcie z córką.
Tydzień przed MŚ w lotach Geiger z powodu zaawansowanej ciąży żony zrezygnował ze startu w zawodach Pucharu Świata w Niżnym Tagile. Po kilku dniach wrócił do kadry i w Planicy odniósł największy indywidualny sukces w karierze. Z kolei razem z drużyną sięgnął po srebrny medal.
Zaraz po zawodach wrócił do żony i mógł być na miejscu w trakcie porodu.
W najbliższy weekend skoczkowie narciarscy o punkty PŚ rywalizować będą w szwajcarskim Engelbergu.
Czytaj więcej:
MŚ w lotach: Geiger prowadzi po pierwszej serii, Żyła ósmy
Planica: Karl Geiger ze złotym medalem mistrzostw świata w lotach narciarskich
AdsByGoogle - In-Feed slot=4906192224
Zone type:d<== ==>place:d1<===
Webmaster: ZonePlace=d1; dzial=wiadomosci; Stan delivery
Zone type:e-desktop<== ==>place:e1-desktop<===
Webmaster: ZonePlace=e1-desktop; dzial=wiadomosci; Stan delivery
Zone type:d<== ==>place:d2<===
Webmaster: ZonePlace=d2; dzial=wiadomosci; Stan delivery
Zone type:d<== ==>place:d3<===
Webmaster: ZonePlace=d3; dzial=wiadomosci; Stan delivery
Zone type:d<== ==>place:d4<===
Webmaster: ZonePlace=d4; dzial=wiadomosci; Stan delivery