Menu
Zone type:ab<== ==>place:ab<===
Webmaster: ZonePlace=ab; dzial=wiadomosci; Stan delivery
Shoes that Kobe Bryant donated to teenage LeBron James on auction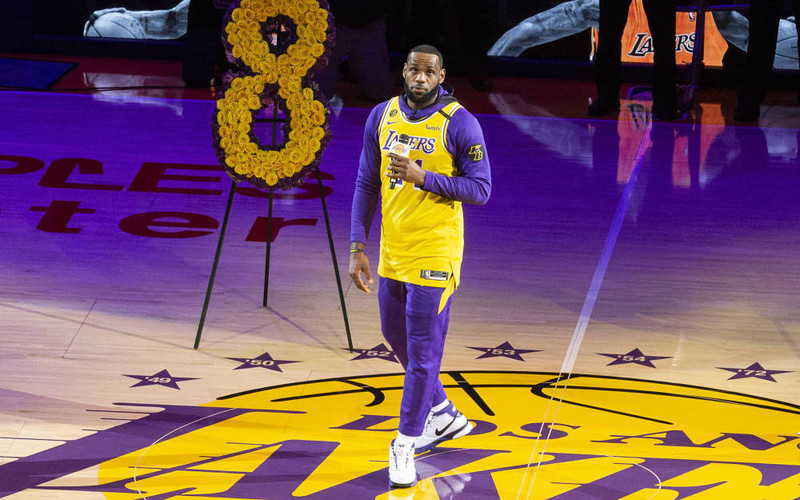 Just over a year after Bryant's tragic death, fans have the opportunity to bid on the sneakers that this unforgettable basketball player gave as a gift to current basketball virtuoso LeBron James at their first meeting in 2002.
Zone type:video<== ==>place:video<===
Webmaster: ZonePlace=video; dzial=wiadomosci; Stan delivery
Zone type:e-mobile<== ==>place:e1-mobile<===
Webmaster: ZonePlace=e1-mobile; dzial=wiadomosci; Stan delivery
News available in Polish
LeBron James, obecny filar Los Angeles Lakers, czyli dawnego klubu Bryanta, w 2002 roku miał 18 lat i grał w licealnej drużynie St. Vincent – St. Mary High School. Do "dorosłej" koszykówki wdarł się z impetem w 2003 roku, gdy został wybrany z pierwszym numerem w drafcie NBA przez Cleveland Cavaliers. Nieco wcześniej jego talent dostrzegł Bryant i podarował mu swoje buty. O tym niezwykłym prezencie LeBron James opowiedział już po tragicznej śmierci Kobego. Zdradził też, że używał ich, choć były na niego o numer za małe.
Teraz te buty można kupić na licytacji, która odbywa się na stronie domu aukcyjnego Heritage Auctions. Są niestandardowe, ponieważ powstały na zamówienie – by upamiętnić zamachy terrorystyczne z 11 września 2001. Stąd m.in. ich oryginalna kolorystyka. Cena, którą należy obecnie przebić, to 21 tys. dolarów. Nie jest to jednak zapewne ostateczna kwota. Aukcja kończy się w sobotę 27 lutego.
Sześć lat po tym pierwszym spotkaniu Kobe Bryant i LeBron James zagrali razem w drużynie narodowej USA podczas Igrzysk Olimpijskich w Pekinie oraz na kolejnych Igrzyskach Olimpijskich w Londynie. Z obu wrócili ze złotymi medalami.
Kobe Bryant zginął w wypadku lotniczym 26 stycznia 2020 roku.
Czytaj więcej:
Książka Kobego Bryanta, wydana po jego śmierci, trafiła do sprzedaży
LeBron James i Naomi Osaka w gronie wyróżnionych przez "Sports Illustrated"
AdsByGoogle - In-Feed slot=4906192224
Zone type:d<== ==>place:d1<===
Webmaster: ZonePlace=d1; dzial=wiadomosci; Stan delivery
Zone type:e-desktop<== ==>place:e1-desktop<===
Webmaster: ZonePlace=e1-desktop; dzial=wiadomosci; Stan delivery
Zone type:d<== ==>place:d2<===
Webmaster: ZonePlace=d2; dzial=wiadomosci; Stan delivery
Zone type:d<== ==>place:d3<===
Webmaster: ZonePlace=d3; dzial=wiadomosci; Stan delivery
Zone type:d<== ==>place:d4<===
Webmaster: ZonePlace=d4; dzial=wiadomosci; Stan delivery