Menu
Zone type:ab<== ==>place:ab<===
Webmaster: ZonePlace=ab; dzial=wiadomosci; Stan delivery
Serie A: Inter runner-up, Mourinho already congratulates Napoli on title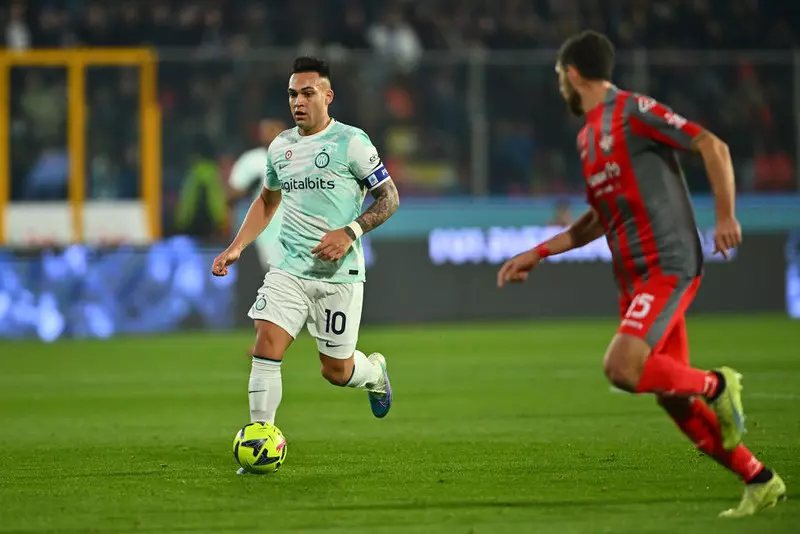 Inter Milan's players, thanks to two goals by Argentine world champion Lautaro Martinez, defeated Cremonese, who remain without a win on the season, 2:1 in the 20th round of the Italian Premier League away game and moved into the runner-up position. Leader Napoli will take on Roma today.
Zone type:video<== ==>place:video<===
Webmaster: ZonePlace=video; dzial=wiadomosci; Stan delivery
Zone type:e-mobile<== ==>place:e1-mobile<===
Webmaster: ZonePlace=e1-mobile; dzial=wiadomosci; Stan delivery
News available in Polish
Mediolańczycy przegrywali niespodziewanie od 11. minuty z outsiderem rozgrywek po golu Nigeryjczyka Davida Okereke, ale Martinez szybko doprowadził do wyrównania, a w 65. minucie zapewnił Interowi zwycięstwo.
Łącznie argentyński napastnik ma w tym sezonie Serie A już 11 goli. Jego zespół awansował na drugie miejsce z dorobkiem 40 punktów. O dwa wyprzedza lokalnego rywala AC Milan, który dzisiaj przegrał z Sassuolo aż 5:2.
Zdecydowanym liderem z 50 punktami jest Napoli. Drużyna Piotra Zielińskiego w szlagierze 20. kolejki zagra u siebie z szóstą Romą (37 pkt). Trener rzymian Jose Mourinho już... pogratulował piłkarzom z Neapolu mistrzostwa kraju.
🎙️ Jose Mourinho:

"Nie chcę być źle zrozumiany, ale gratuluję Napoli Scudetto, można powiedzieć, że już je wygrali i jak najbardziej na to zasłużyli. To najsilniejszy zespół ze znakomitym trenerem i bardzo silnymi zawodnikami."

— AS Roma 🇵🇱 (@asroma_polonia) January 28, 2023
"Jeśli zapytacie mnie, czy Roma zejdzie im z drogi, odpowiem, że nie. Jedziemy do Neapolu, aby uzyskać dobry wynik. Ale to nie zmienia faktu, że Napoli zdobyło już Scudetto" - podkreślił wczoraj słynny Portugalczyk.
Na czwarte miejsce wczoraj wieczór awansowała Atalanta - 38 pkt. Drużyna z Bergamo pokonała u siebie 2:0 przedostatnią w tabeli Sampdorię Genua 2:0.
Czytaj więcej:
Liga włoska: Klęska Milanu w Rzymie, rośnie przewaga Napoli
Liga włoska: Kontuzja wykluczy Żurkowskiego na trzy tygodnie
Liga włoska: Polscy piłkarze zmieniają kluby
AdsByGoogle - In-Feed slot=4906192224
Zone type:d<== ==>place:d1<===
Webmaster: ZonePlace=d1; dzial=wiadomosci; Stan delivery
Zone type:e-desktop<== ==>place:e1-desktop<===
Webmaster: ZonePlace=e1-desktop; dzial=wiadomosci; Stan delivery
Zone type:d<== ==>place:d2<===
Webmaster: ZonePlace=d2; dzial=wiadomosci; Stan delivery
Zone type:d<== ==>place:d3<===
Webmaster: ZonePlace=d3; dzial=wiadomosci; Stan delivery
Zone type:d<== ==>place:d4<===
Webmaster: ZonePlace=d4; dzial=wiadomosci; Stan delivery