Menu
Zone type:ab<== ==>place:ab<===
Webmaster: ZonePlace=ab; dzial=wiadomosci; Stan delivery
Real Madrid defeated Girona and returned to the leadership position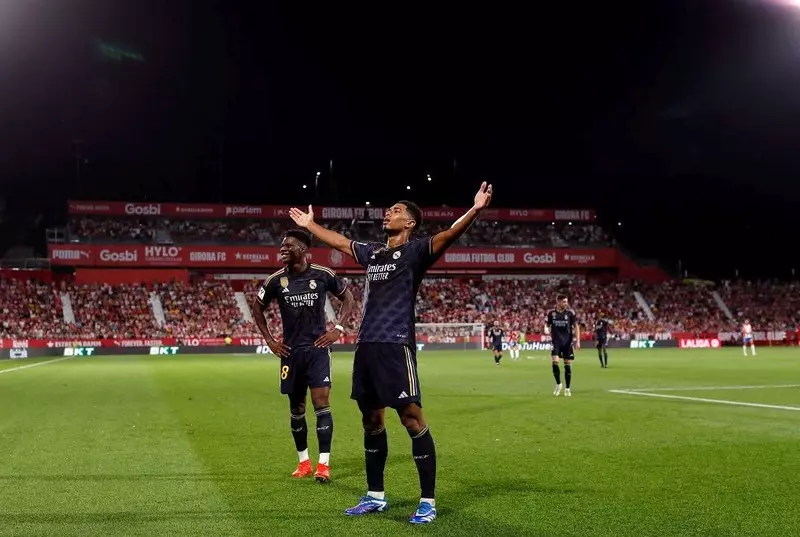 Real Madrid players won away against Girona 3-0 in the 8th round of the Spanish Premier League thanks to goals by Joselu, Aurelien Tchouameni and Jude Bellingham. The 'Royal' overtook this rival and Barcelona, which defeated Sevilla 1-0 on Friday, and returned to the leading position.
Zone type:video<== ==>place:video<===
Webmaster: ZonePlace=video; dzial=wiadomosci; Stan delivery
Zone type:e-mobile<== ==>place:e1-mobile<===
Webmaster: ZonePlace=e1-mobile; dzial=wiadomosci; Stan delivery
News available in Polish
Starcie Girony, która sensacyjnie prowadziła przed tą kolejką, z Realem było wydarzeniem weekendu w Hiszpanii.
Między 17. a 21. minutą goście strzelili dwa gole. Najpierw Anglik Jude Bellingham dośrodkował do Joselu, który pokonał bramkarza Paulo Gazzanigę. Następnie Niemiec Toni Kroos wykonał rzut rożny, a Francuz Aurelien Tchouameni wysoko wyskoczył i głową podwyższył na 2:0.
W drugiej połowie Girona miała swoje okazje, ale dobrze w bramce "Królewskich" spisywał się Kepa Arrizabalaga pozyskany po kontuzji Thibault Courtoisa. Real zadał ostateczny cios w 71. min, gdy Joselu podał do Bellinghama, który strzałem bez przyjęcia ustalił wynik na 3:0.
20-letni Anglik, który latem za ponad 100 mln euro przeniósł się do Realu z Borussii Dortmund, z dorobkiem sześciu trafień prowadzi w klasyfikacji ligowych strzelców. Pięć goli ma m.in. Robert Lewandowski z Barcelony.
"Bellingham liderem Realu, Królewscy liderem tabeli" - napisał po ostatnim gwizdku dziennik "AS".
"Anglik z golem i asystą. Bellingham po raz kolejny odegrał decydującą rolę i zapewnił Realowi powrót na pierwsze miejsce" - dodano w realcji w Girony.
Drużyna trenera Carlo Ancelottiego ma 21 punktów i o jeden wyprzedza Barcelonę, która została jedyną niepokonaną w tym sezonie drużyną. Girona po pierwszej porażce z 19 pkt jest trzecia.
Czytaj więcej:
Real Madryt wyprzedził Barcelonę, Girona nowym liderem
Barcelona wygrała z Sevillą po samobóju Ramosa
AdsByGoogle - In-Feed slot=4906192224
Zone type:d<== ==>place:d1<===
Webmaster: ZonePlace=d1; dzial=wiadomosci; Stan delivery
Zone type:e-desktop<== ==>place:e1-desktop<===
Webmaster: ZonePlace=e1-desktop; dzial=wiadomosci; Stan delivery
Zone type:d<== ==>place:d2<===
Webmaster: ZonePlace=d2; dzial=wiadomosci; Stan delivery
Zone type:d<== ==>place:d3<===
Webmaster: ZonePlace=d3; dzial=wiadomosci; Stan delivery
Zone type:d<== ==>place:d4<===
Webmaster: ZonePlace=d4; dzial=wiadomosci; Stan delivery