Menu
Zone type:ab<== ==>place:ab<===
Webmaster: ZonePlace=ab; dzial=wiadomosci; Stan delivery
Premier League: Arsenal beaten by Everton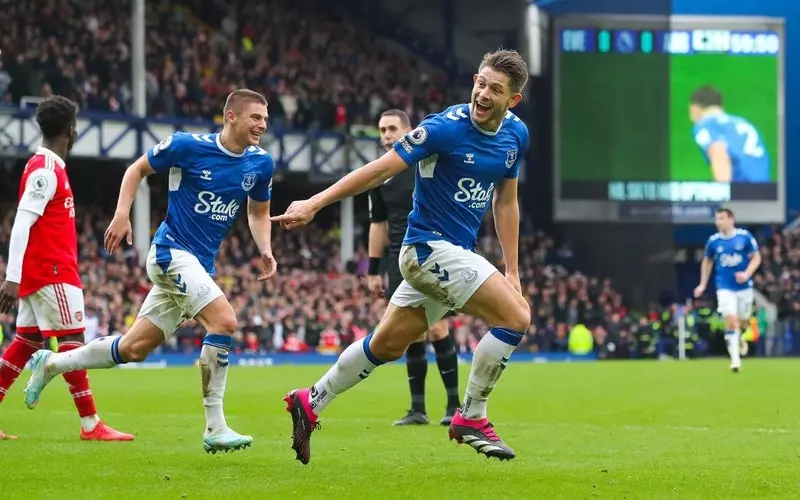 Everton sensationally defeated Arsenal London, which is the leader in the English Premier League table in front of their own audience. The hosts, under new manager Sean Dyche, won 1-0 thanks to James Tarkowski's goal.
Zone type:video<== ==>place:video<===
Webmaster: ZonePlace=video; dzial=wiadomosci; Stan delivery
Zone type:e-mobile<== ==>place:e1-mobile<===
Webmaster: ZonePlace=e1-mobile; dzial=wiadomosci; Stan delivery
News available in Polish
Lider grą nie zachwycił, stworzył mało klarownych sytuacji i zasłużenie przegrał. To druga porażka "Kanonierów" w sezonie.
Niedawny nabytek Arsenalu, obrońca piłkarskiej reprezentacji Polski Jakub Kiwior cały mecz spędził na ławce rezerwowych.
W Evertonie doszło do kluczowej zmiany – Franka Lamparda na stanowisku trenera zastąpił Dyche. Były trener Burnley stanął przed trudnym wyzwaniem. Przed sobotnim spotkaniem ekipa z Liverpoolu zajmowała 19. miejsce, mając tyle samo punktów co ostatni Southampton. Po zwycięstwie awansowała na 17. miejsce, wydostając się ze strefy spadkowej.
Na przeciwległym biegunie znajduje się Arsenal. Londyńczycy mają pięć punktów przewagi nad Manchesterem City, który w niedzielę w Londynie zagra z Tottenhamem Hotspur.
Czytaj więcej:
Puchar Anglii: Manchester City lepszy od Arsenalu, Kiwior na ławce rezerwowych
Liga angielska: Jorginho przechodzi z Chelsea do Arsenalu
AdsByGoogle - In-Feed slot=4906192224
Zone type:d<== ==>place:d1<===
Webmaster: ZonePlace=d1; dzial=wiadomosci; Stan delivery
Zone type:e-desktop<== ==>place:e1-desktop<===
Webmaster: ZonePlace=e1-desktop; dzial=wiadomosci; Stan delivery
Zone type:d<== ==>place:d2<===
Webmaster: ZonePlace=d2; dzial=wiadomosci; Stan delivery
Zone type:d<== ==>place:d3<===
Webmaster: ZonePlace=d3; dzial=wiadomosci; Stan delivery
Zone type:d<== ==>place:d4<===
Webmaster: ZonePlace=d4; dzial=wiadomosci; Stan delivery