Menu
Zone type:ab<== ==>place:ab<===
Webmaster: ZonePlace=ab; dzial=wiadomosci; Stan delivery
Poles in EU top spot for hours worked per week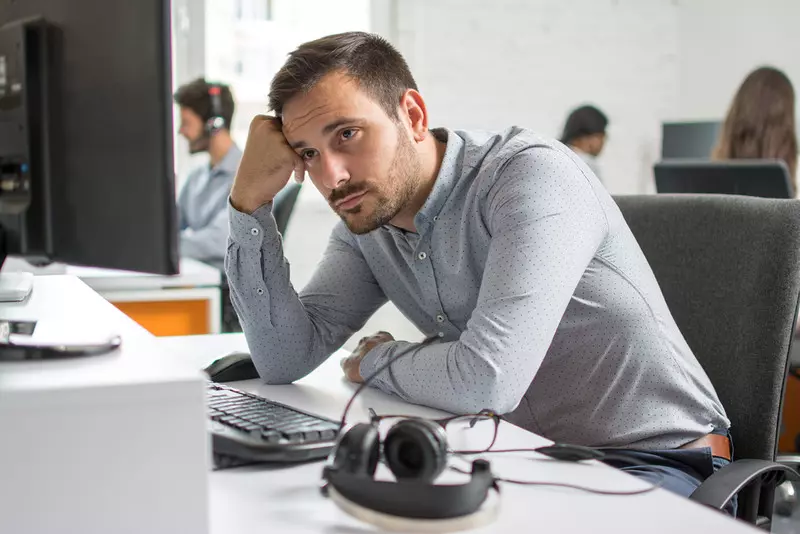 The latest Eurostat figures show that Polish citizens rank second among EU countries in terms of hours worked per week.
Zone type:video<== ==>place:video<===
Webmaster: ZonePlace=video; dzial=wiadomosci; Stan delivery
Zone type:e-mobile<== ==>place:e1-mobile<===
Webmaster: ZonePlace=e1-mobile; dzial=wiadomosci; Stan delivery
News available in Polish
Jak wynika z danych zaprezentowanych przez Europejski Urząd Statystyczny w 2022 r. przeciętny tydzień pracy osób w wieku 20–64 lat w UE wynosił średnio 37,5 godziny. Jednak były państwa, w których obywatele pracowali znacznie więcej. Wśród tych krajów są m.in. Polacy.
Mieszkańcy Polski w ubiegłym roku pracowali 40,4 godzin. Więcej czasu w pracy spędzili tylko Grecy - 41 godzin.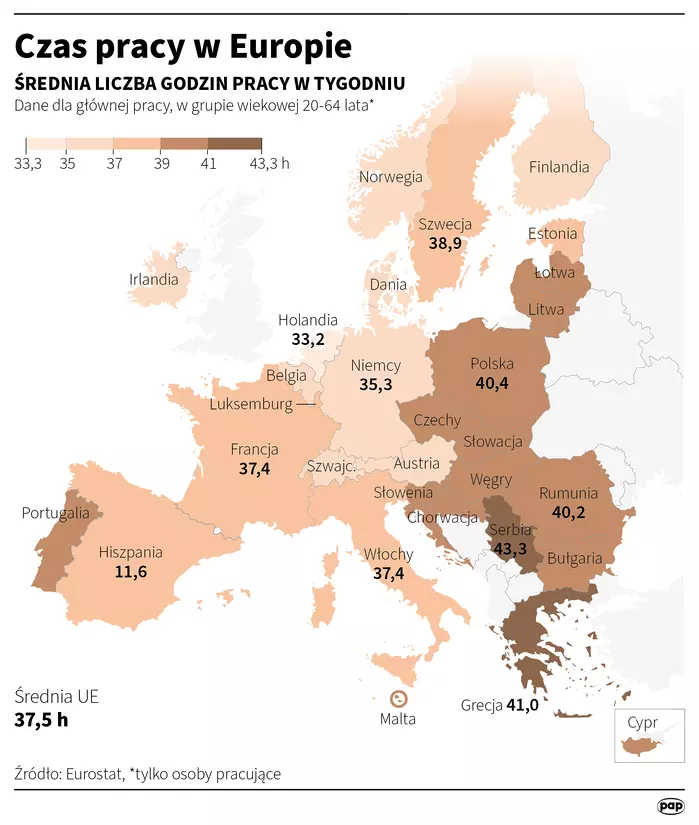 Na trzecim miejscu pod względem przepracowanych godzin w ciągu tygodnia znalazły się Rumunia oraz Bułgaria z wynikiem po 40,2 godzin.
Według Eurostatu najkrótszy średni tydzień pracy miała Holandia, gdzie obywatele pracują 33,2 godziny, za nią Niemcy z wynikiem 35,3 godzin oraz Dania z liczbą 35,4 godzin. Z danych wynika, że kraj EFTA, jakim jest Norwegia, również wyróżnia się krótkim tygodniem pracy 35,5 godziny.
Czytaj więcej:
47 proc. Polaków boi się czegoś w pracy, ale zdecydowana większość ukrywa swoje lęki i fobie
Polacy chcą pracować na emeryturze
Blisko 50 proc. Polaków ma problemy ze snem. Gospodarka traci na tym miliardy złotych rocznie
AdsByGoogle - In-Feed slot=4906192224
Zone type:d<== ==>place:d1<===
Webmaster: ZonePlace=d1; dzial=wiadomosci; Stan delivery
Zone type:e-desktop<== ==>place:e1-desktop<===
Webmaster: ZonePlace=e1-desktop; dzial=wiadomosci; Stan delivery
Zone type:d<== ==>place:d2<===
Webmaster: ZonePlace=d2; dzial=wiadomosci; Stan delivery
Zone type:d<== ==>place:d3<===
Webmaster: ZonePlace=d3; dzial=wiadomosci; Stan delivery
Zone type:d<== ==>place:d4<===
Webmaster: ZonePlace=d4; dzial=wiadomosci; Stan delivery