Menu
Zone type:ab<== ==>place:ab<===
Webmaster: ZonePlace=ab; dzial=wiadomosci; Stan delivery
Poles go to the Himalayas to honor the memory of Wanda Rutkiewicz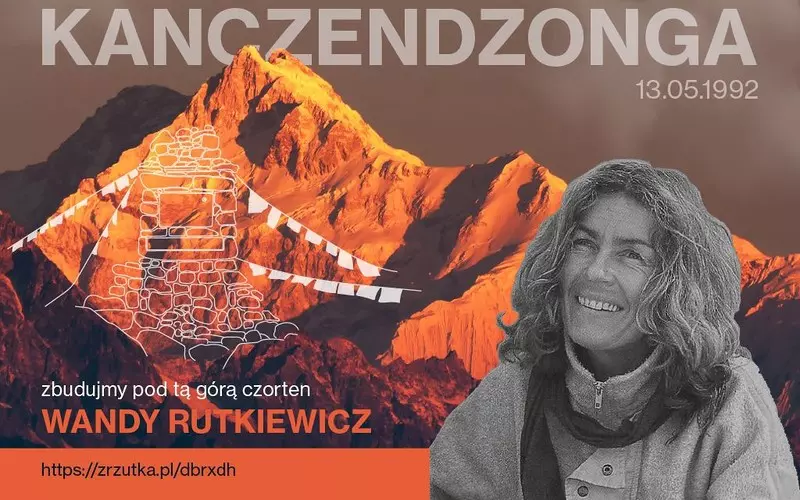 30 years will have passed in May 2022, when Wanda Rutkiewicz went missing on her way to the Kanczendzongi peak (8 586 m). On the occasion of this anniversary, the Sports Club 'Polskie Himalaje' wants to build a Chorten in the base under this mountain in tribute to one of the greatest mountaineers in history.
Zone type:video<== ==>place:video<===
Webmaster: ZonePlace=video; dzial=wiadomosci; Stan delivery
Zone type:e-mobile<== ==>place:e1-mobile<===
Webmaster: ZonePlace=e1-mobile; dzial=wiadomosci; Stan delivery
News available in Polish
"Mamy nadzieję, że uda się zebrać kwotę 18 000 zł" - tłumaczą inicjatorzy akcji, czyli Klub Sportowy "Polskie Himalaje" z siedzibą w Krakowie, założony w 2010 roku.
"Musimy dziś zadbać, aby utrzymywać i utrwalać pamięć o tych, którzy swymi osiągnięciami rozsławili w świecie imię Polski, ale nie dane im było wrócić do swych domów. Nie liczymy na to, że ktoś za nas postawi czorteny czy wykona pamiątkowe tablice, gabloty. Wiosną 2022 roku wyruszymy do bazy pod Kanczendzongę, a jesienią 2023 roku do Pokhary i Sanktuarium Annapurny. To ostatni ośmiotysięcznik, na którym 22 października 1991 roku stanęła Wanda Rutkiewicz po samotnej wspinaczce południową ścianą" - tłumaczą przedstawiciele klubu.
Więcej informacji można znaleźć na stronie: https://polskiehimalaje.pl/, a także na profilu Facebook: https://www.facebook.com/PolskieHimalaje/ .
Akcja zbiórki pieniędzy prowadzona jest tu: https://zrzutka.pl/dbrxdh.
Portal Londynek.net objął akcję swoim patronatem medialnym.
AdsByGoogle - In-Feed slot=4906192224
Zone type:d<== ==>place:d1<===
Webmaster: ZonePlace=d1; dzial=wiadomosci; Stan delivery
Zone type:e-desktop<== ==>place:e1-desktop<===
Webmaster: ZonePlace=e1-desktop; dzial=wiadomosci; Stan delivery
Zone type:d<== ==>place:d2<===
Webmaster: ZonePlace=d2; dzial=wiadomosci; Stan delivery
Zone type:d<== ==>place:d3<===
Webmaster: ZonePlace=d3; dzial=wiadomosci; Stan delivery
Zone type:d<== ==>place:d4<===
Webmaster: ZonePlace=d4; dzial=wiadomosci; Stan delivery