Menu
Zone type:ab<== ==>place:ab<===
Webmaster: ZonePlace=ab; dzial=wiadomosci; Stan delivery
Piotr Żyła 10th in Planica. Tande's fatal fall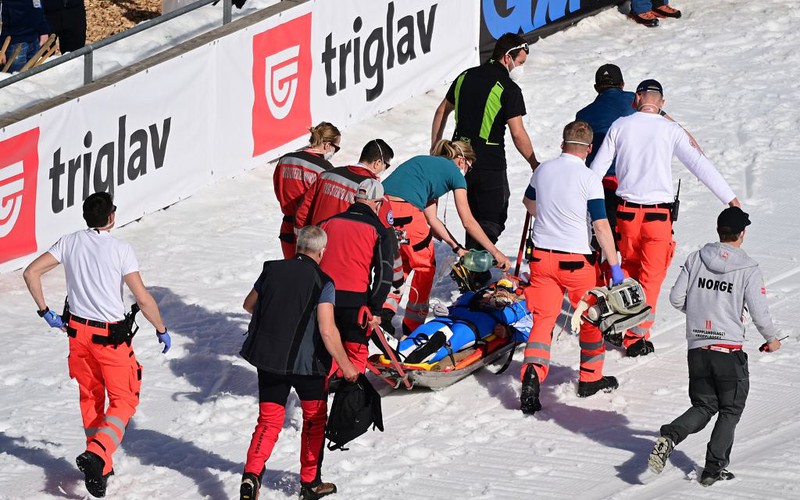 Piotr Żyła of Poland took 10th place in today's World Cup competition in ski jumping in Planica. The Japanese Ryoyu Kobayashi won. Daniel-Andre Tande did not enter the competition. The Norwegian had a very dangerous looking fall in the trial round.
Zone type:video<== ==>place:video<===
Webmaster: ZonePlace=video; dzial=wiadomosci; Stan delivery
Zone type:e-mobile<== ==>place:e1-mobile<===
Webmaster: ZonePlace=e1-mobile; dzial=wiadomosci; Stan delivery
News available in Polish
Za Kobayashim uplasowali się Niemcy Markus Eisenbichler i Karl Geiger.
Niespodziewanie już po pierwszej serii odpadli Dawid Kubacki i Kamil Stoch, którzy zostali sklasyfikowani odpowiednio na 31. i 32. miejscu. Po pierwszej serii przepadł także pewny już Kryształowej Kuli 37. Norweg Halvor Egner Granerud.
W finale wystąpiło jeszcze dwóch Polaków. Jakub Wolny był 14., natomiast Andrzej Stękała 18.
Do rywalizacji nie przystąpił Daniel-Andre Tande. Norweski skoczek miał bardzo groźnie wyglądający upadek w serii próbnej.
Tande zaraz po wyjściu z progu stracił równowagę w locie i z olbrzymią siłą uderzył w zeskok na 99. metrze. Śmigłowcem został przetransportowany do szpitala w Lublanie.
Szczegółowy komunikat odnośnie jego stanu zdrowia spodziewany jest w ciągu kilku godzin.
Czytaj więcej:
TCS: Kubacki znokautował rywali! Rekord skoczni i wielkie zwycięstwo
Skoki narciarskie: Halvor Egner Granerud z Kryształową Kulą
Granerud: Mój wielki rywal zaoferował mi domowe obiady od mamy
AdsByGoogle - In-Feed slot=4906192224
Zone type:d<== ==>place:d1<===
Webmaster: ZonePlace=d1; dzial=wiadomosci; Stan delivery
Zone type:e-desktop<== ==>place:e1-desktop<===
Webmaster: ZonePlace=e1-desktop; dzial=wiadomosci; Stan delivery
Zone type:d<== ==>place:d2<===
Webmaster: ZonePlace=d2; dzial=wiadomosci; Stan delivery
Zone type:d<== ==>place:d3<===
Webmaster: ZonePlace=d3; dzial=wiadomosci; Stan delivery
Zone type:d<== ==>place:d4<===
Webmaster: ZonePlace=d4; dzial=wiadomosci; Stan delivery