Menu
Zone type:ab<== ==>place:ab<===
Webmaster: ZonePlace=ab; dzial=wiadomosci; Stan delivery
Paolo Rossi: Italy football legend's home burgled during his funeral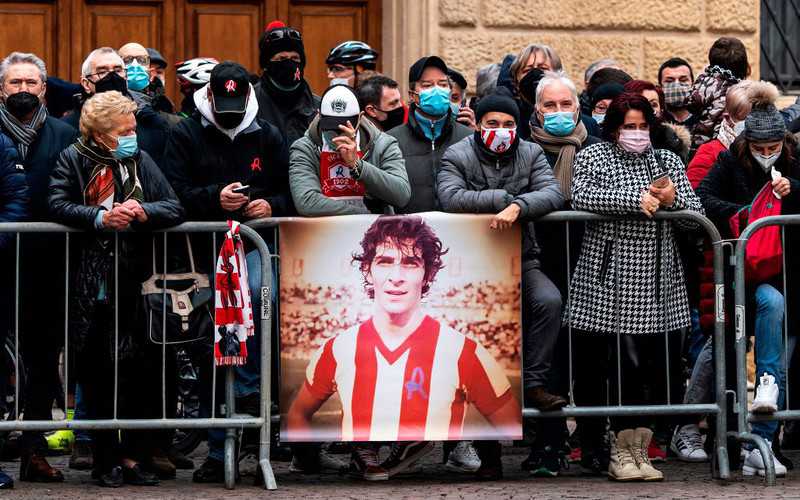 The home of Italian football legend Paolo Rossi was burgled during his funeral on Saturday, Italy's ANSA news agency has reported.
Zone type:video<== ==>place:video<===
Webmaster: ZonePlace=video; dzial=wiadomosci; Stan delivery
Zone type:e-mobile<== ==>place:e1-mobile<===
Webmaster: ZonePlace=e1-mobile; dzial=wiadomosci; Stan delivery
News available in Polish
Informację za włoską agencją prasową ANSA przekazały światowe media. Według nich, z domu w toskańskiej miejscowości Bucine nieopodal Arezzo skradziono m.in. biżuterię, w tym pamiątkowy zegarek. Po zawiadomieniu przez Cappelletti policja wszczęła dochodzenie.
Vicenzę, gdzie pochowano króla strzelców mistrzostw świata w 1982 roku, dzieli od Arezzo ok. 200 km. W pogrzebie uczestniczyli m.in. koledzy ze "złotej drużyny" sprzed 38 lat. Do katedry trumnę wnieśli Marco Tardelli, Giancarlo Antognoni, Antonio Cabrini i Fulvio Collovati.
Media podkreślają, że Rossi "powrócił na ostatni mecz" do Vicenzy, do miasta, gdzie na dobre rozpoczęła się jego piłkarska kariera. Hołd oddało mu tam kilka tysięcy osób przechodząc koło wystawionej trumny z jego ciałem.
Od czwartku słynnego piłkarza, m.in. Juventusu Turyn i Milanu, wspominają nieprzerwanie wszystkie włoskie media. Z uroczystości pogrzebowych przeprowadzono transmisję telewizyjną.
Rossi zmarł w czwartek w wieku 64 lat, a powodem był nowotwór.
Czytaj więcej:
Zmarł bohater mundialu w 1982 roku Paolo Rossi
AdsByGoogle - In-Feed slot=4906192224
Zone type:d<== ==>place:d1<===
Webmaster: ZonePlace=d1; dzial=wiadomosci; Stan delivery
Zone type:e-desktop<== ==>place:e1-desktop<===
Webmaster: ZonePlace=e1-desktop; dzial=wiadomosci; Stan delivery
Zone type:d<== ==>place:d2<===
Webmaster: ZonePlace=d2; dzial=wiadomosci; Stan delivery
Zone type:d<== ==>place:d3<===
Webmaster: ZonePlace=d3; dzial=wiadomosci; Stan delivery
Zone type:d<== ==>place:d4<===
Webmaster: ZonePlace=d4; dzial=wiadomosci; Stan delivery