Menu
Zone type:ab<== ==>place:ab<===
Webmaster: ZonePlace=ab; dzial=wiadomosci; Stan delivery
PSG players claim referee swore at them during Champions League semifinal loss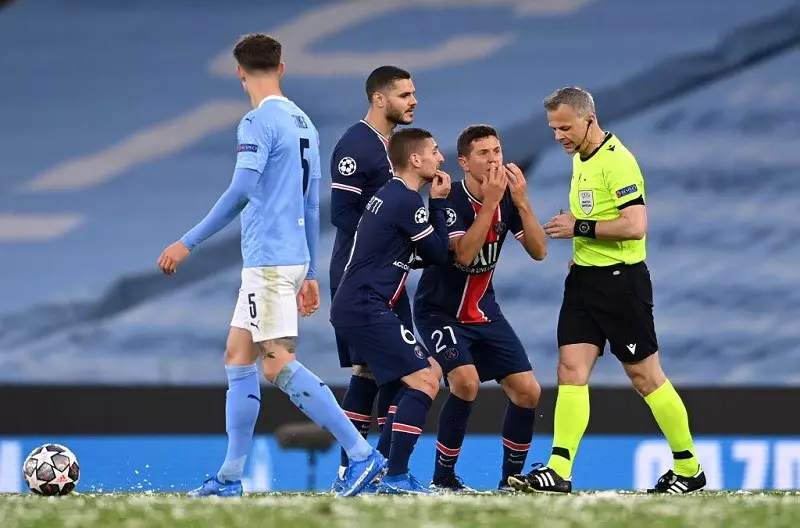 Paris Saint-Germain's UEFA Champions League semifinal second-leg defeat to Manchester City finished in acrimony with Angel Di Maria seeing red and four players getting booked.
Zone type:video<== ==>place:video<===
Webmaster: ZonePlace=video; dzial=wiadomosci; Stan delivery
Zone type:e-mobile<== ==>place:e1-mobile<===
Webmaster: ZonePlace=e1-mobile; dzial=wiadomosci; Stan delivery
News available in Polish
Hiszpański pomocnik PSG relacjonował, że usłyszał, jak holenderski arbiter znieważył jego kolegę z drużyny - Argentyńczyka Leandro Paredesa. Wulgarnego języka Kuipers miał użyć także wobec Marco Verrattiego, o czym po spotkaniu poinformował sam Włoch.
"Ja nie słyszałem nic z ławki trenerskiej, ale wierzę swoim piłkarzom. Jeśli coś jest na rzeczy, może UEFA zajmie się tą sytuacją" - skomentował trener paryżan Argentyńczyk Mauricio Pochettino.
Mistrz Francji przegrał wczoraj w Manchesterze 0:2, a w ubiegłym tygodniu u siebie 1:2, i odpadł z rozgrywek.
"Nie próbuję znaleźć żadnego usprawiedliwienia. Najważniejsze w tym wszystkim jest to, że nie awansowaliśmy do finału i dlatego jesteśmy naprawdę smutni" - dodał szkoleniowiec.
Drugiego finalistę wyłoni dzisiejszy rewanż w Londynie, gdzie o godz. 20:00 GMT zmierzą się Chelsea i Real Madryt. W pierwszym meczu w stolicy Hiszpanii był remis 1:1.
Czytaj więcej:
Liga Mistrzów: Real Madryt i Manchester City w półfinale
Liga Mistrzów: Pechowa porażka PSG. Manchester City coraz bliżej finału
Manchester City po raz pierwszy w finale Ligi Mistrzów
Znamy daty losowań kwalifikacji do Ligi Mistrzów, Ligi Europy i Ligi Konferencji
AdsByGoogle - In-Feed slot=4906192224
Zone type:d<== ==>place:d1<===
Webmaster: ZonePlace=d1; dzial=wiadomosci; Stan delivery
Zone type:e-desktop<== ==>place:e1-desktop<===
Webmaster: ZonePlace=e1-desktop; dzial=wiadomosci; Stan delivery
Zone type:d<== ==>place:d2<===
Webmaster: ZonePlace=d2; dzial=wiadomosci; Stan delivery
Zone type:d<== ==>place:d3<===
Webmaster: ZonePlace=d3; dzial=wiadomosci; Stan delivery
Zone type:d<== ==>place:d4<===
Webmaster: ZonePlace=d4; dzial=wiadomosci; Stan delivery