Menu
Zone type:ab<== ==>place:ab<===
Webmaster: ZonePlace=ab; dzial=wiadomosci; Stan delivery
Messi, Griezmann both 9/10 as Barcelona continue winning run with rout of Granada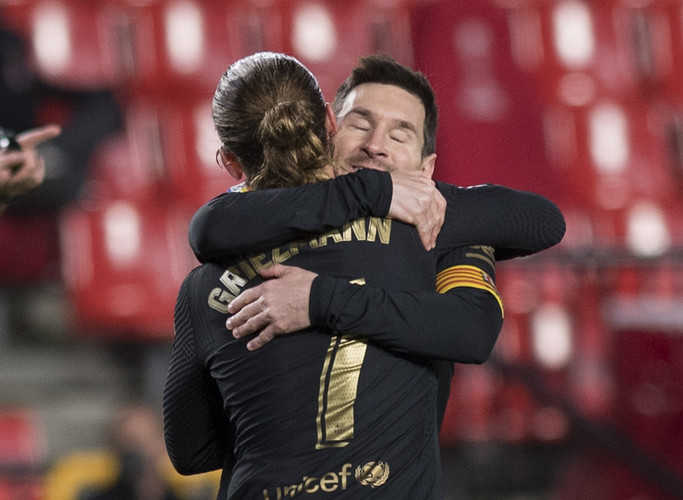 Lionel Messi and Antoine Griezmann scored two each as Barcelona made it eight games unbeaten in La Liga with a 4-0 win at Granada.
Zone type:video<== ==>place:video<===
Webmaster: ZonePlace=video; dzial=wiadomosci; Stan delivery
Zone type:e-mobile<== ==>place:e1-mobile<===
Webmaster: ZonePlace=e1-mobile; dzial=wiadomosci; Stan delivery
News available in Polish
Griezmann trafił do bramki gospodarzy w 12. i 63. minucie, a Messi w 35. i 42. minucie. Argentyńczyk, który w dwóch ostatnich meczach zaliczył cztery trafienia, łącznie ma 11 goli i prowadzi w klasyfikacji strzelców Primera Division.
Granada w końcówce spotkania musiała sobie radzić w dziesiątkę, po czerwonej kartce w 78. minucie dla Jesusa Vallejo.
"To ważne zwycięstwo. Wiedzieliśmy, że jesteśmy w trudnej sytuacji i nie możemy sobie pozwolić na więcej przegranych meczów. Mamy za sobą bardzo dobry tydzień, wygraliśmy trzy spotkania, wszystkie poza domem i grając bardzo dobrze w piłkę. Pokazaliśmy, że drużyna rośnie pod względem jakości i pewności siebie" - przyznał trener Barcelony Ronald Koeman. Jego zespół z dorobkiem 34 punktów zajmuje trzecie miejsce w tabeli.
W ciekawie zapowiadającym się spotkaniu szósta, ale mająca dwa mecze zaległe Sevilla pokonała u siebie piąty Real Sociedad San Sebastian 3:2. Wszystkie gole dla gospodarzy strzelił Marokańczyk Youssef En-Nesyri. Co ciekawe, już po siedmiu minutach było 2:1, a po niespełna kwadransie - 2:2.
Hiszpania zmaga się z obecnie z atakiem zimy. Odwołano już m.in. mecz lidera Atletico Madryt z Athletic Bilbao. Z kolei np. wicelider Real Madryt miał w piątek problemy z wylotem do Pampeluny na sobotni wieczorny mecz z Osasuną.
Czytaj więcej:
"As": Coutinho z FC Barcelona nie zagra przez kilka miesięcy
Liga hiszpańska: Atletico wróciło na pierwsze miejsce
Liga hiszpańska: Skromna wygrana Barcelony, 500. mecz Messiego
Liga hiszpańska: Wygrana Barcelony, dwa gole Messiego
AdsByGoogle - In-Feed slot=4906192224
Zone type:d<== ==>place:d1<===
Webmaster: ZonePlace=d1; dzial=wiadomosci; Stan delivery
Zone type:e-desktop<== ==>place:e1-desktop<===
Webmaster: ZonePlace=e1-desktop; dzial=wiadomosci; Stan delivery
Zone type:d<== ==>place:d2<===
Webmaster: ZonePlace=d2; dzial=wiadomosci; Stan delivery
Zone type:d<== ==>place:d3<===
Webmaster: ZonePlace=d3; dzial=wiadomosci; Stan delivery
Zone type:d<== ==>place:d4<===
Webmaster: ZonePlace=d4; dzial=wiadomosci; Stan delivery