Menu
Zone type:ab<== ==>place:ab<===
Webmaster: ZonePlace=ab; dzial=wiadomosci; Stan delivery
Flights to La Palma canceled. Lava velocity and volcano ash emission have increased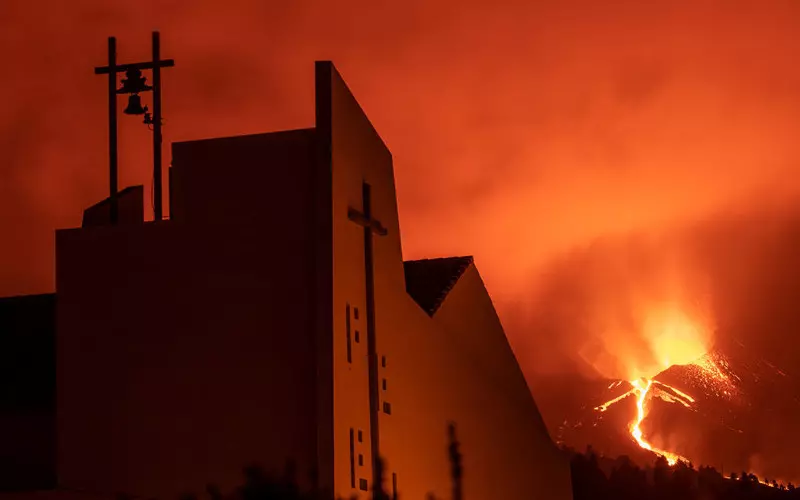 Due to the increased ash emissions from the Cumbre Vieja volcano, active since September, all flights to La Palma and connections from this Canary island were canceled yesterday.
Zone type:video<== ==>place:video<===
Webmaster: ZonePlace=video; dzial=wiadomosci; Stan delivery
Zone type:e-mobile<== ==>place:e1-mobile<===
Webmaster: ZonePlace=e1-mobile; dzial=wiadomosci; Stan delivery
News available in Polish
Jak podała spółka Aena, odpowiedzialna za obsługę hiszpańskich lotnisk, w ciągu całego dnia nie odbył się żaden z 33 rejsów zaplanowanych z oraz na La Palmę.
Wyjaśniono, że linie latające na wyspę, na której od 19 września aktywny jest wulkan Cumbre Vieja, usprawiedliwiają odwołanie rejsów bezpieczeństwem realizowanych połączeń.
Tymczasem kanaryjskie media poinformowały, że podczas ostatniej doby zanotowano najsilniejsze trzęsienie ziemi od czasu wybuchu wulkanu na La Palmie. Jego siła wyniosła 4,6 stopni w skali Richtera.
Wulkanolodzy odnotowali też rekordową szybkość, z jaką w ostatnich godzinach wydostaje się z wulkanu magma. Wczoraj w popołudnie wylewała się z prędkością 1 300 m na godzinę.
Władze La Palmy wskazują, że do wczorajszego przedpołudnia lawa zajęła już ponad 750 hektarów terenów na tej kanaryjskiej wyspie.
Czytaj więcej:
La Palma: Osunęła się część krateru wulkanu. Wyciek lawy coraz większy
Cumbre Vieja w fazie największej erupcji. Wyrzuca okruchy wulkaniczne na 800 metrów
AdsByGoogle - In-Feed slot=4906192224
Zone type:d<== ==>place:d1<===
Webmaster: ZonePlace=d1; dzial=wiadomosci; Stan delivery
Zone type:e-desktop<== ==>place:e1-desktop<===
Webmaster: ZonePlace=e1-desktop; dzial=wiadomosci; Stan delivery
Zone type:d<== ==>place:d2<===
Webmaster: ZonePlace=d2; dzial=wiadomosci; Stan delivery
Zone type:d<== ==>place:d3<===
Webmaster: ZonePlace=d3; dzial=wiadomosci; Stan delivery
Zone type:d<== ==>place:d4<===
Webmaster: ZonePlace=d4; dzial=wiadomosci; Stan delivery