Menu
Zone type:ab<== ==>place:ab<===
Webmaster: ZonePlace=ab; dzial=wiadomosci; Stan delivery
Serie A: Juventus' settlement with the football federation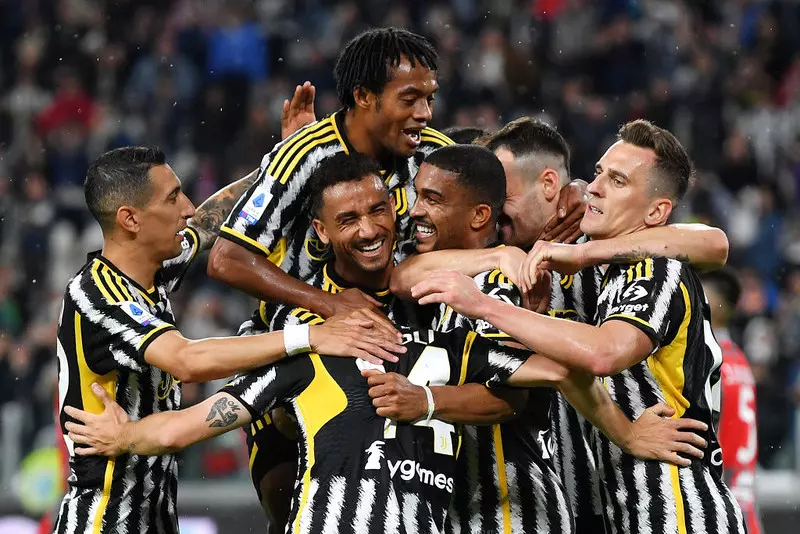 Juventus Turin have reached a settlement with the Italian football federation. 'Stara Dama' will pay a €718,000 fine to the Federazione Italiana Giuoco Calcio. The club was deducted 10 points in Serie A due to irregularities regarding salaries paid to players.
Zone type:video<== ==>place:video<===
Webmaster: ZonePlace=video; dzial=wiadomosci; Stan delivery
Zone type:e-mobile<== ==>place:e1-mobile<===
Webmaster: ZonePlace=e1-mobile; dzial=wiadomosci; Stan delivery
News available in Polish
Targany przez skandale finansowe Juventus chce się oczyścić przed końcem bieżącego sezonu Serie A i mieć jasność co do swojej przyszłości. Po zapłaceniu kary "Bianconeri" otrzymają gwarancję, że w przyszłości nie zostaną im odjęte kolejne punkty.
Juventus escape an additional Serie A points deduction but agree to pay a fine of more than 700,000 euros ($751,000) for lying about players foregoing wages during the Covid-19 pandemichttps://t.co/SMkmby5FR1

— WION Sports (@WIONSportsNews) May 30, 2023
Pozbawiony 10 punktów Juventus przed ostatnią kolejką ligi włoskiej zajmuje siódme miejsce, które gwarantuje grę w kwalifikacjach Ligi Konferencji Europy.
W niedzielę klub Wojciecha Szczęsnego i Arkadiusza Milika zagra na wyjeździe z Udinese i jeśli wygra, może awansować na szóstą lokatę, dającą prawo gry w fazie grupowej Ligi Europy.
Nawet jeśli "Stara Dama" awansuje do europejskich pucharów, to może jednak zostać z nich wykluczona ze względu na sankcje nałożone przez europejską federację (UEFA), która prowadzi odrębne śledztwo.
Czytaj więcej:
Liga włoska: Decyzja w sprawie 15-punktowej kary Juventusu zapadnie 22 maja
Liga włoska: Juventus czeka kolejny proces związany z klubowymi finansami
Liga włoska: Czarny dzień drużyny Szczęsnego i Milika
Liga włoska: Milan pokonał Juventus i jest pewny gry w Champions League
AdsByGoogle - In-Feed slot=4906192224
Zone type:d<== ==>place:d1<===
Webmaster: ZonePlace=d1; dzial=wiadomosci; Stan delivery
Zone type:e-desktop<== ==>place:e1-desktop<===
Webmaster: ZonePlace=e1-desktop; dzial=wiadomosci; Stan delivery
Zone type:d<== ==>place:d2<===
Webmaster: ZonePlace=d2; dzial=wiadomosci; Stan delivery
Zone type:d<== ==>place:d3<===
Webmaster: ZonePlace=d3; dzial=wiadomosci; Stan delivery
Zone type:d<== ==>place:d4<===
Webmaster: ZonePlace=d4; dzial=wiadomosci; Stan delivery