Menu
Zone type:ab<== ==>place:ab<===
Webmaster: ZonePlace=ab; dzial=wiadomosci; Stan delivery
German league: Lewandowski with a goal again, Bayern is running away from the competition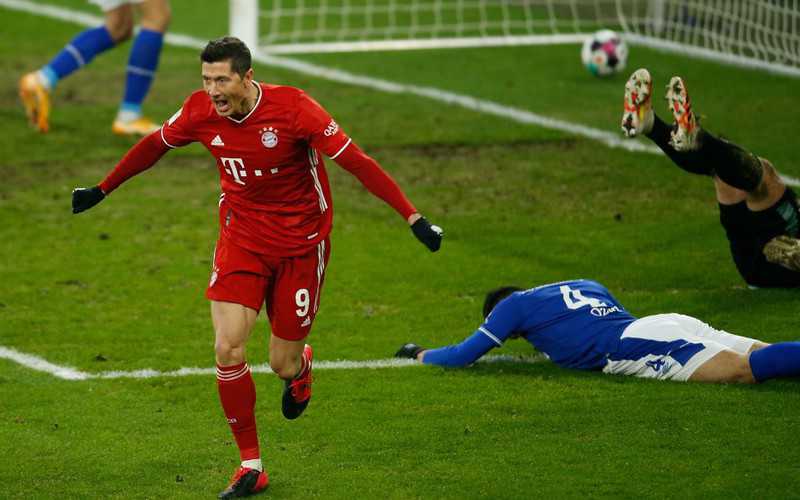 Robert Lewandowski scored his 23rd goal this season in the German football league, contributing to Bayern Munich's away victory over Schalke 04 Gelsenkirchen 4-0 in the 18th round. The Bavarians have an increasing advantage in the table over their rivals.
Zone type:video<== ==>place:video<===
Webmaster: ZonePlace=video; dzial=wiadomosci; Stan delivery
Zone type:e-mobile<== ==>place:e1-mobile<===
Webmaster: ZonePlace=e1-mobile; dzial=wiadomosci; Stan delivery
News available in Polish
Lewandowski trafił do siatki w 54. minucie, podwyższając prowadzenie gości na 2:0. Wcześniej, w 33. min gola zdobył Thomas Mueller, który wpisał się na listę strzelców ponownie w 89., a kilkadziesiąt sekund później wynik ustalił Austriak David Alaba.
Kapitan reprezentacji Polski, który wczoraj został zmieniony w 80. minucie, ma dużą szansę na pobicie rekordu liczby goli w jednym sezonie Bundesligi, należącego od prawie pół wieku do Gerda Muellera - 40 bramek. Do końca rozgrywek pozostało jeszcze 16 kolejek.
W niedzielę poprawił natomiast dwa inne rekordy rozgrywek: zdobył co najmniej jedną bramkę w ósmym z rzędu meczu wyjazdowym oraz w 11. kolejnym spotkaniu z jednym rywalem.
Bayern ma 42 punkty, a najlepszy z konkurentów RB Lipsk zgromadził o siedem mniej. Wicelider niespodziewanie przegrał w sobotę z FSV Mainz 2:3. Kolejne lokaty zajmują Bayer Leverkusen i VfL Wolfsburg - po 32 punkty.
Schalke, które zdołało wygrać w tym sezonie tylko raz, zamyka tabelę z siedmioma punktami.
"Życzę Schalke, żeby utrzymało się w ekstraklasie, trzymam za nie kciuki" - zapewnił bramkarz gości Manuel Neuer, który do Bayernu przeniósł się właśnie z klubu z Gelsenkirchen.
Czytaj więcej:
Bundesliga: Bayer wiceliderem, porażka BVB i gol Białka
Lewandowski z kolejnym golem. Polak pobił rekord Bundesligi
AdsByGoogle - In-Feed slot=4906192224
Zone type:d<== ==>place:d1<===
Webmaster: ZonePlace=d1; dzial=wiadomosci; Stan delivery
Zone type:e-desktop<== ==>place:e1-desktop<===
Webmaster: ZonePlace=e1-desktop; dzial=wiadomosci; Stan delivery
Zone type:d<== ==>place:d2<===
Webmaster: ZonePlace=d2; dzial=wiadomosci; Stan delivery
Zone type:d<== ==>place:d3<===
Webmaster: ZonePlace=d3; dzial=wiadomosci; Stan delivery
Zone type:d<== ==>place:d4<===
Webmaster: ZonePlace=d4; dzial=wiadomosci; Stan delivery