Menu
Zone type:ab<== ==>place:ab<===
Webmaster: ZonePlace=ab; dzial=wiadomosci; Stan delivery
Bundesliga: Lewandowski's goal did not save Bayern from defeat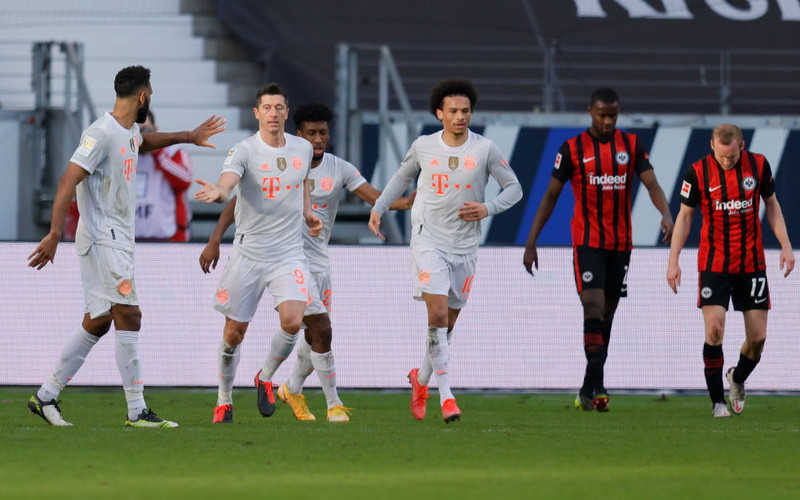 The leader of the German league table, Bayern Munich, lost in Frankfurt to Eintracht 1-2 in the 22nd round. The visitors' goal was scored by Robert Lewandowski, who already has 26 league goals this season and is the most effective in this competition.
Zone type:video<== ==>place:video<===
Webmaster: ZonePlace=video; dzial=wiadomosci; Stan delivery
Zone type:e-mobile<== ==>place:e1-mobile<===
Webmaster: ZonePlace=e1-mobile; dzial=wiadomosci; Stan delivery
News available in Polish
Kapitan reprezentacji Polski trafił do siatki w 53. minucie, zmniejszając stratę na 1:2. W pierwszej połowie dla gospodarzy trafili Japończyk Daichi Kamada (12. minuta) oraz Amin Younes (31.).
To pierwsza porażka broniących tytułu Bawarczyków od 13 stycznia, kiedy z Pucharu Niemiec sensacyjnie wyeliminował ich drugoligowy Holstein Kiel. Wciąż będą jednak liderami tabeli Bundesligi - mają 49 punktów, o pięć więcej od drugiego RB Lipsk. Wicelider zagra w niedzielę na wyjeździe z Herthą Berlin, której piłkarzem jest Krzysztof Piątek.
Na trzecim miejscu z 42 punktami jest VfL Wolfsburg, który w piątek wygrał na wyjeździe z Arminią Bielefeld 3:0. W drużynie gości od 83. minuty grał Bartosz Białek.
Tyle samo punktów ma Eintracht, który sklasyfikowany jest za Wolfsburgiem ze względu na minimalnie gorszy bilans bramek. Zespół z Frankfurtu odniósł piąte ligowe zwycięstwo z rzędu i pozostaje niepokonany od 11 grudnia. W sobotę nie grał jego najlepszy strzelec Portugalczyk Andre Silva, który z 18 golami jest wiceliderem klasyfikacji strzelców.
Czytaj więcej:
Klubowe MŚ: Bayern w finale po dwóch golach Lewandowskiego
Robert Lewandowski: Mamy sześciopak, to wielka sprawa
Bayern wydał 42,5 mln euro na nowego obrońcę
Liga niemiecka: Alaba opuści Bayern po trwającym sezonie
AdsByGoogle - In-Feed slot=4906192224
Zone type:d<== ==>place:d1<===
Webmaster: ZonePlace=d1; dzial=wiadomosci; Stan delivery
Zone type:e-desktop<== ==>place:e1-desktop<===
Webmaster: ZonePlace=e1-desktop; dzial=wiadomosci; Stan delivery
Zone type:d<== ==>place:d2<===
Webmaster: ZonePlace=d2; dzial=wiadomosci; Stan delivery
Zone type:d<== ==>place:d3<===
Webmaster: ZonePlace=d3; dzial=wiadomosci; Stan delivery
Zone type:d<== ==>place:d4<===
Webmaster: ZonePlace=d4; dzial=wiadomosci; Stan delivery