Menu
Zone type:ab<== ==>place:ab<===
Webmaster: ZonePlace=ab; dzial=wiadomosci; Stan delivery
Lewandowski to miss revenge against PSG in Champions League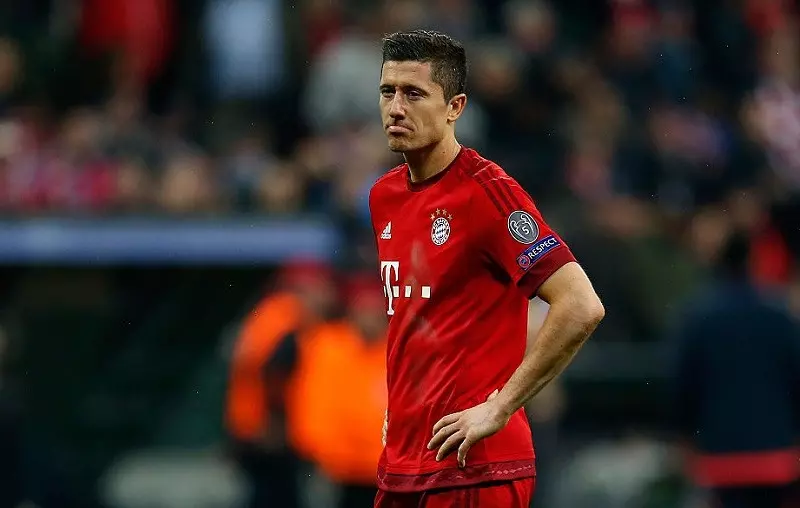 Bayern Munich striker Robert Lewandowski has confirmed that he won't be ready to play in the second Champions League quarterfinal clash against Paris Saint-Germain.
Zone type:video<== ==>place:video<===
Webmaster: ZonePlace=video; dzial=wiadomosci; Stan delivery
Zone type:e-mobile<== ==>place:e1-mobile<===
Webmaster: ZonePlace=e1-mobile; dzial=wiadomosci; Stan delivery
News available in Polish
"Nie, nie, to jeszcze za wcześnie" - odpowiedział polski napastnik mistrza Niemiec na pytanie, czy możliwy jest powrót na drugie spotkanie z PSG. "Kiedy się wykuruję, kiedy będę pewny, że to właściwy moment, wrócę" - dodał Lewandowski.
Urazu kolana nabawił się 28 marca w meczu eliminacji mistrzostw świata z Andorą (3:0). Z tego powodu na razie opuścił potyczkę biało-czerwonych na Wembley z Anglią (1:2) oraz starcie na szczycie Bundesligi z RB Lipsk, które jego koledzy wygrali 1:0.
Skoro w przyszły wtorek zabraknie go też w rewanżu z PSG, oznacza to, że opuści również sobotni mecz niemieckiej ekstraklasy z Unionem Berlin.
Lewandowski z dorobkiem 35 goli prowadzi zdecydowanie w klasyfikacji strzelców Bundesligi. Zdobył dotychczas 35 goli i brakuje mu pięciu, by wyrównać rekord rozgrywek Gerda Muellera, który w sezonie 1971/72 zdobył 40 bramek.
Wczoraj piłkarze Bayernu Monachium przegrali u siebie po emocjonującym meczu z Paris Saint-Germain 2:3 w ćwierćfinale Ligi Mistrzów.
Czytaj więcej:
PSG wykorzystało potknięcie Lille i zostało liderem Ligue 1
Bayern: Przerwa Lewandowskiego może potrwać cztery tygodnie
LM: Porażka Bayernu bez Lewandowskiego z PSG
AdsByGoogle - In-Feed slot=4906192224
Zone type:d<== ==>place:d1<===
Webmaster: ZonePlace=d1; dzial=wiadomosci; Stan delivery
Zone type:e-desktop<== ==>place:e1-desktop<===
Webmaster: ZonePlace=e1-desktop; dzial=wiadomosci; Stan delivery
Zone type:d<== ==>place:d2<===
Webmaster: ZonePlace=d2; dzial=wiadomosci; Stan delivery
Zone type:d<== ==>place:d3<===
Webmaster: ZonePlace=d3; dzial=wiadomosci; Stan delivery
Zone type:d<== ==>place:d4<===
Webmaster: ZonePlace=d4; dzial=wiadomosci; Stan delivery