Menu
Zone type:ab<== ==>place:ab<===
Webmaster: ZonePlace=ab; dzial=wiadomosci; Stan delivery
Amazon selects Wembley Park for location of next till-free grocery store in London, and more sites a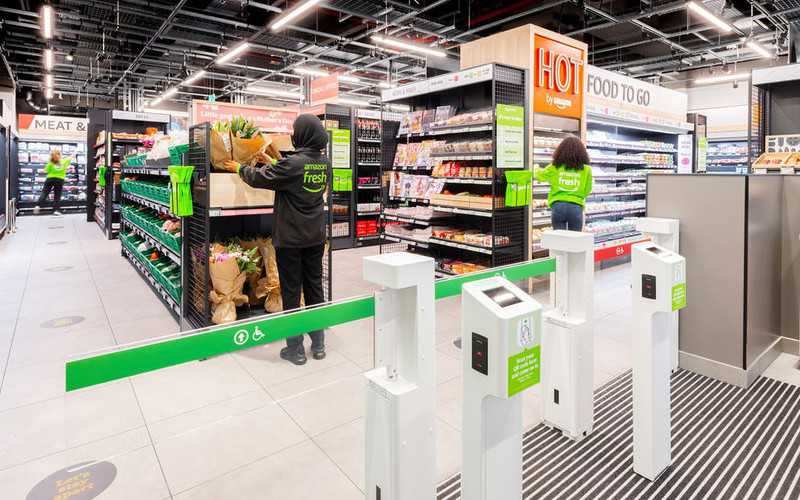 Tech giant Amazon has opened a 'till-free' grocery shop close to Wembley stadium, just weeks after it welcomed customers to its first London venue.
Zone type:video<== ==>place:video<===
Webmaster: ZonePlace=video; dzial=wiadomosci; Stan delivery
Zone type:e-mobile<== ==>place:e1-mobile<===
Webmaster: ZonePlace=e1-mobile; dzial=wiadomosci; Stan delivery
News available in Polish
Sklepy Amazon Fresh, których cechą charakterystyczną jest brak jakichkolwiek kas i system Just Walk Out, oferują m.in. produkty spożywcze marki własnej Amazona sprzedawanej pod nazwą "by Amazon". Na półkach znajdziemy m.in. mięso, nabiał, owoce, warzywa, a także pieczywo.
Pierwszy sklep Amazon Fresh otwarto kilka tygodni temu na londyńskim Ealingu. Wczoraj ruszyła druga placówka, tym razem na terenie Wembley Park.
Oba sklepy Amazon Fresh są pierwszymi supermarketami giganta otwartymi poza USA.
Aby skorzystać z możliwości zrobienia zakupów w nowym supermarkecie, należy otworzyć aplikację Amazona i zeskanować specjalny kod QR, który umożliwi wejście do sklepu. System kamer w sklepie śledzi kupującego i wie, które produkty wziął. Po wyjściu z supermarketu, Amazon samodzielnie pobierze płatność i wyśle nam rachunek.
"Od czasu otwarcia naszego pierwszego sklepu Amazon Fresh na Ealing, od naszych klientów mogliśmy usłyszeć, jak bardzo podobają im się bezproblemowe zakupy oraz żywność z naszej nowej marki by Amazon" - przekazał Matt Birch, szef sieci Amazon Fresh w Wielkiej Brytanii.
"Mamy nadzieję otworzyć kilka kolejnych sklepów w Londynie, na obszarach takich jak Ealing. Wierzymy, że to coś (sklepy Amazon Fresh - przyp.red.), co będzie z powodzeniem funkcjonować w dzielnicach mieszkalnych i w centrach miast" - dodał.
Czytaj więcej:
Amazon otworzył dziś w UK pierwszy sklep. To "Fresh" w Londynie
AdsByGoogle - In-Feed slot=4906192224
Zone type:d<== ==>place:d1<===
Webmaster: ZonePlace=d1; dzial=wiadomosci; Stan delivery
Zone type:e-desktop<== ==>place:e1-desktop<===
Webmaster: ZonePlace=e1-desktop; dzial=wiadomosci; Stan delivery
Zone type:d<== ==>place:d2<===
Webmaster: ZonePlace=d2; dzial=wiadomosci; Stan delivery
Zone type:d<== ==>place:d3<===
Webmaster: ZonePlace=d3; dzial=wiadomosci; Stan delivery
Zone type:d<== ==>place:d4<===
Webmaster: ZonePlace=d4; dzial=wiadomosci; Stan delivery